Adele Elisabetta Granieri
Italy
Journalist at "Il Mattino" and Luciano Pignataro Wine&Food blog
Editor in chief of VinCE Magazin for 12 years, organiser of VinCE Budapest Wine Show for 8 years, founder and editor of hungarianwines.eu.
Winemaker at Domain Chandon(Ningxia) Moet Hennessy Co.,Ltd.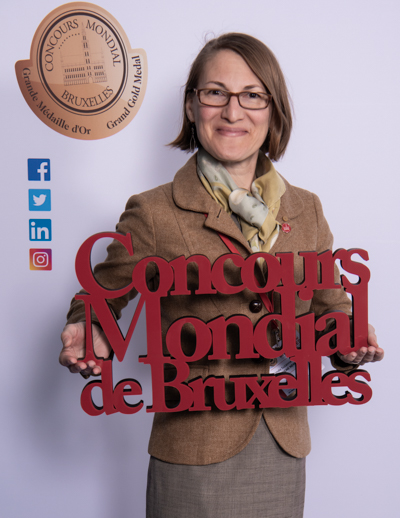 Aimée Suzanne Lasseigne New
United States
Assistant Manager / Senior Sales Bottlerocket Wine & Spirit
Directeur Syndicat et Section Interprofessionnelle des vins Côtes de Gascogne depuis 1998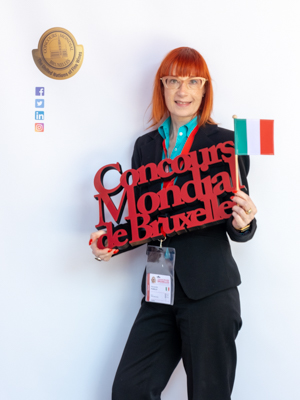 Alessandra Piubello
Italy
Director of Queen International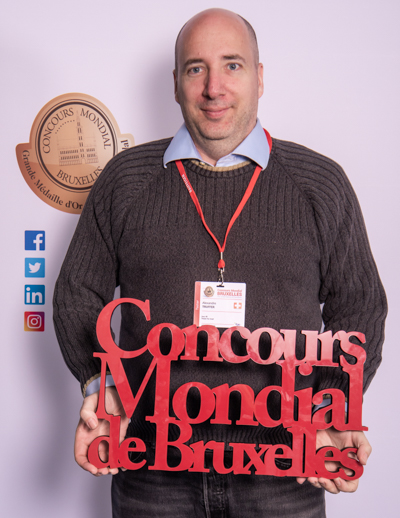 Alexandre Truffer
Switzerland
Chief Editor (french version) of VINUM Chief Editor RomanDuVin.ch (blog) Journalist for wine specialized newspapers in Switzerland. Wine writers (4 books)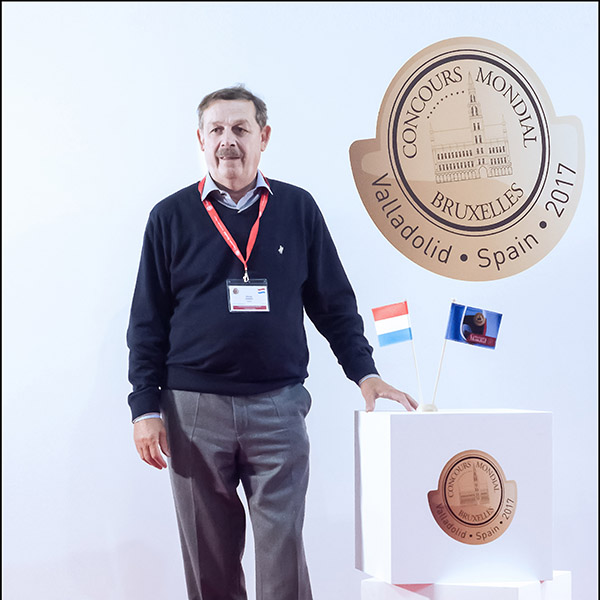 Enologist, Technical Director at Bernard-Massard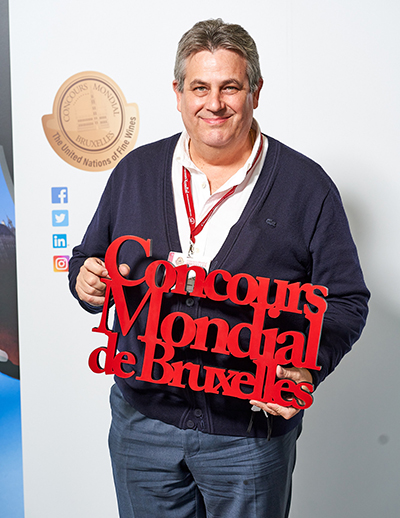 Sommelier, Wine-spirits & Cigar Educator, Hotel School and Food pairing Educator. Distributor of wine and Spirits – Funchal – Madeira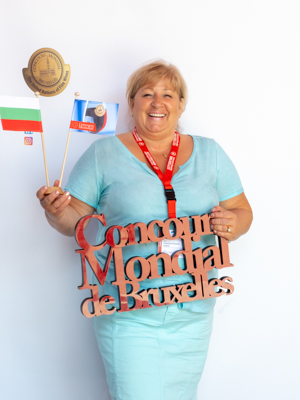 Ana Radkova Petkova
Bulgaria
Wine expert at METRO Cash & Carry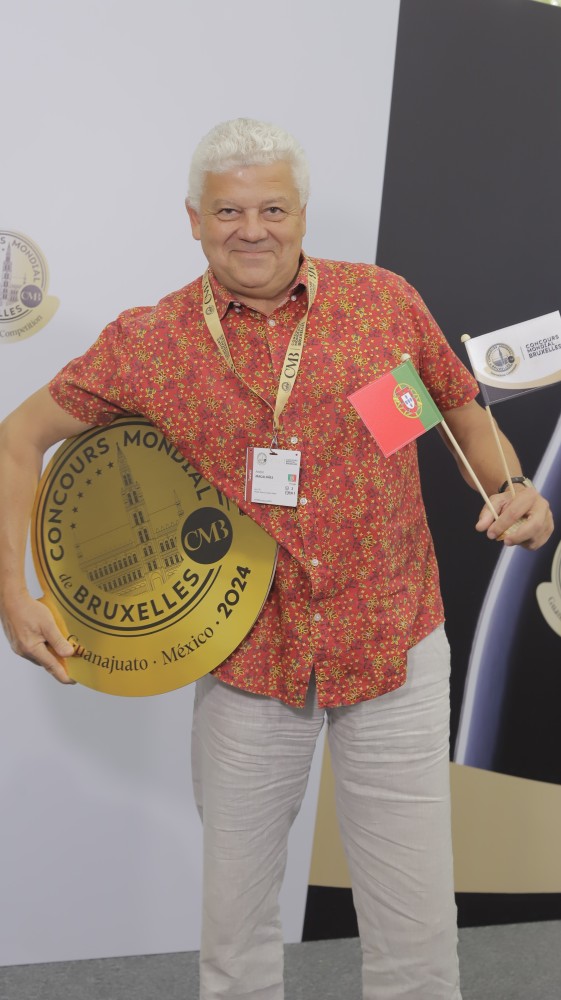 Food and Wine Writer, Wine Passion Magazine Chef/Owner @ A Taberna da Rua das Flores, Lisbon, Portugal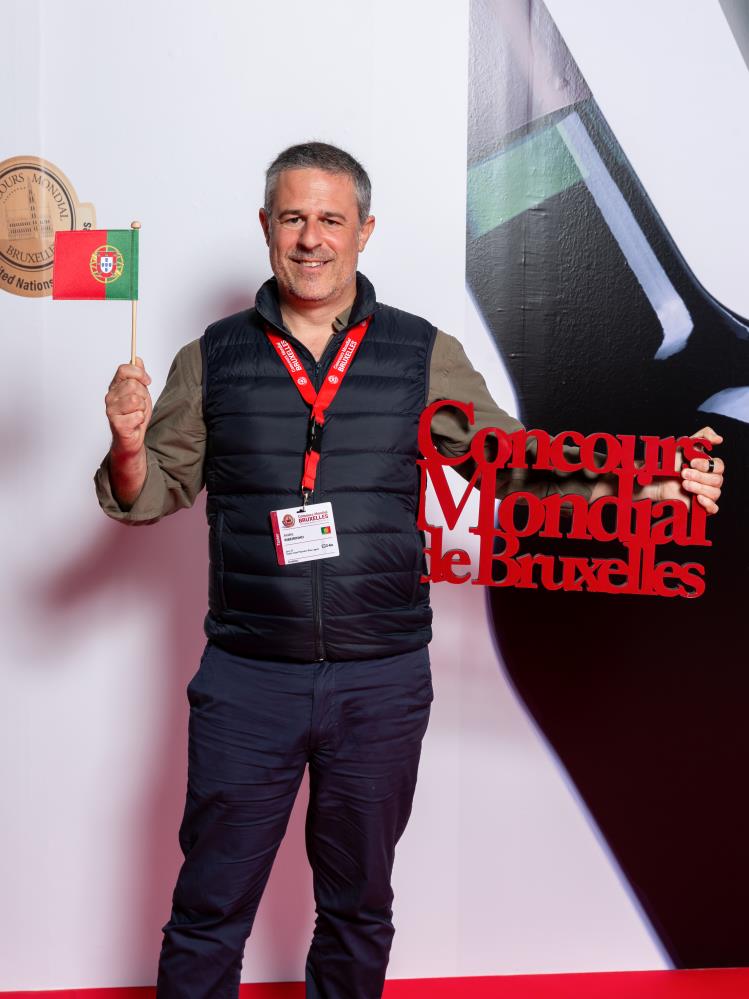 Andre Ribeirinho
Portugal
Food, Wine & Travel Entrepreneur, Pocket Wine Book Collaborator, Chief Wine Evangelist at Adegga and WineSpots, Based in Lisbon, Portugal, Port Wine Ambassador.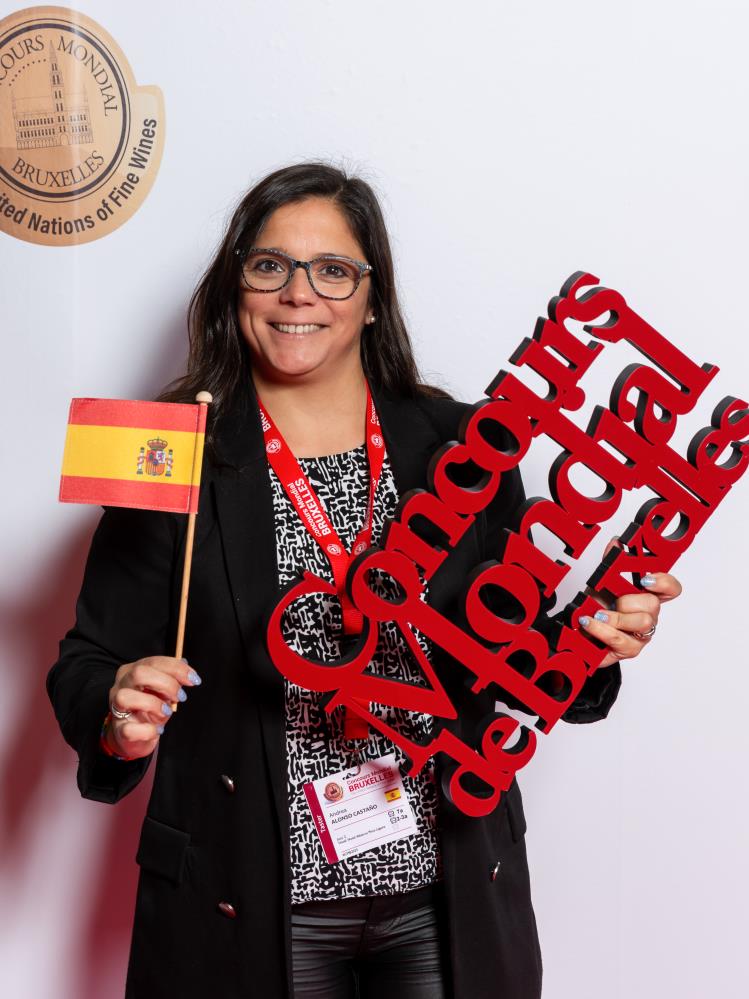 Andrea Alonso Castaño
Spain
Sommelier, Winner of "La Nariz de Oro 2010",Responsible of the Wine Concept and Wine Buyer of Makro Spain and Portugal.
Journalist and writer for "Tre Bicchieri", "Spirito di Vino", ecc.
Sommelier & Wine Journalist
Andrei Cibotaru
Moldova, Republic Of
Andres Amor Marquez
Mexico
Chef and Sommelier. Restaurant consultor, columnist and gastronomic journalist. Project manager at México Selection by Concours Mondial de Bruxelles.
"Crowned the 2009/10 WCA Wine Journalism 'Young Gun', in my spare time I'm a wine judge and recently graduated with a Masters in Wine Technology & Viticulture from Melbourne University."
Sommelier: Hôtel-Restaurant Les Eleveurs – Wine Trader: Wijnen Andy De Brouwer consulting
Journalist; publishing in Polish wine and lifestyle reviews: Czas Win, Gentleman, Polska Gotuje , and Chilean Vitis Magazine; wine blogger: www.flirtzwinem.blogspot.com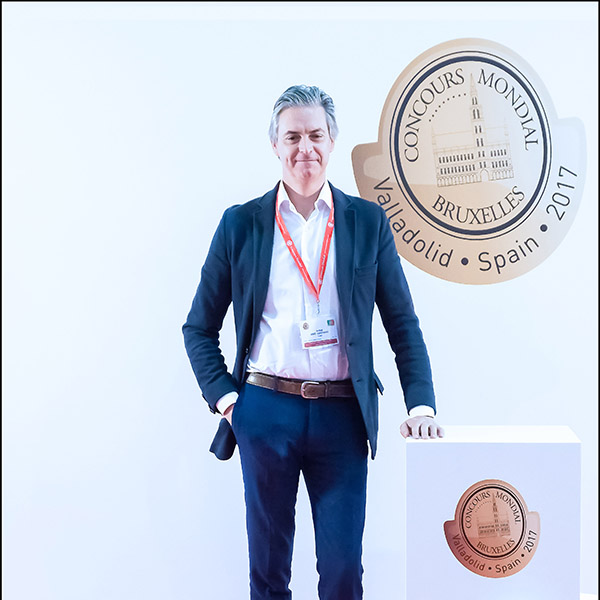 Anibal Jose – Coutinho
Portugal
Wine Writer: www.w-anibal.com, Guia Popular de Vinhos. Wine Buyer: Continente Hipermercados, Tivoli Hotels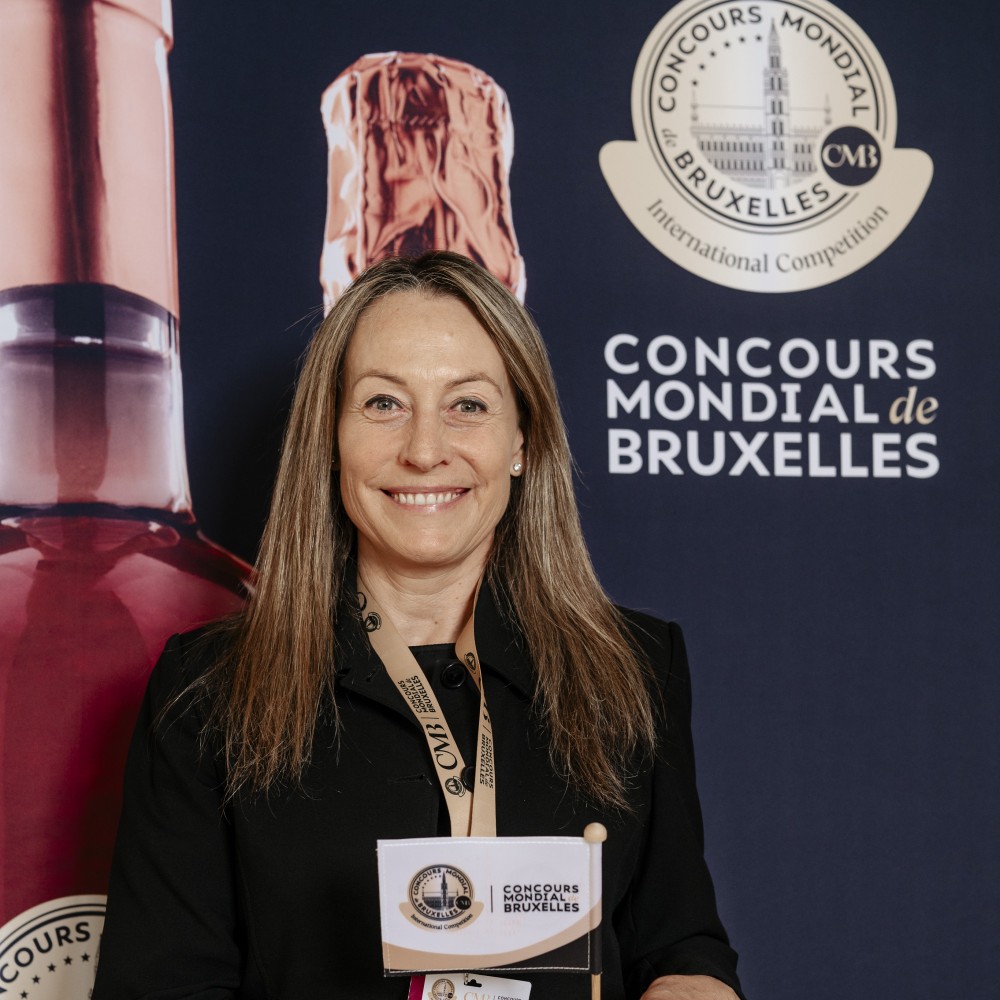 Présidente des Sommeliers Catalans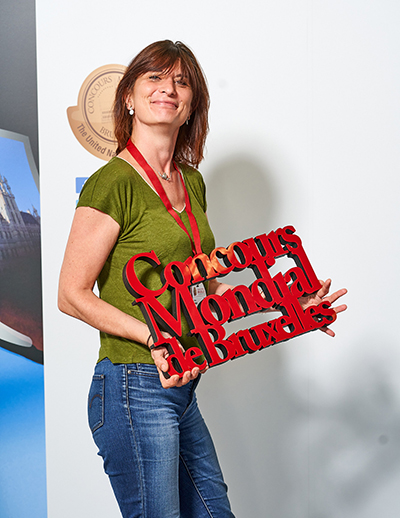 Free lance Journalist Terre de Vins V&S News Meininger's WBI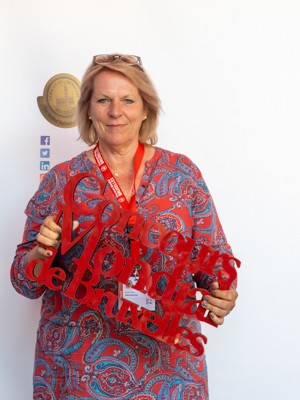 Anne-Wies Van Oosten
Netherlands
Wine&Food Journalist&Writer and Consultancy www.Anne-Wies.NL
Anneke Staals
Netherlands
Wine category manager/buyer at Mitra Drankenspeciaalzaken
Executiev Chief Director at "Wine" magazine
Ans Van Der Weijden RV
Netherlands
Consultant to Dutch on-trade; consultant to wine producers targetting Dutch market. Co-author of Guide to Dutch Wines.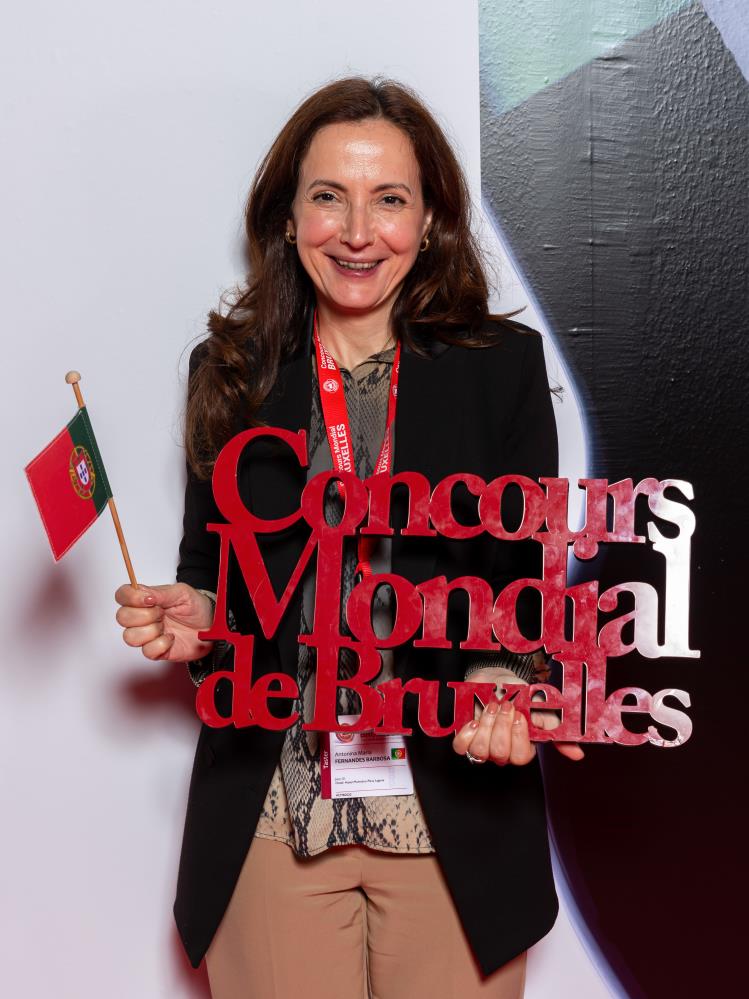 Antonina Maria Fernandes Barbosa
Portugal
Winemaker, Production, Quality and Food Safety Manager at João Portugal Ramos Group (Falua and JPortugal Ramos vinhos verdes)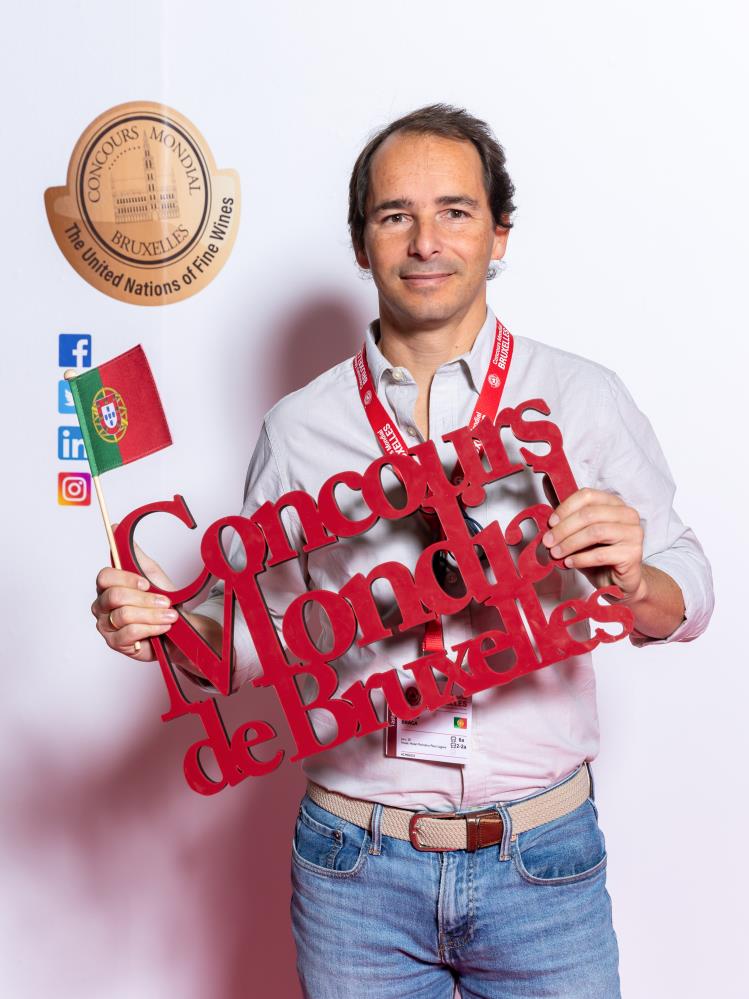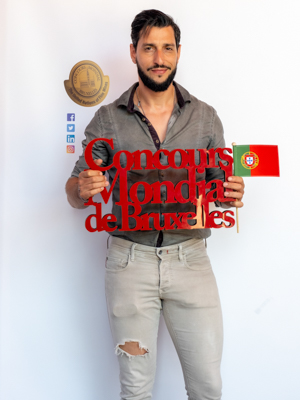 Wine Guru Anantara Vilamoura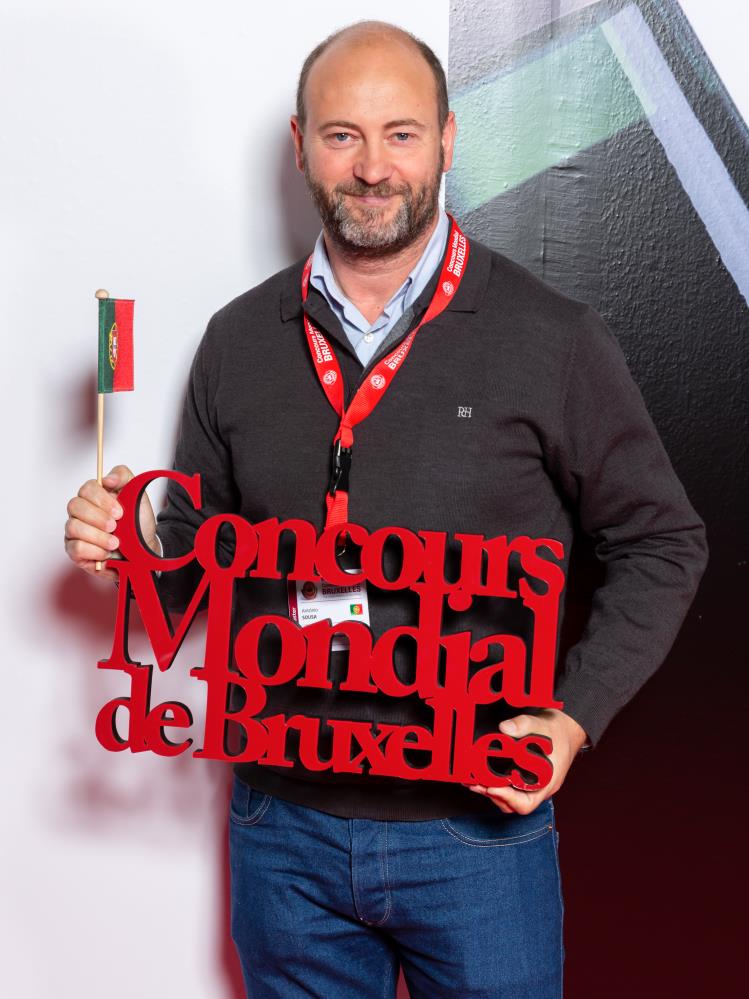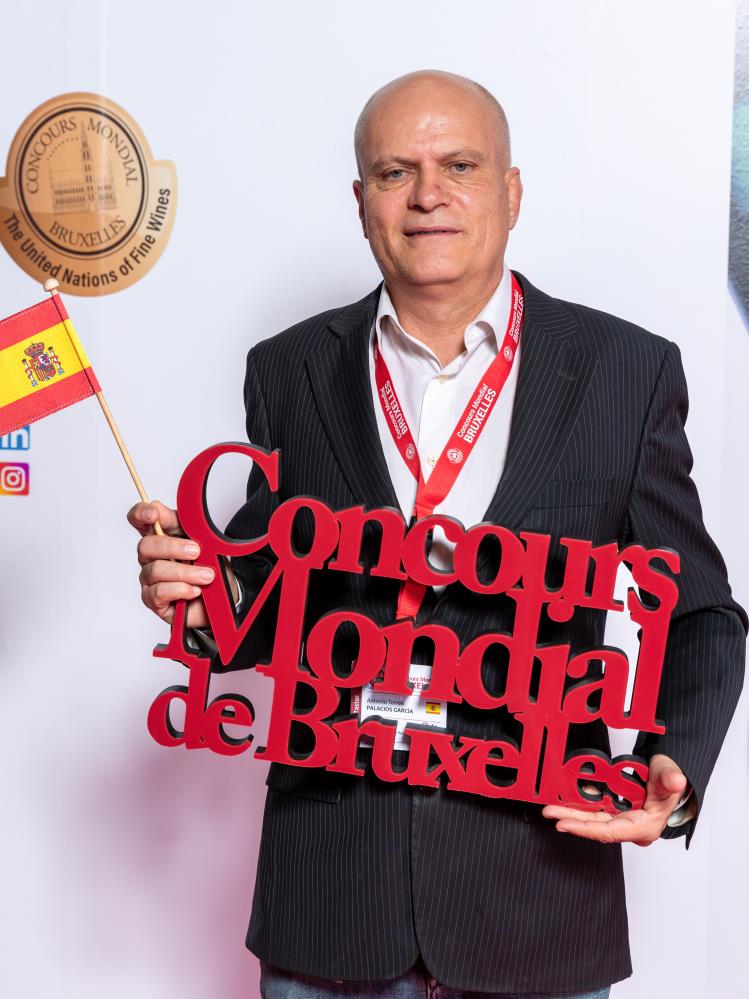 Antonio Tomás Palacios García
Spain
Enólogo, Laboratorios EXCELL IBÉRICA S.L. Logroño, La Rioja, Dotor en Biologia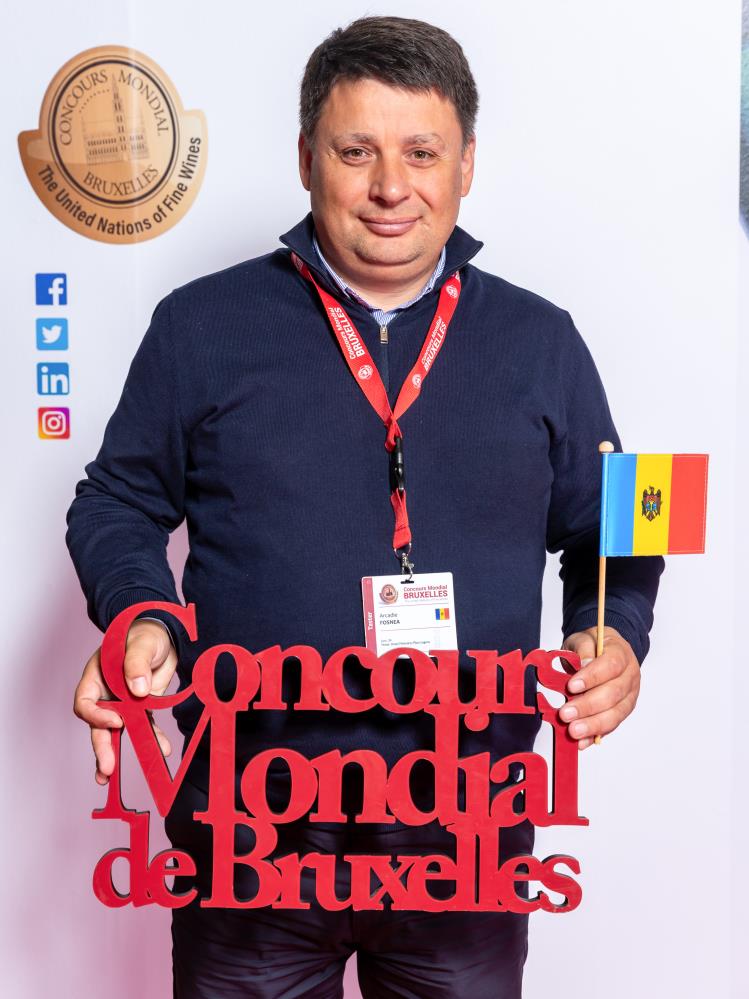 Arcadie Fosnea
Moldova, Republic Of
Argyrios Kallianiotis
Greece
Wine & Spirit Journalist, Editor-in-chief – Vinetum
Deputy Director of Business Development Department at Global Alclnfo.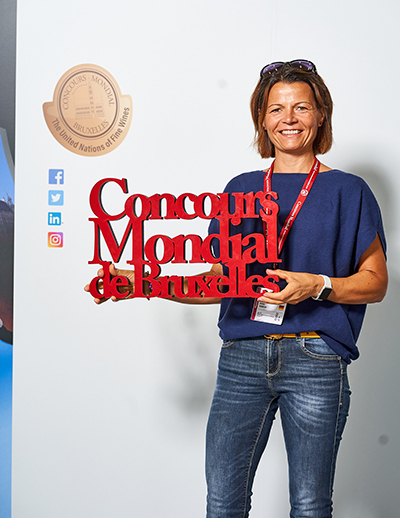 DipWSET and Wine Marketing Expert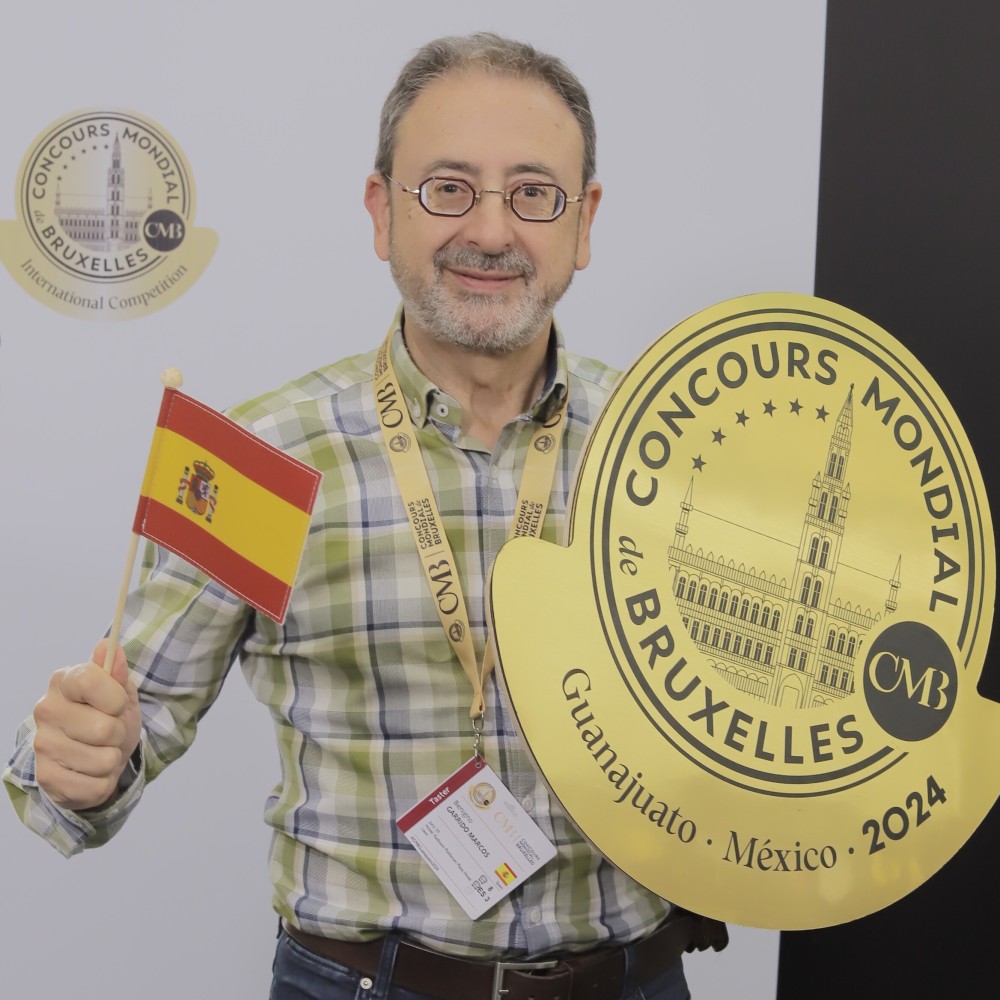 Benigno Garrido Marcos
Spain
Food and Wine – Century Foundation for Tourism and the Arts of Castilla y León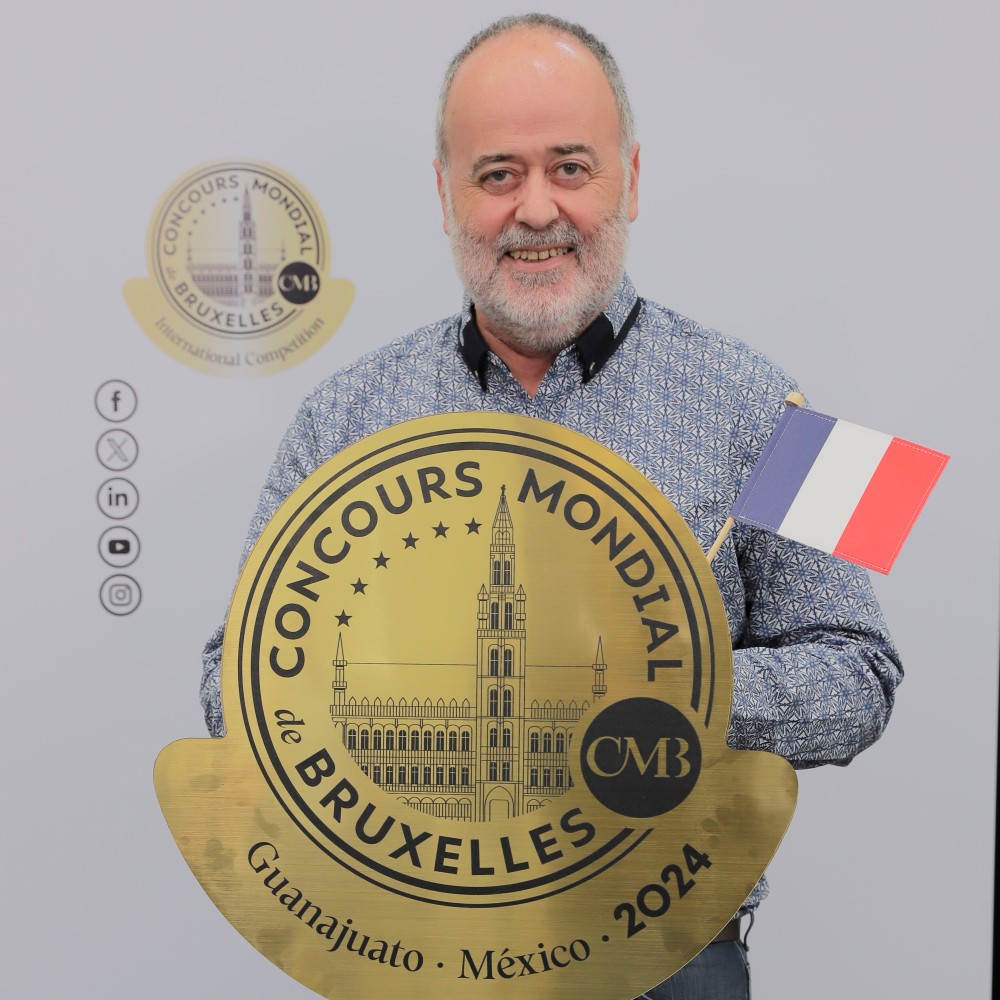 Director of the Bureau Interprofessionnel des Vins du Centre – BIVC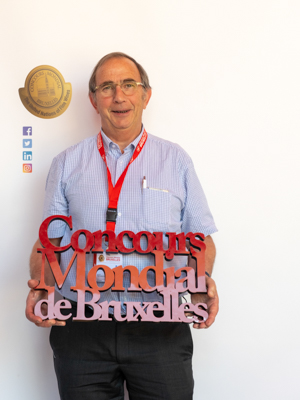 Wine and spirits journalist writing for titles such as Le Figaro, l'Amateur de Bordeaux, GaultMillau, La Revue du Vin de France and Wands. He is a permanent member of the Grand Jury Européen.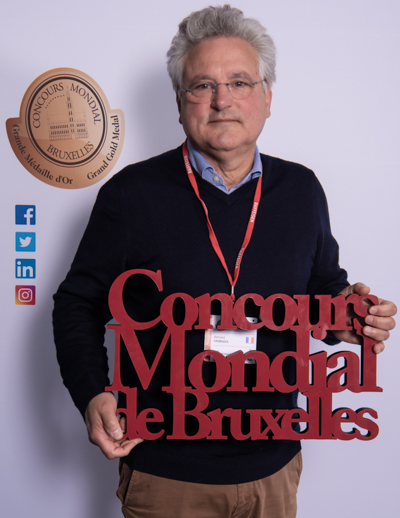 Chief engineer at COFCO Huaxia the Great Wall Wine Company Limited. National first class wine taster, senior winemaker; Expert members of the Committee of the national wine quality supervision and inspection center; Master of international wine management, the first international wine management graduate certificate in China; International commice on wine evaluation of VINALIES of the winemaker Association of France and O.I.V. of the international wine and wine Organization (Paris);Member of the China Wine Technology Committee; Experts of Chinese wine and wine experts committee; China Wine Industry Association Wine branch "excellent winemaker"; The leading scientific and technological leader of the national food industry; National Model of labor; Hebei science and technology enterprises innovate and start up "two hundred talents".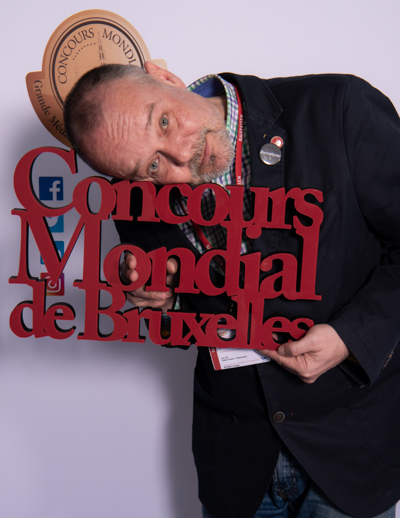 Bachelor of science in food technology, Graduation in wine technology on University of Ljubljana, Biotechnical faculty. Member of Berliner Wine trophy in last 7 years, Riesling du Mond (Strasbourg) and Vinoforum in Central Europe. Regular contributor in wine & food issues in Slovenian magazines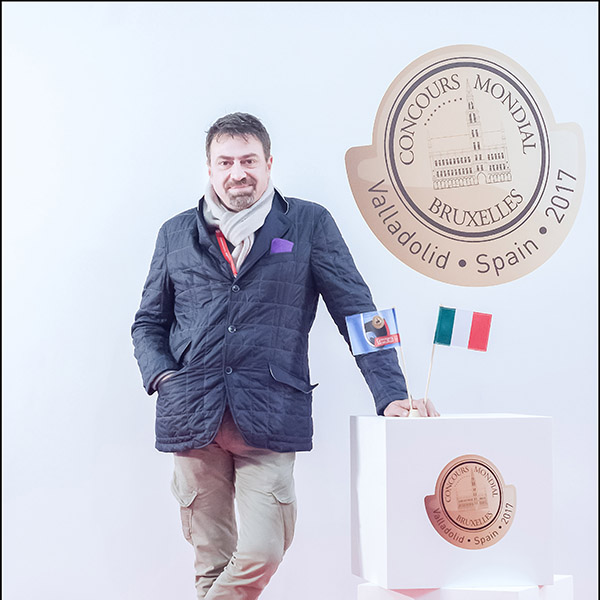 Wine and food journalist, freelance, contributes to James Magazine (Editor in chief), Gambero Rosso, Identità Golose and more.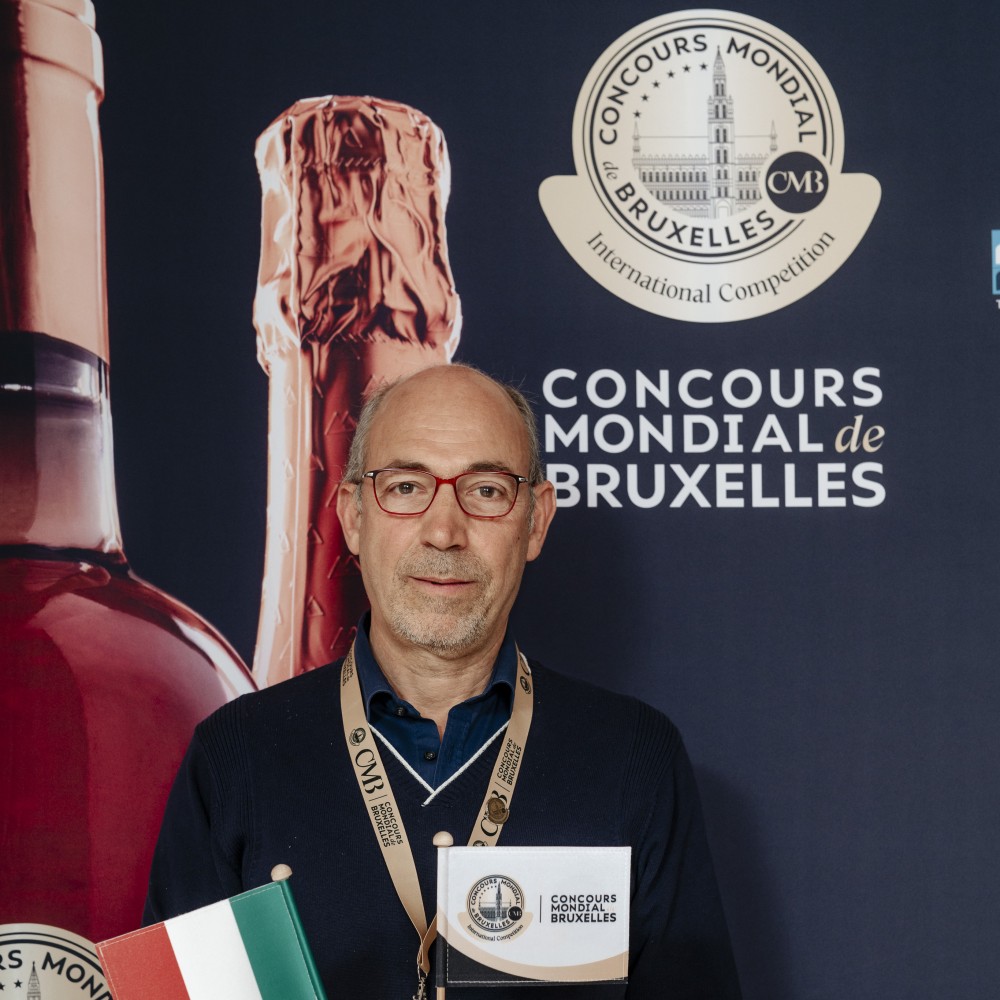 Director at ENOSIS srl Food and Beverage company ROMA; Director at Enoteca Cantina Castrocielo;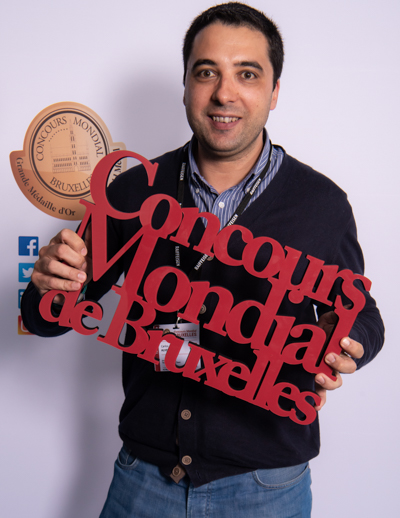 Winemaker of Sogevinus for Port Wine. Nominated for the Awards "Fortified Winemaker of the Year" by IWC in 2016 and nomeaded " Fortified Winemaker of the Year 2016" by Revista de vinhos (portuguese wine magazine).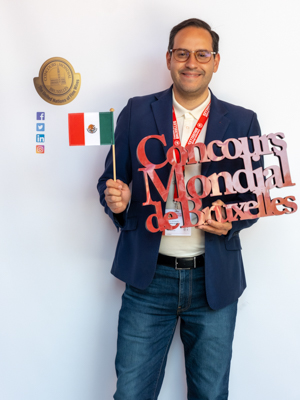 Carlos Armando Borboa Suárez
Mexico
Sommelier and specialized wine & spirits journalist. Columnist for El Universal Newspaper Mexico City. Educator in wine at the Mexican Sommelier Association and for the Master of Wine at CESSA Universidad Mexico City. Wine and spirits consultant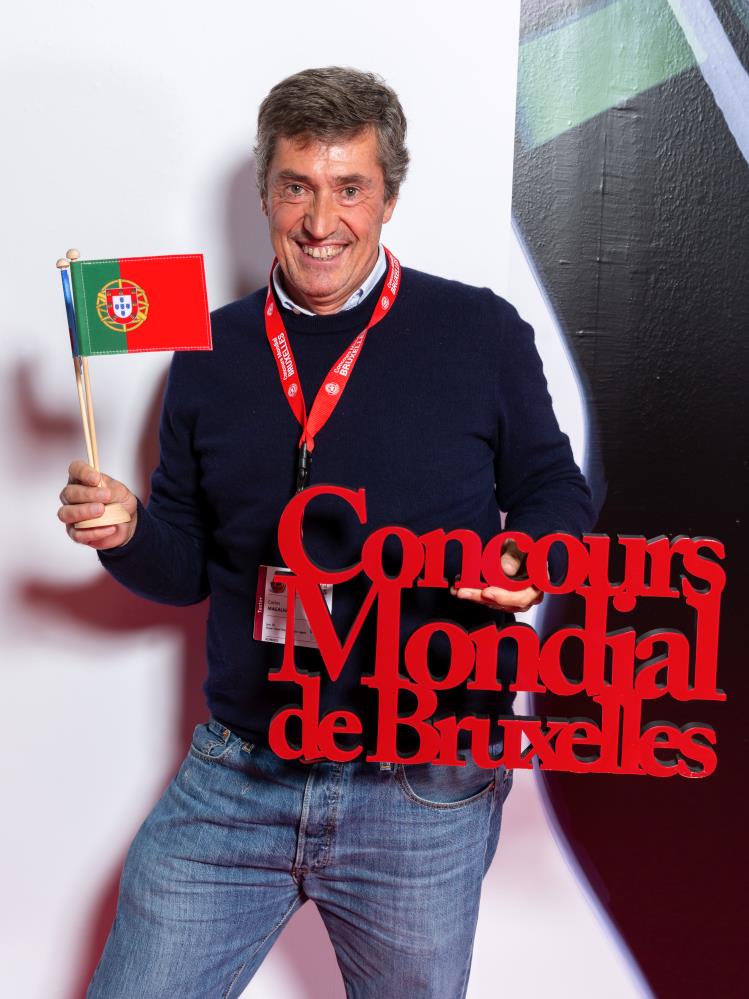 Carlos Magalhães
Portugal
Oenologist and teacher at the Sommelier School of Porto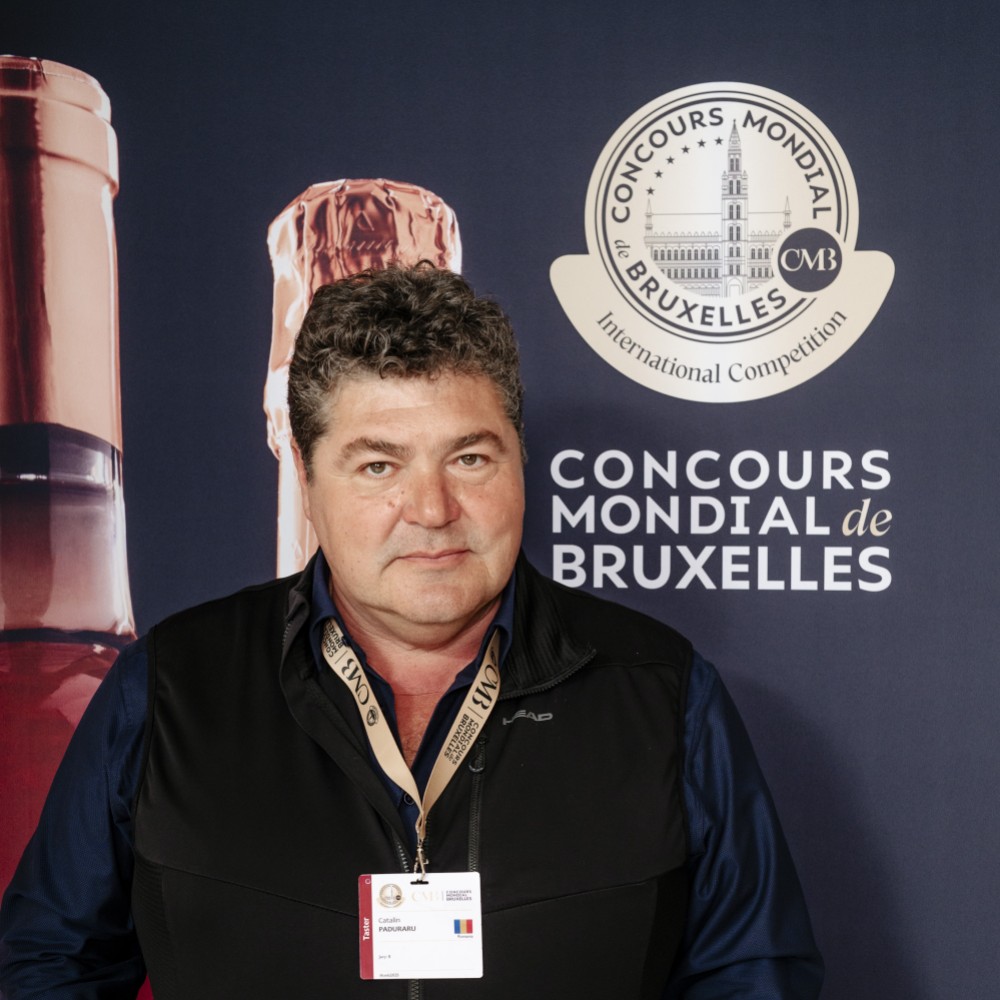 Phd Viticulture, Wine Journalist, Producer TV Wine Show, Wine Ambassador ADAR (Romania Authorized Wine Tasters Association), Eques OEVE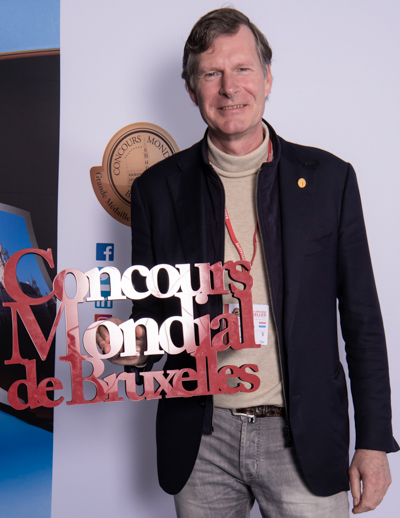 Cees Van Casteren MW
Netherlands
Wine consultant, writer and freelance journalist, twice winner of the Dutch wine tasting championships 'Prix Pommery', Ambassadeur du Champagne and Master of Wine. Chairman of Association of Vinologists in The Netherlands. Author of 10 books. Columnist in daily newspaper.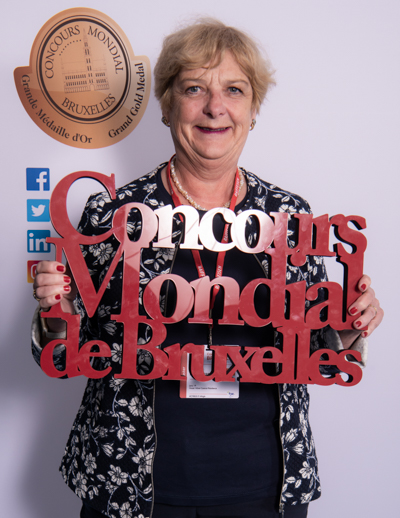 Chantal Aeby Puerro
Switzerland
Director Swiss Federation of vine growers (Fédération suisse des vignerons) and General Secretary of the Interprofessional Organization of vine and swiss wine (Interprofession de la vigne et des vins suisses)
General Manager at Stephen wine. WSET Diploma; Wine Judge for international & domestic competitions, such as: G100, wine 100, CWC, SIAL, SIWC, AWOCA etc.; Official wine educator for CIVB, Rioja, New Zealand, etc..; Judge for China Blind Tasting Competitions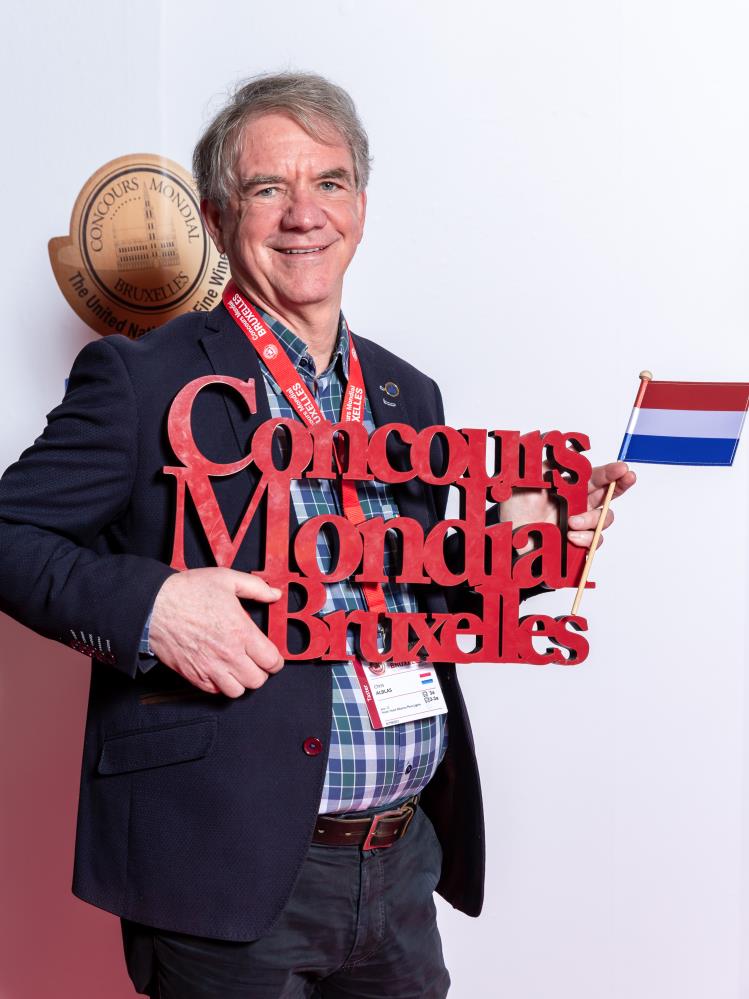 Wine education at the Dutch Wineacademy, member of the editorial committee of the Dutch Wineacademy,Owner of the webshop www.biowijn.info, writing for www.wijnjournaal.nl, international wine- and spirit judge
Christine Wu
United States
Owner and manager of Wine House Liquors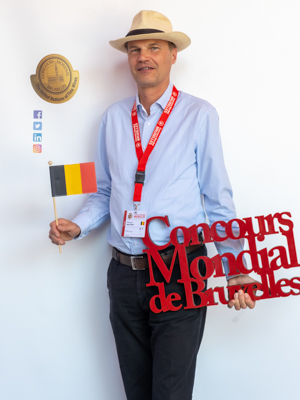 Christoph Merchiers
Belgium
Rouseu Wine Importer Belgium
Christophe Andrieu
France
Chief Editor of Contact Pro , des cavistes & restaurateurs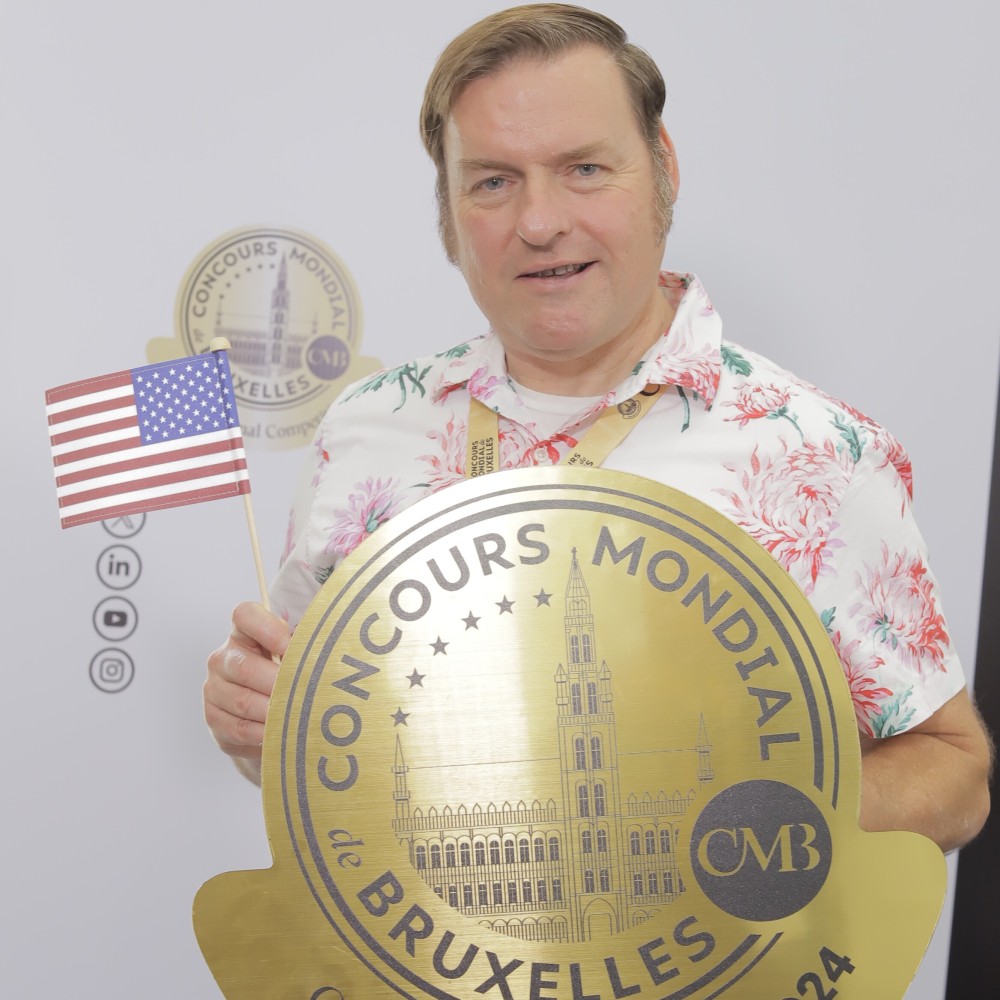 Christopher Sawyer
United States
Deputy chief engineer and technical manager at Sino-french wine brewing co., LTD
Senior Engineer Two national science and technology progress award winners. Expert member of China wine technical committee. National first-class wine taster, senior winemaker, national professional skill competition referee. China Alcoholic Drinks Association Wine Branch assistant secretary general.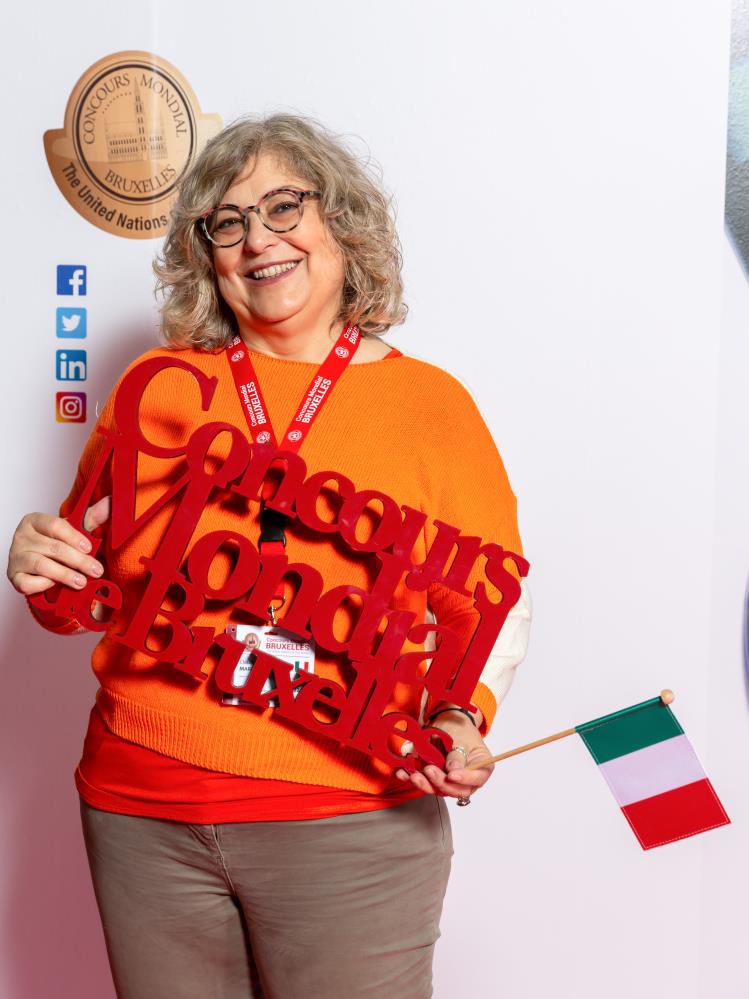 Wine Blogger Journalist for Slow Wine Guide and Ristoranti d'Italia Guide Espresso – Agency of wine comunication, DarWine&Food www.claudiamarinelli.it Best FISAR Sommelier 1993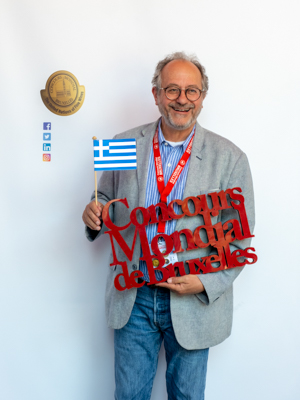 Constantin Stergides
Greece
Specialised journalist, Editor of Ampelotopi magazine (Le Terroir) and Oenorama fair organizer.Company: VINETUM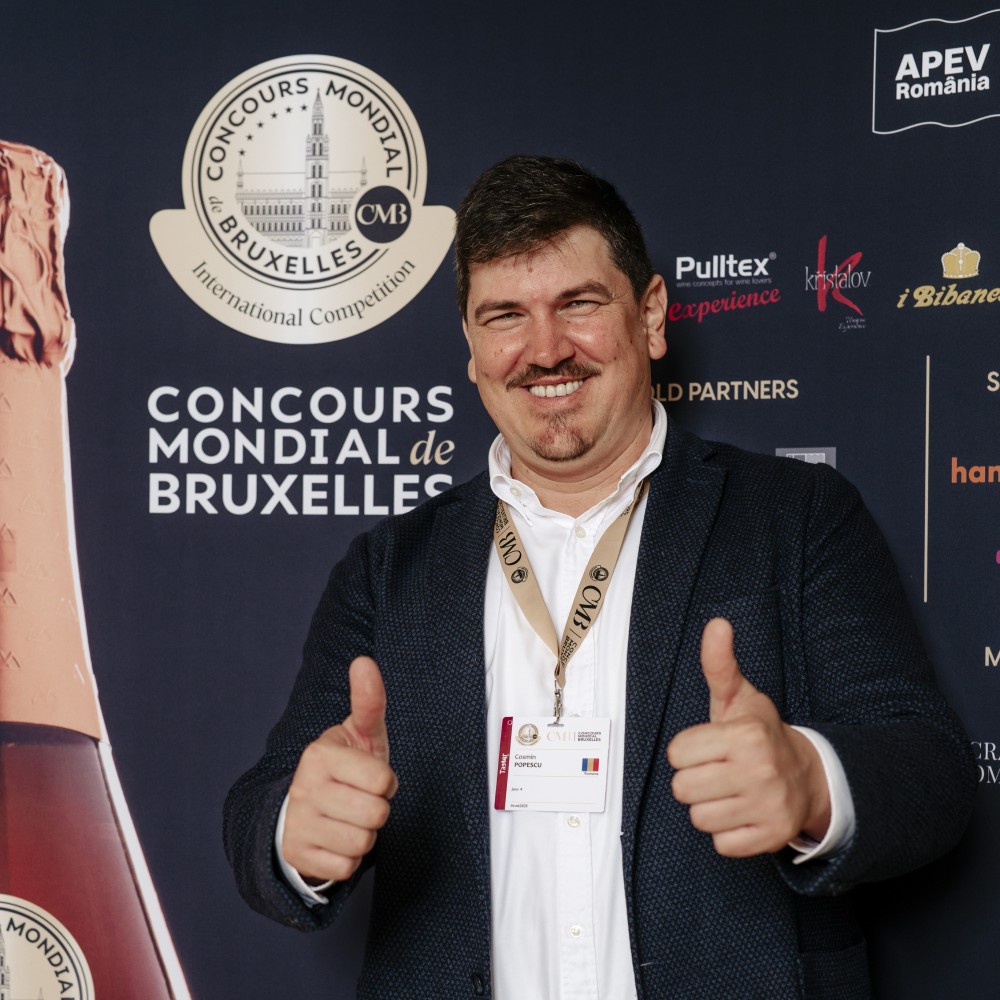 General Director of MURFATLAR ROMANIA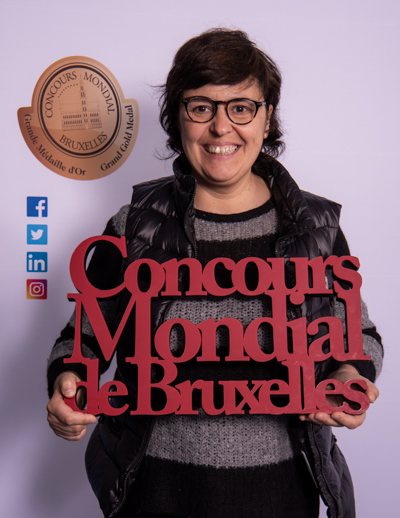 Manager of Production at Beijing Dragon Seal Wines Co., Ltd.
National Judge of Wine and Fruit Wine Issued by China Food Industry Association; National Judge of Fruit Wine Issued by China Alcoholic Drinks Association; Certificated National Wine Expert, Level 1
Imported Wine& Spirits Director at JD.COM
WSET 4 Diploma Candidate; ISG Level 1; VCF Level 2; Ambassador of Australian Wines; Member of Commanderie du Bontemps de Medoc, France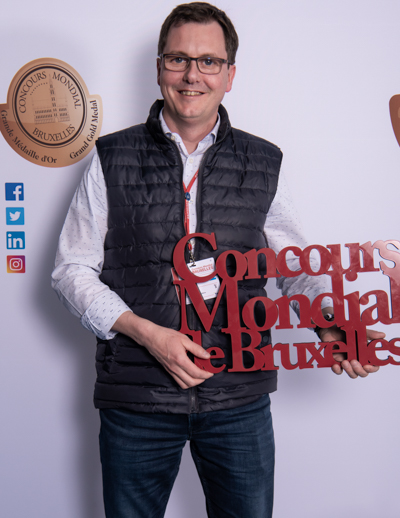 Damien Lassance
Luxembourg
Expert vins Président Club Vin sur Vin Cactus Luxembourg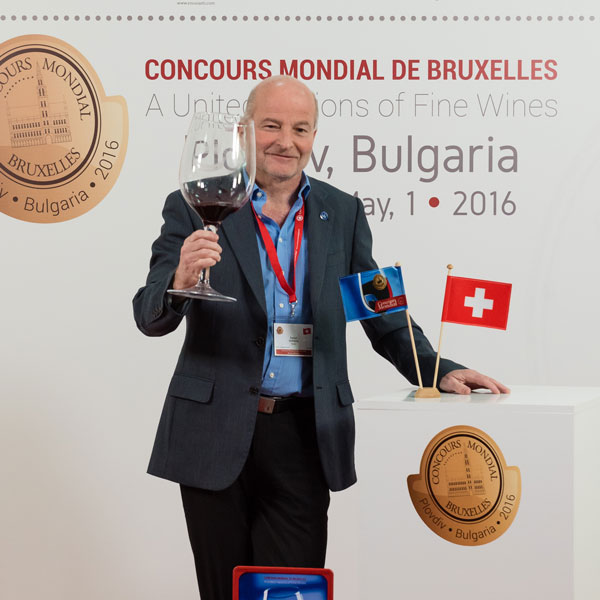 Daniel Dufaux
Switzerland
Oenologist – Henri Badoux SA President of the Switzerland Oenologist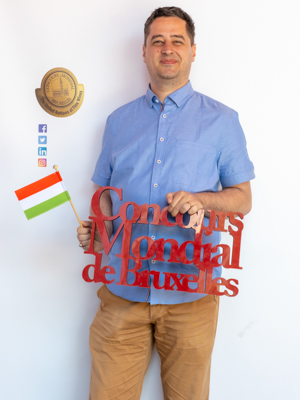 Editor in Chief at WineSofa, editor at BORIGO Magazine, wine journalist&writer
Daniel Lopez Roca
Argentina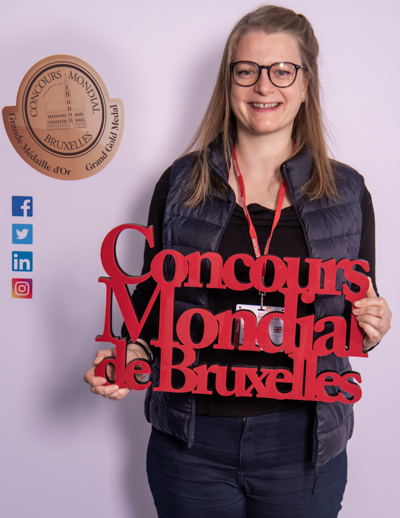 Daphne Teremetz
United Kingdom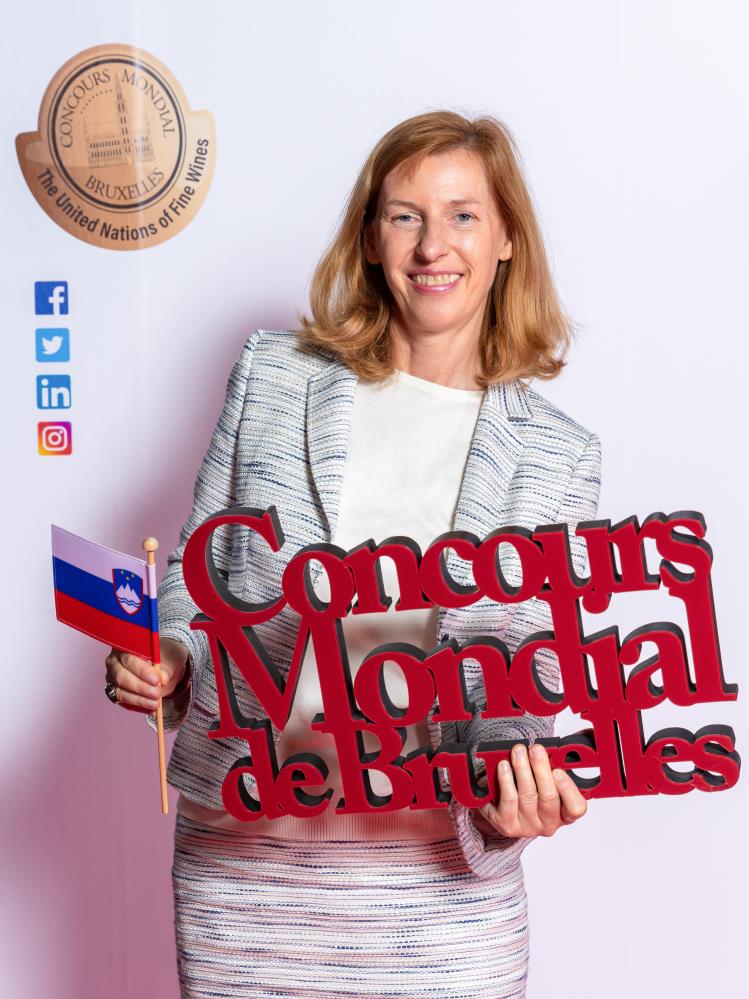 Editor at Magazine "Kmeckiglas"
Senior Buyer at Wine Selector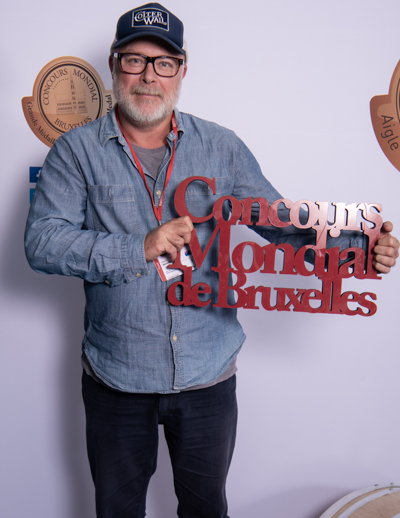 Freelance wine journalist/presenter contributing to Australian Gourmet Traveller WINE, Wine Companion and various international publications
Wine Marketing Labs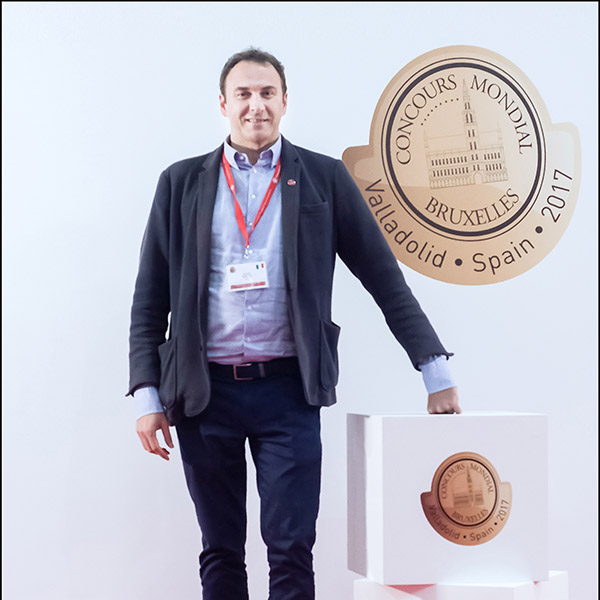 Founder and president of the Enoclub Siena, an Italian association dedicated to the promotion of local grape varieties, particularly of Sangiovese. Ideator, Organizer and Speaker of "Sangiovese Purosangue", "Barolo in the Heart", "Nebbiolo in the Heart", "Wine in Contrada".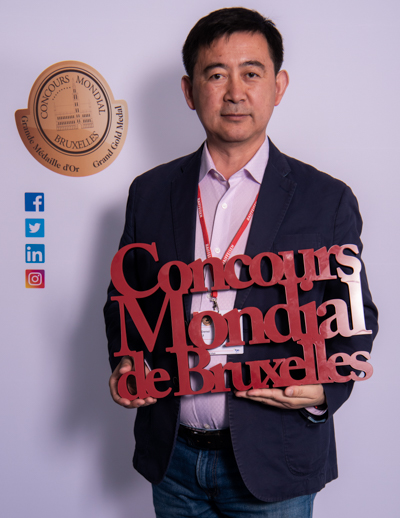 Oenologist, Associate Professor, Beijing University of Agriculture
Denis Puzyrev
Russian Federation
Wine and spirits market journalist at RBC.
Chief Winemaker Domaine Franco-Chinois and Canaan Wine Estate Co., Ltd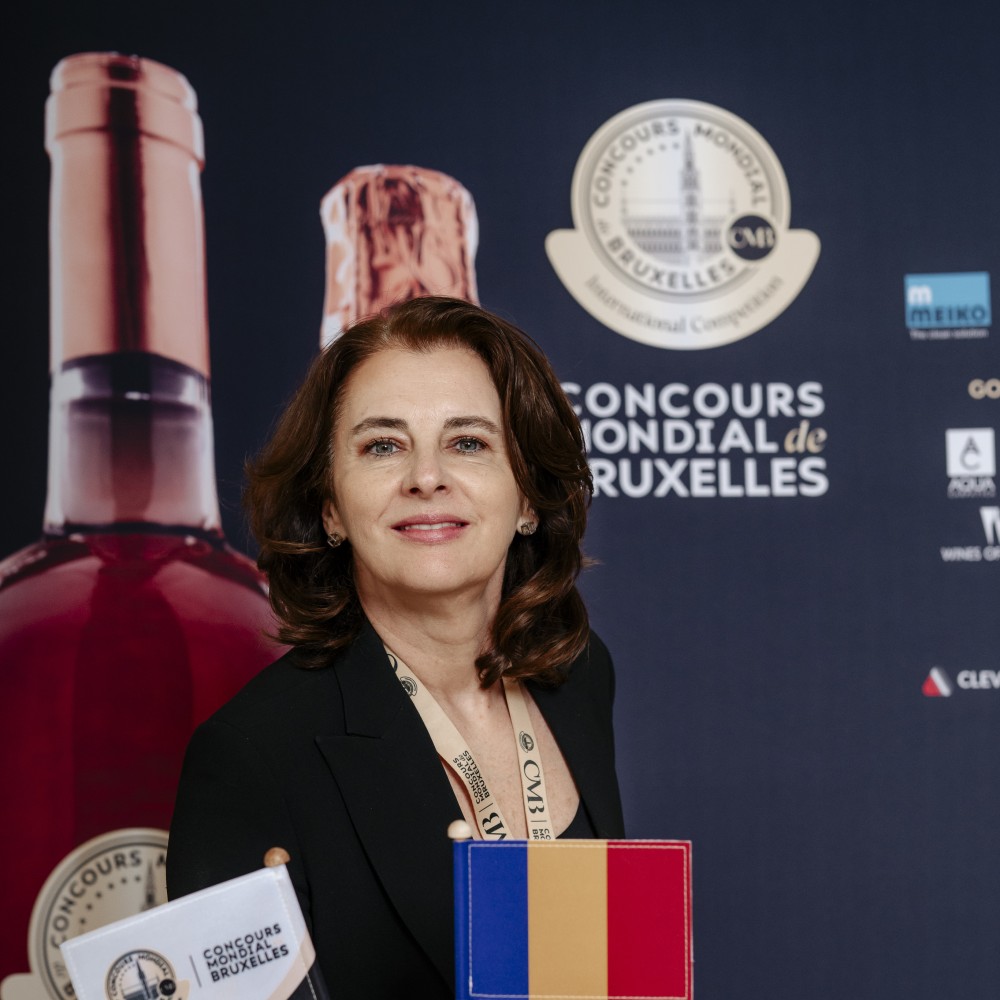 Diana Laura Pavelescu
Romania
General Secretary of ADAR
Journalist: Associate Editor of Vino! Magazine, Benelux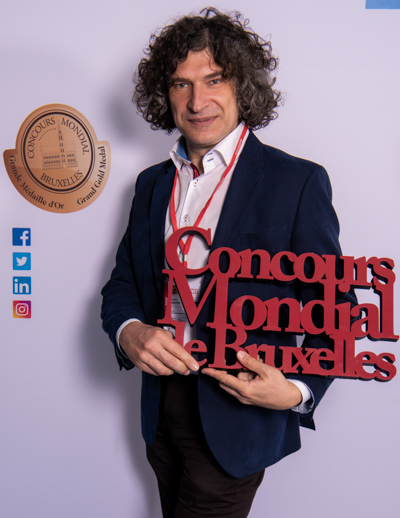 Dmitry Fedotov
Russian Federation
Dmitry Fedotov – is a wine expert, wine journalist, promoter, member of Supervisory board of the Winemaker's and Winegrower's Union of Russia, brand-ambassador of Gambero Rosso in Russia, teacher at the sommelier school "WinePeople", chief editor of the "Wine guide of the Russian consumer", judge of the international tasting competitions, laureate of "Sue Eccelenza Italia 2012" by Gambero Rosso and "Foglio d'Oro 2012".
Dmitry Merezhko
Russian Federation
Publisher "simple wine news"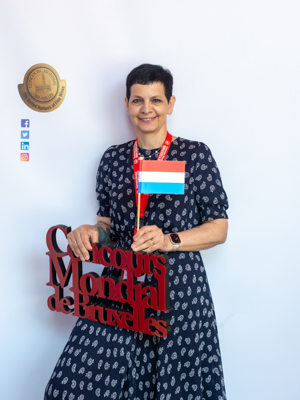 Dominique Rizzi
Luxembourg
Maître Sommelier en Vins et Spiritueux de France, Sommelier Meilleur du Grand Duché de Luxembourg en 1992, Maître Sommelier et Responsable du restaurant gastronomique De Jangeli. Adjointe key account manager restauration à la cour de justice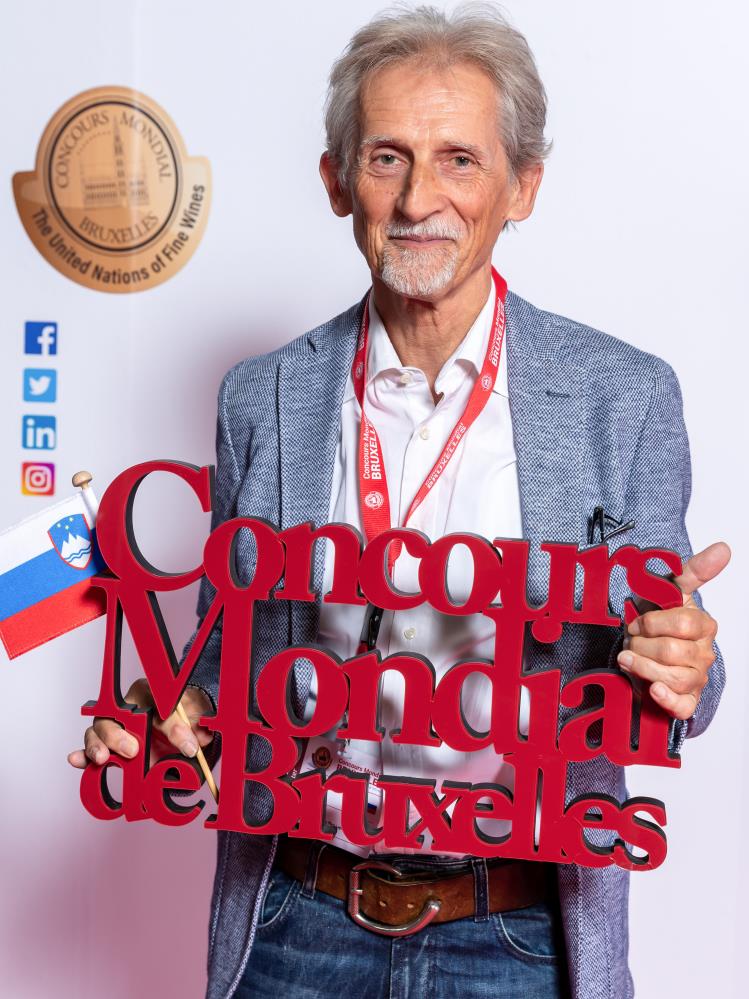 Director of Vinska druzba Slovenije d.o.o. (Wine Association of Slovenia)
Edegar Scortegagna
Brazil
President of Brazilian Oenologist Association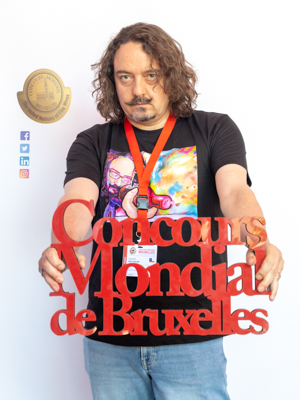 Journalist: Editor at Vitis Magazine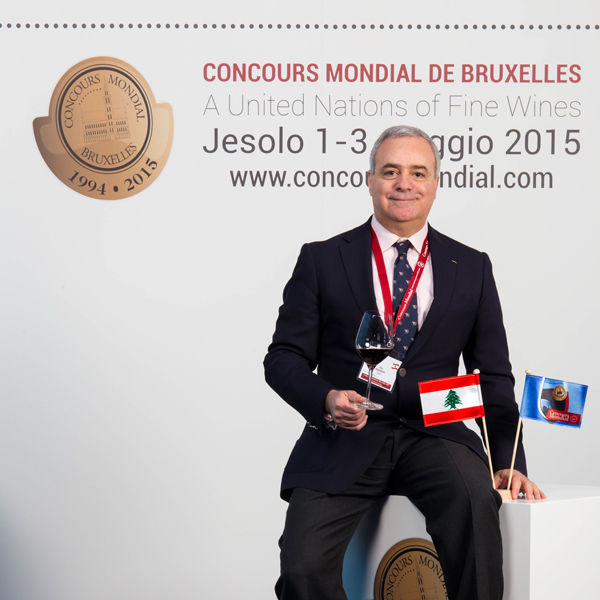 Oenologue, directeur export Château Ksara S.A.L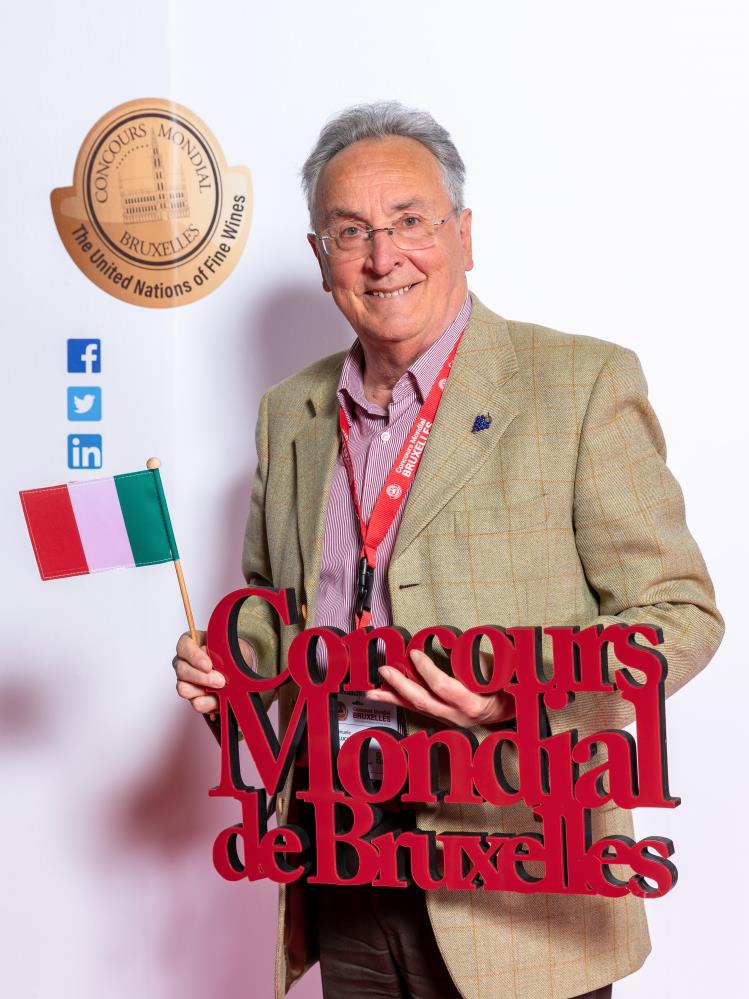 Wine journalist, contributor for the magazines Civiltà del bere – Largo Consumo – Vins & Vignobles (Canada) – Wine Review (South Korea). Taster in the main international wine competitions. Fijev membre and Well-deserving of Tuscan viticulture.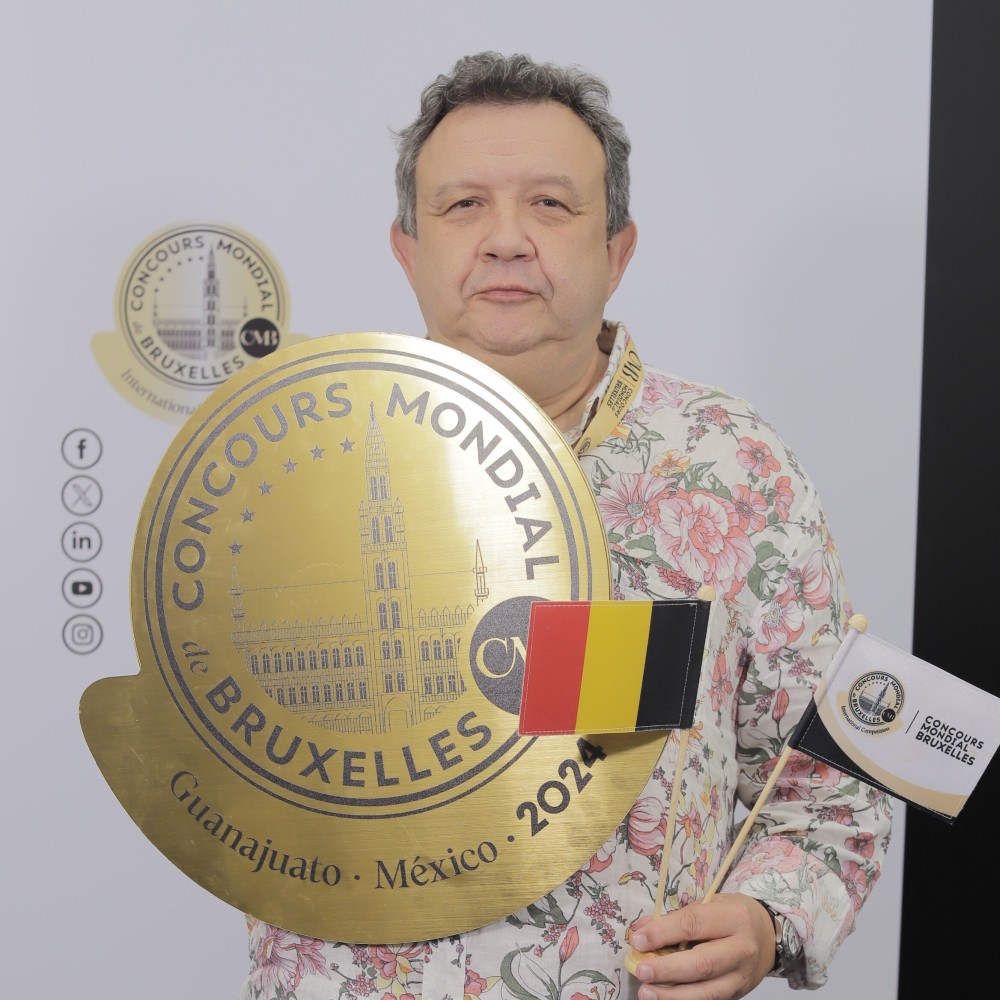 Journalist Moustique Columnist @Bel RTL hedonist blogger on www.ericboschman.be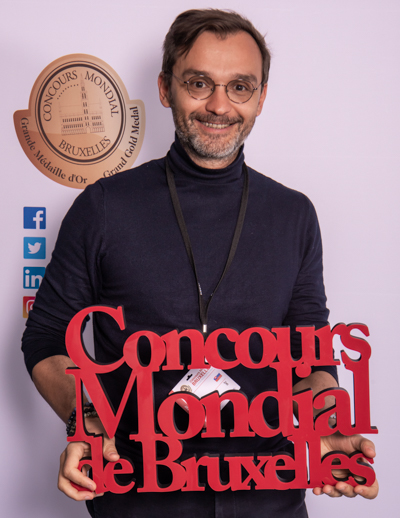 Export manager sommelier AIS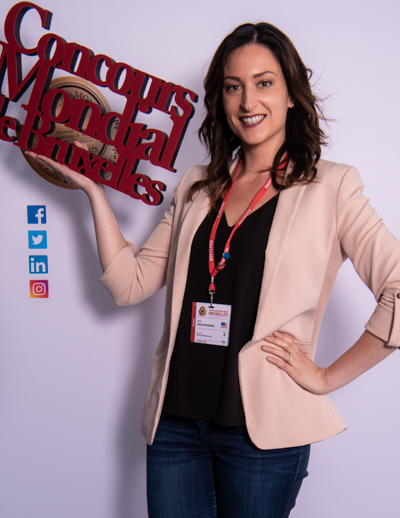 Erin Kirschenmann
United States
As senior editor for Wine Business Monthly, Erin has been writing about wine industry trends for the magazine since 2012. She graduated from Sonoma State University with a bachelor's degree in communications with a journalism emphasis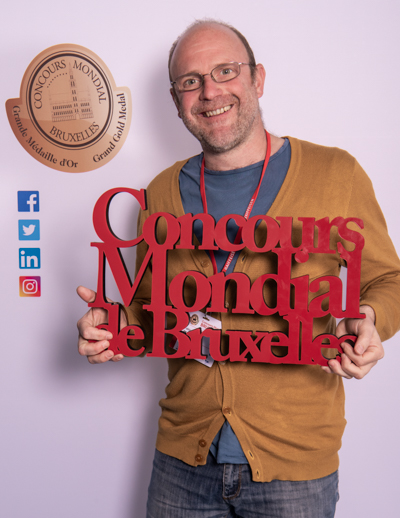 Journalist at Slowfood.it
Associated Professor China Agricultural University
Francesco D'agostino
Italy
Wine Journalist at "Cucina e Vini"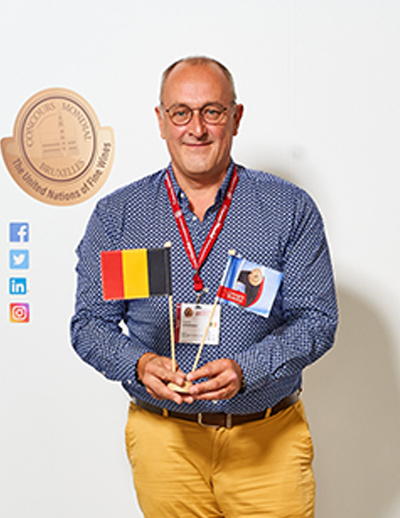 Francis Lerminiaux
Belgium
Wine buyer at Carrefour Belgique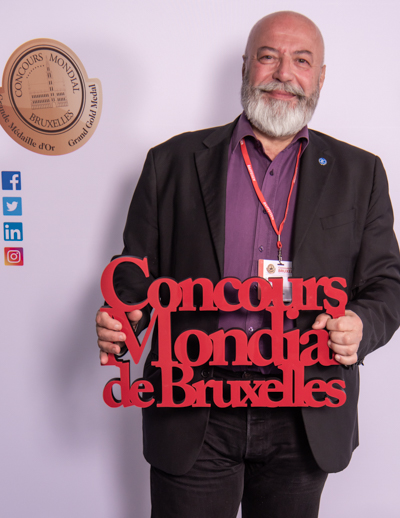 He Works for the Tuscany Region Promotion of the Wine and Agri-Food sector, including Buy Wine and Anteprime Vini di Toscana. Sommelier since 1999 official taster since 2011. He got the "Taster Trophy" award at the Concours Mondial de Bruxelles 2012. From 2018 he has began to collaborate with the new wine blog "www.ilsalottodelvino.it" specially about unusual combination between wine and music or literature.Sommelier since 1999 official taster since 2011. He got the "Taster Trophy" award at the Concours Mondial de Bruxelles 2012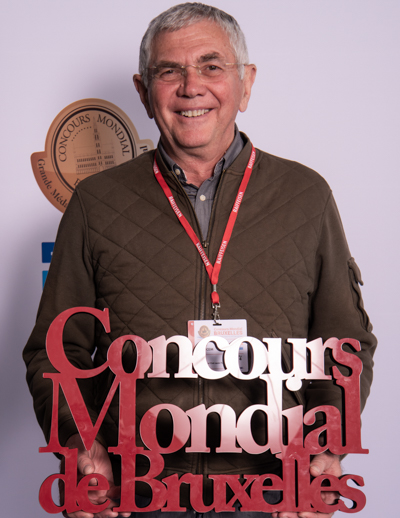 President of the Croatian Oenologist Association and Vice president Croatian somelier Club.Wein educator,international Wine judge
Operations Director of Italian Dining restaurant in Beijing
Frédéric Borloz
Switzerland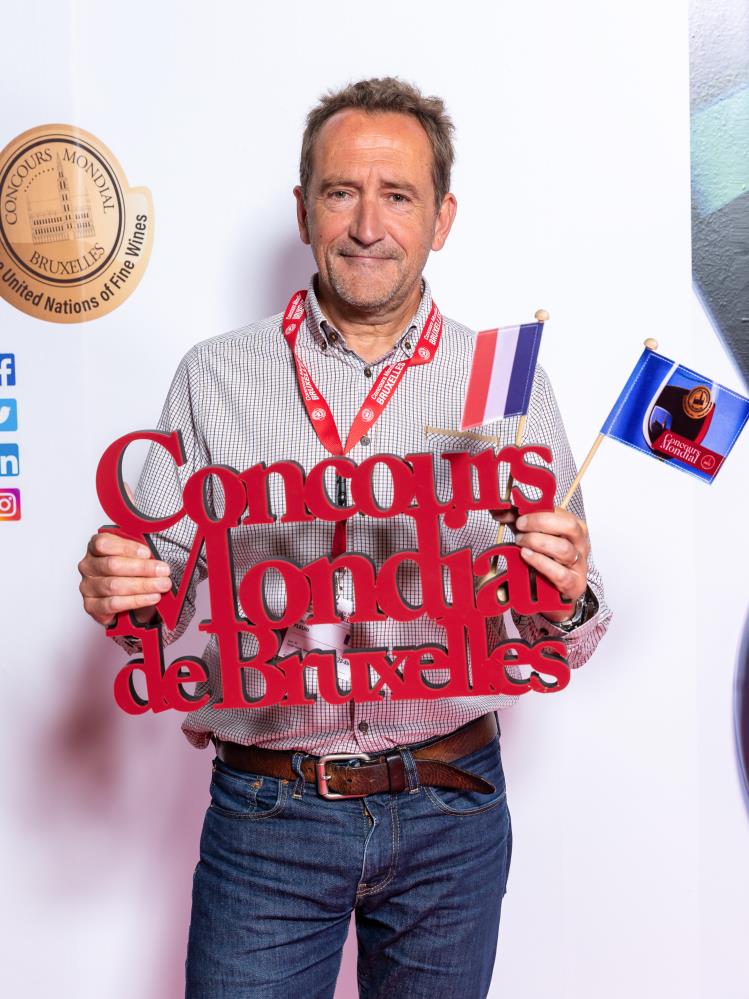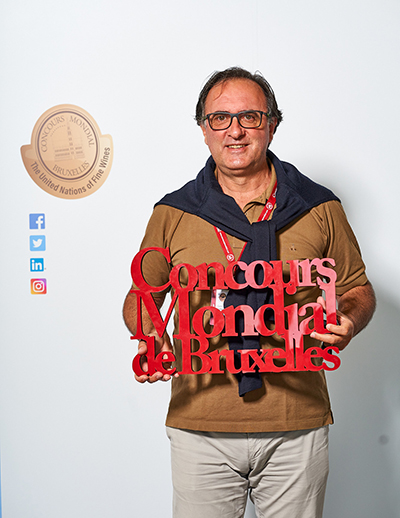 President of Enoteca Regionale Calabrese
Gerasimos Georgopoulos
Greece
Wine critic and Consultant Wine educator in "Genius in Gastronomy" school of Sommellier Lecturer in the post graduate degree of oenological departments in various universities Wine Writter at Oinohoos,Gefsignostis and Olive magazines as well as www.fnl-guide.com Author of Only the Best and A Wine Glass full of Greece guides. Blogger (simosgeorgopoulosblog.wordpress.com) Consultant in numerous restaurants and wineries. Organizer of the winetasting events "Krasarismata"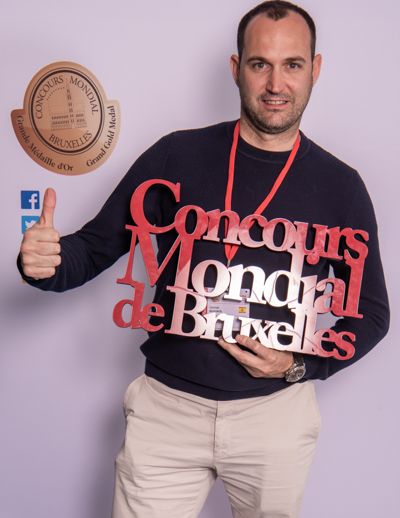 Manager Gourmet Experience El Corte Inglés.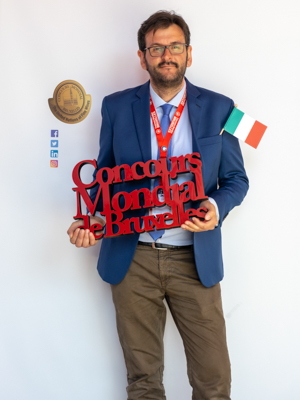 Member European Young Farmer (EU – CINA), Expert Environmental Sustainability and Organic Agriculture, President AGIA of Western Sicily Italian Confederation Agriculture, Collaborator with Cantina Castrocielo – CMB ambassador in Italy, Wine-Bloggeur VITE NEL VINO, ONAV wine taster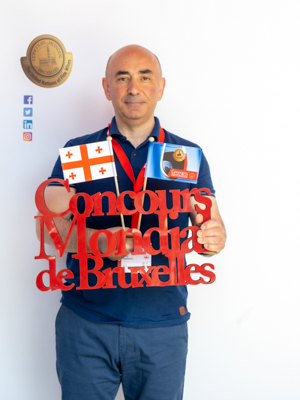 Giorgi Dakishvili
Georgia
Enologist and Qvevri expert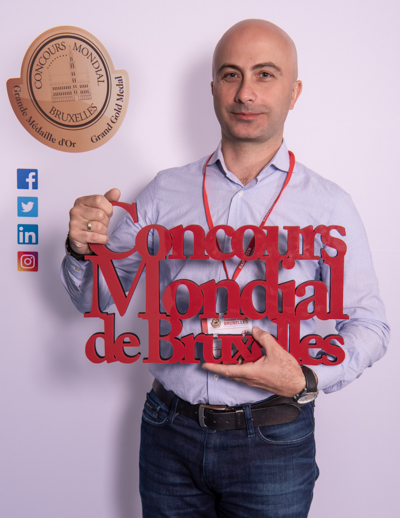 Giorgi Samanishvili
Georgia
Oenologist – Wine Expert. Chairman of National Wine Agency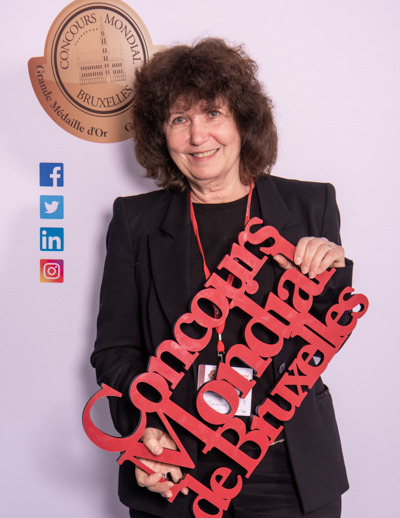 Journalist: Chief Redactor at Union Girondine des Vins de Bordeaux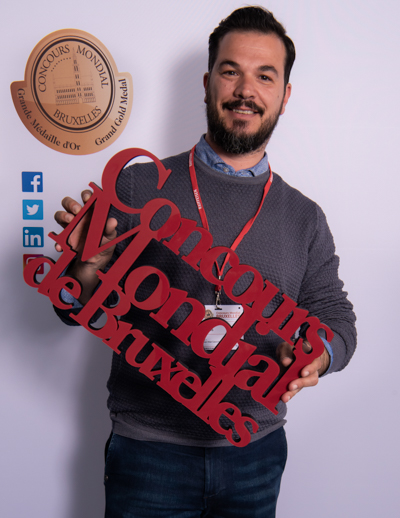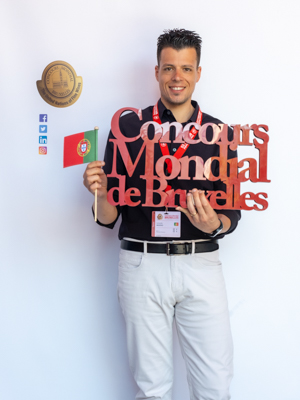 Sommelier au Land' Vineyard
Binzhou Medical University Associate professor President of Yantai Enologist Association; Committee Member of Wine Technical Committee of China; National wine judge of China food industry committee; Wine judge of China fine wine challenge; Wine judge of Vinalies China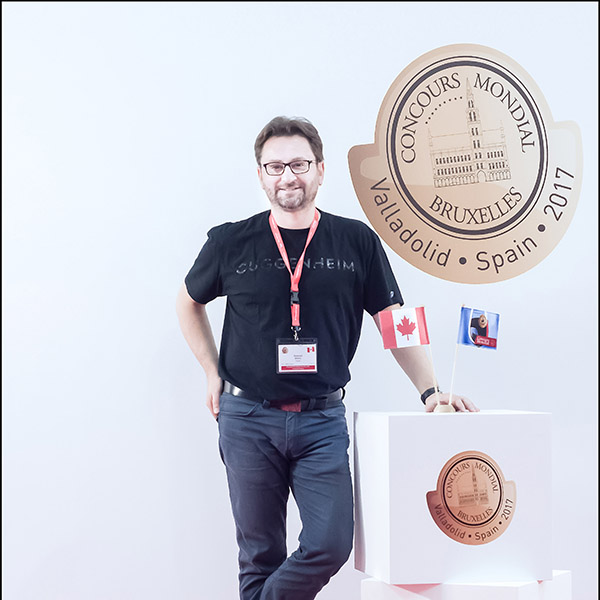 Auteur, chroniqueur, journaliste, Vins & Vignobles / Guide Revel des champagnes et des autres bulles / MonsieurBulles.com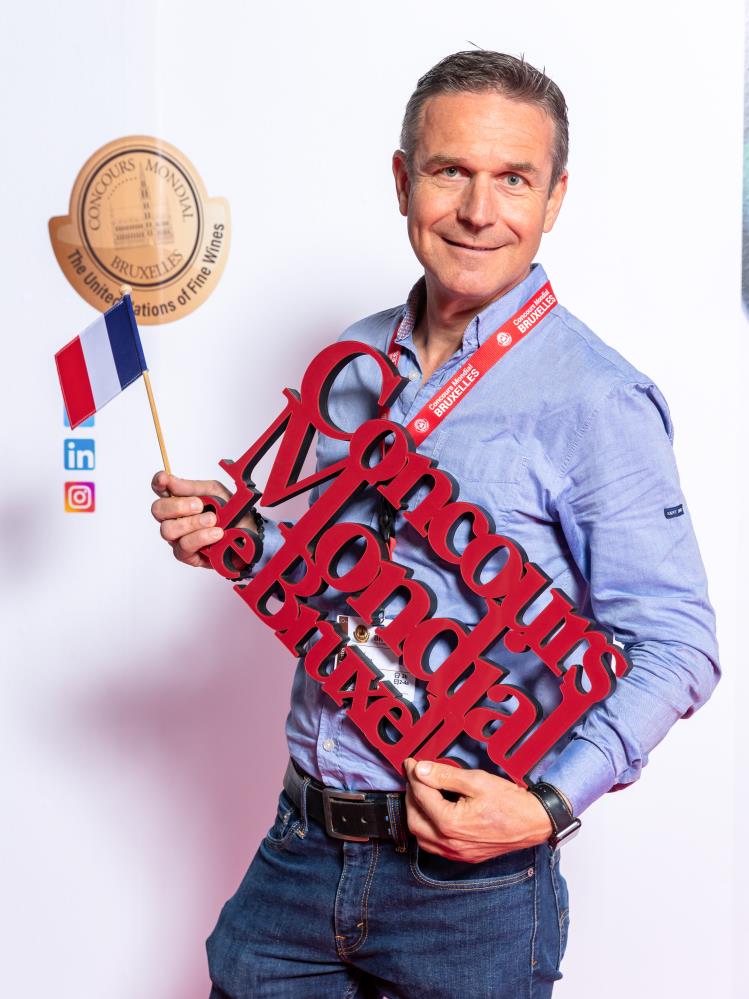 Consultant Œnologist in Rhone Valley for Institut Oenologique de Champagne (IOC)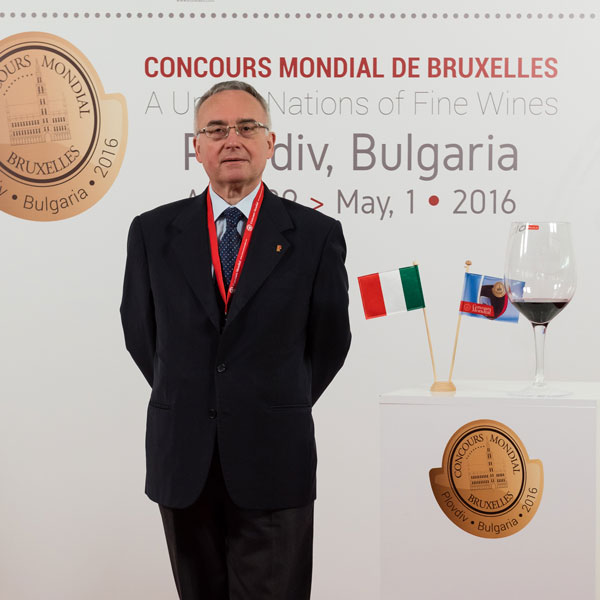 Quench Magazine wine editor; Global TV wine columnist; Vinitaly International Academy Certified Italian Wine Expert; Wine & food consultant; Vinomania Consulting president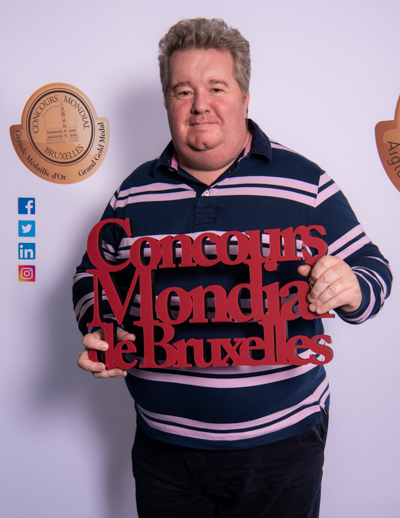 Gvozden Radenkovic
Serbia
President of Wine Producers Union of Serbia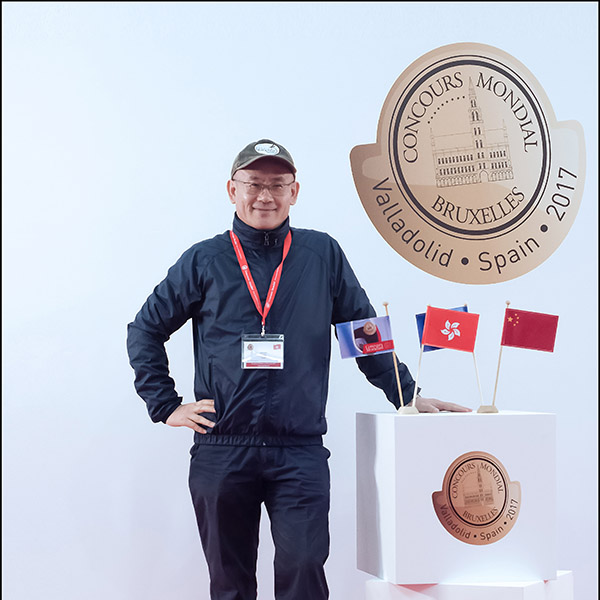 Haiyan Song
United Kingdom
Associate Dean and Chair Professor in the School of Hotel and Tourism Management at The Hong Kong Polytechnic University (PolyU). Professor Song has a background in economics, with research interests covering such areas as tourism economics and wine economics.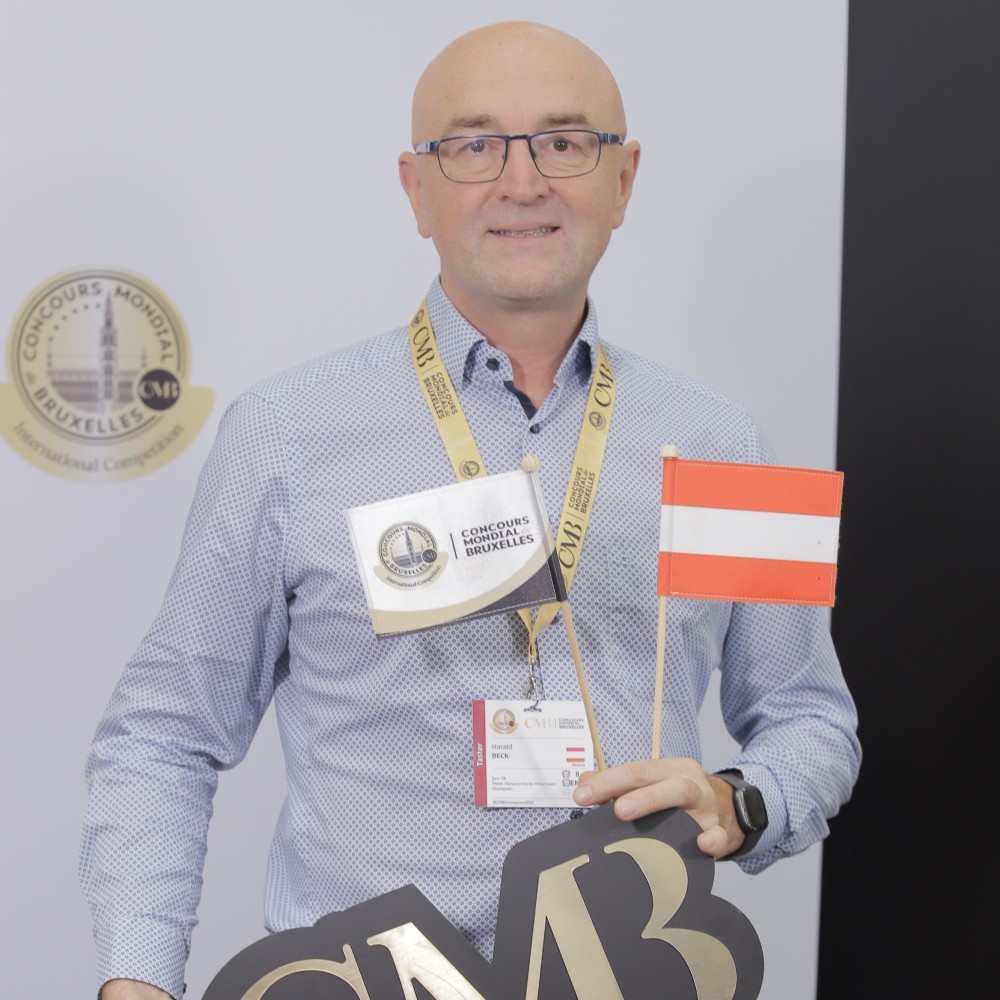 Buyer REWE International AG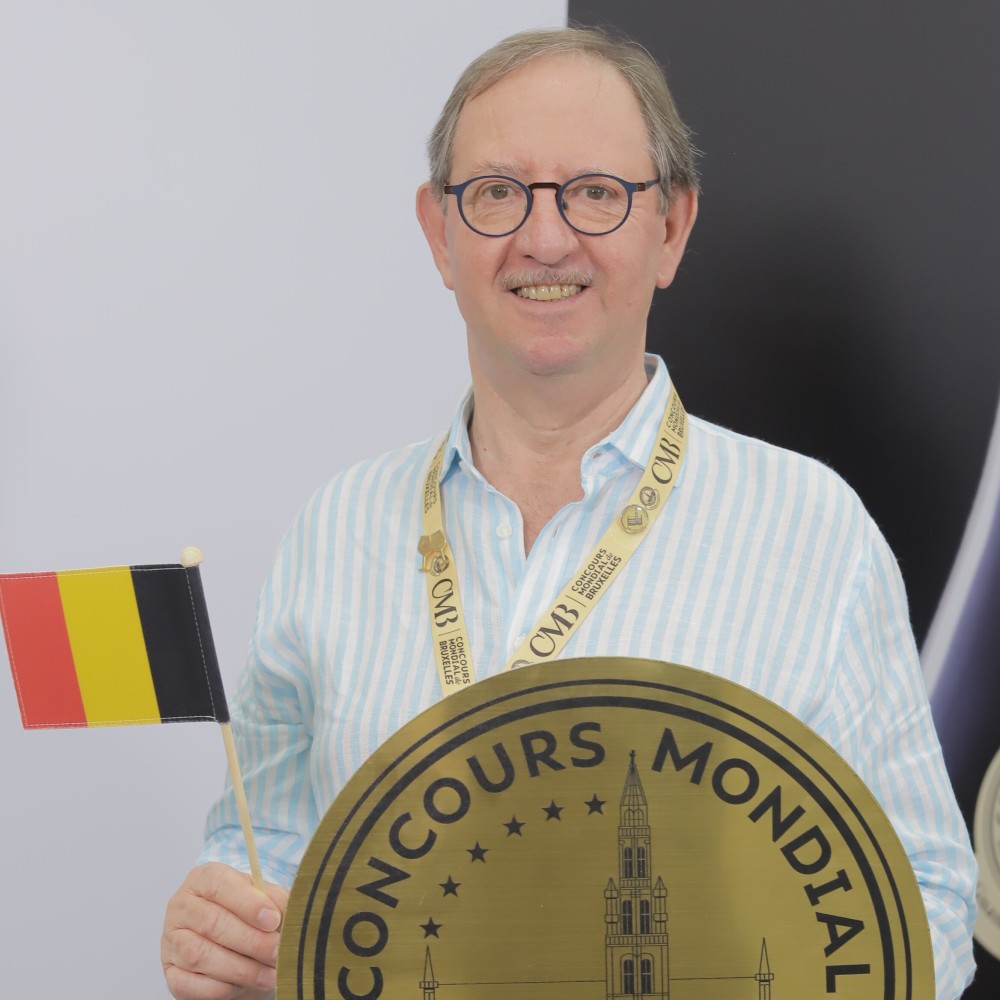 Hector Paul Van Boxstael
Belgium
Wine Trader: De Wijnbeurs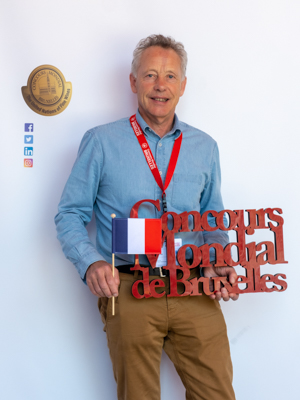 Enologist: Manager at Laboratoire Oenoconseil
Président de la Fédération des grands vins de Bordeaux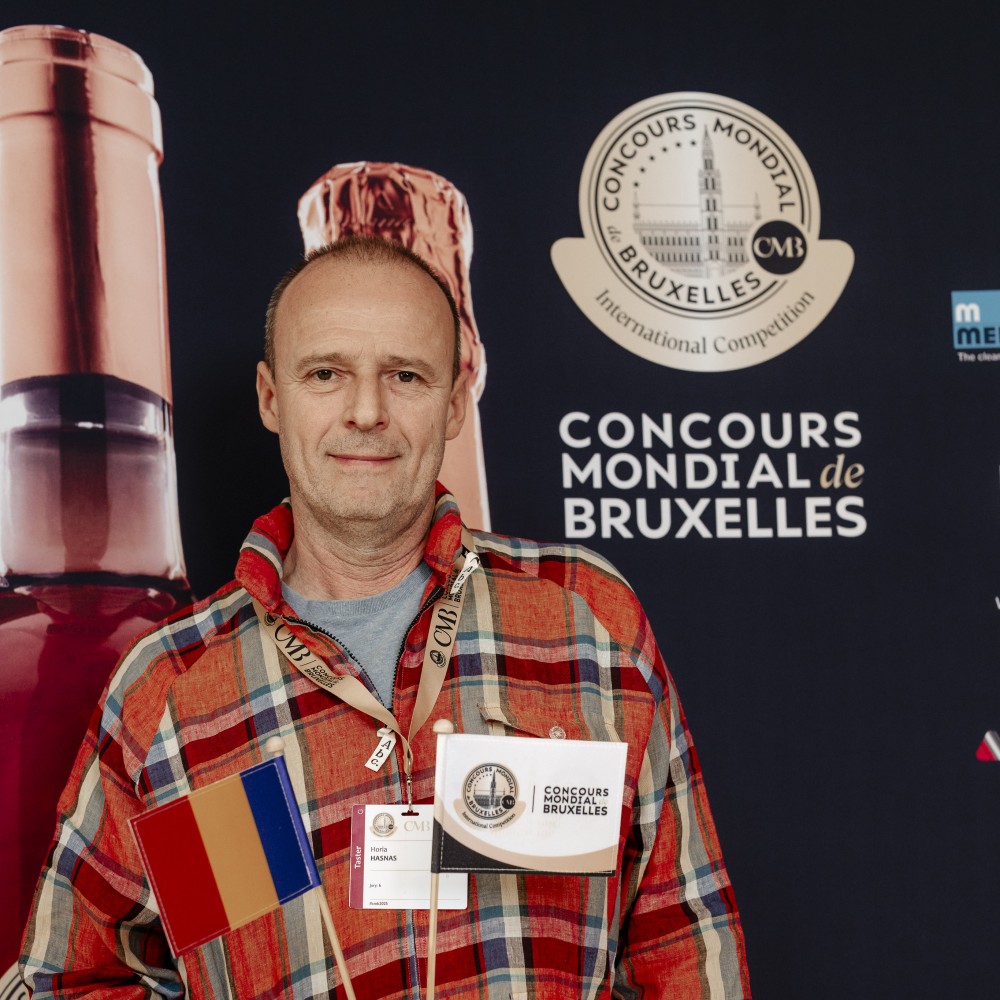 Chairman South Xinjiang Winemaker Association
Since graduated in 1992, I have already worked in wine industry as a winemaker for 26 years. I know quite well about wines and grapes in China as I have been worked in Beijing, Xinjiang, Shandong Shanghai and Yunnan, also I have done a lot of business travel all over the world.
Wine& Fruit Wine Expert Commitee Expert of China National Food Industry Association. Member of Subcommittee on Wine of National Technical Committee on Brewing of Standardization Administration of China
Hyeon Tae Choi
South Korea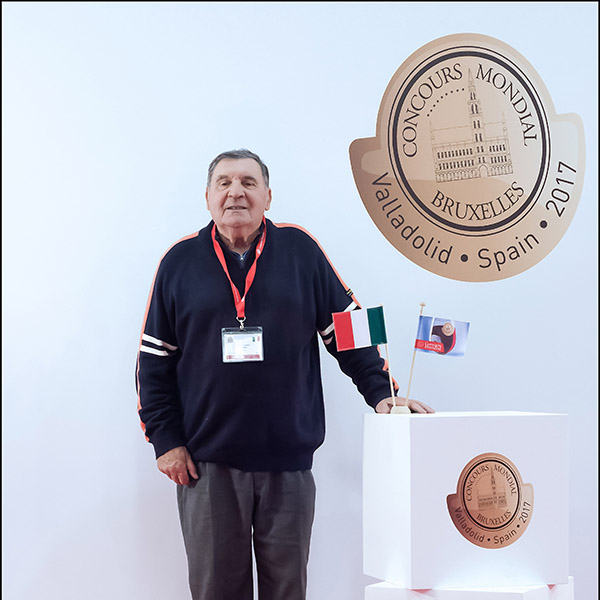 Ico Salvatore Turra
Italy
Commissioner for various Wine competion. Consultant Œnologie and International Accademy of Sensory Analysis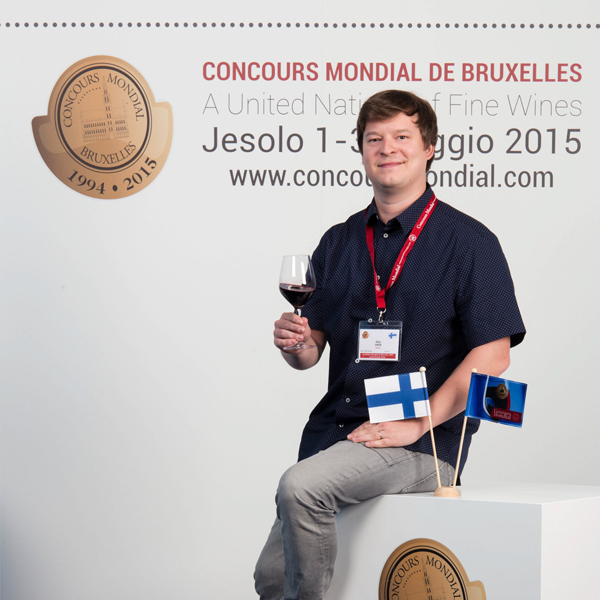 Freelance journalist. Writes a regular wine column for Maku, Finland's most popular food magazine, and wine reviews for Anna, Finland's leading women's weekly. Additional Finnish magazines for wine writing include food magazines Rakkaudella Vege and Kaneli & Sokeri, and Apu, Finland's largest weekly periodical. Internationally Ilkka writes for several publications such as Meininger's Wine Business International, BBC, Saveur, VICE Media, Eater, Fine Dining Lovers and others. Ilkka is also certified Sherry Educator and the IWSC 2012 Blogger of the Year nominee and has been knighted by the Confraria do Vinho do Porto.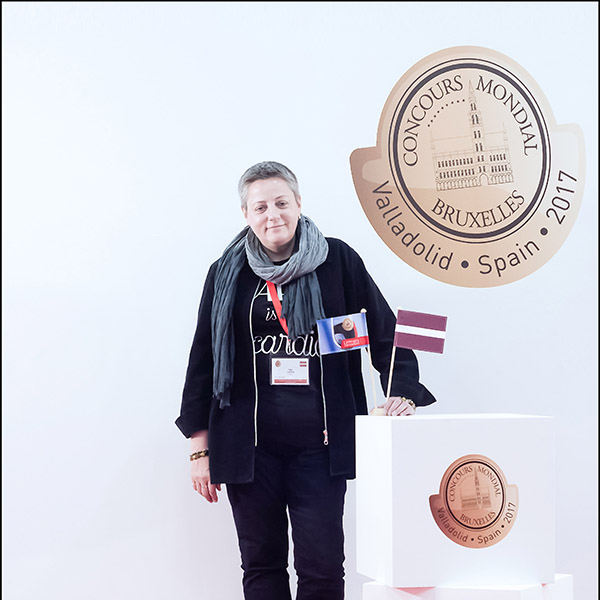 Magazine writer "VIP Lounge", "Noble Wine", "Status"
Ingeborg Straetmans
Belgium
Owner at Wines & Stories
Regional Manager Europe at Vinex Wine Exchange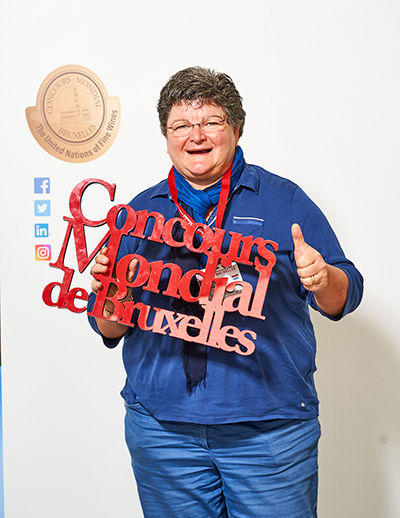 Ingrid Larmoyeur
Netherlands
Wine & spirits educator | wine & food writer @vinissima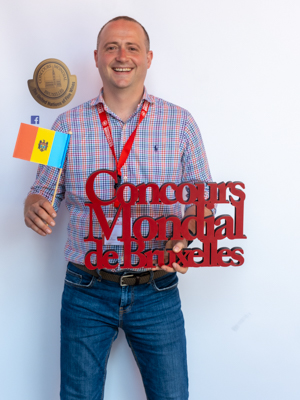 Ion Luca
Moldova, Republic Of
President of the "National Association of Wine Retailers"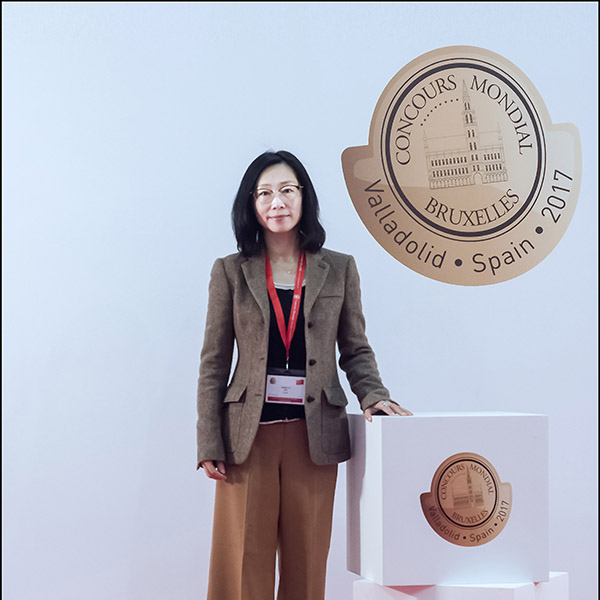 Wine journalist and founder of wine website:www.winepicurean.com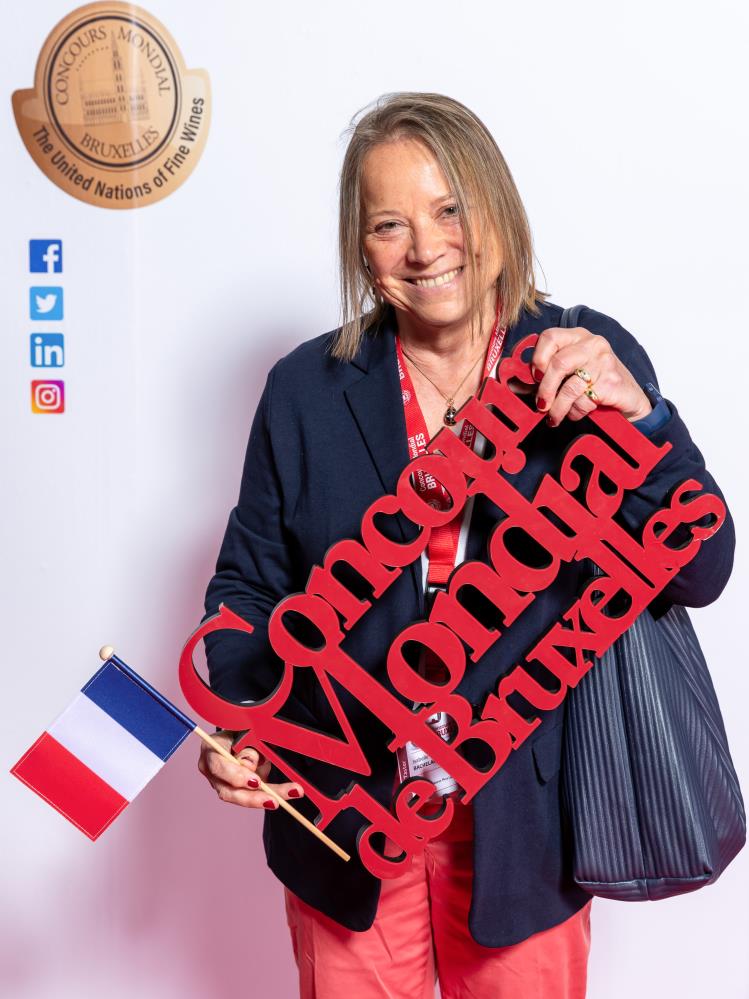 Isabelle Bachelard
France
Freelance -VSB Vins spiritueux boissons – Singular's -La revue du Vin de France -Terre de Vins – Author – Translator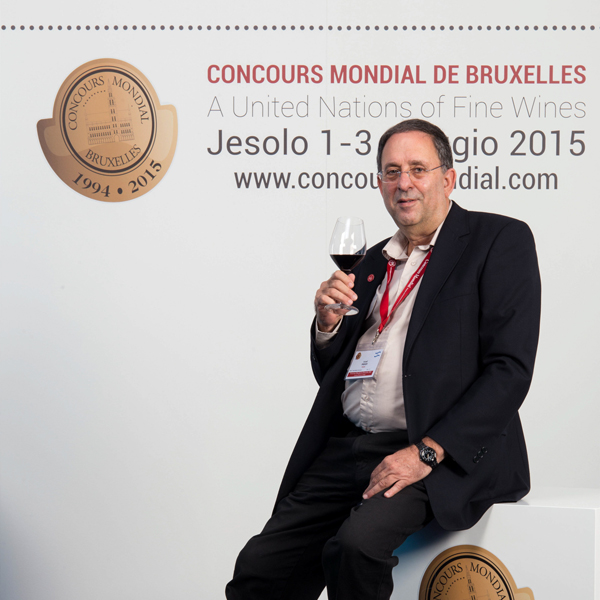 Wine journalist owner of: www.wines-israel.com (English) www.winesisrael.com (Hebrew) Wine consultant and Lecturer on Israeli wines
Founder of Wine+Puwei Elegance management (Shanghai) Co., Ltd. – Hong Kong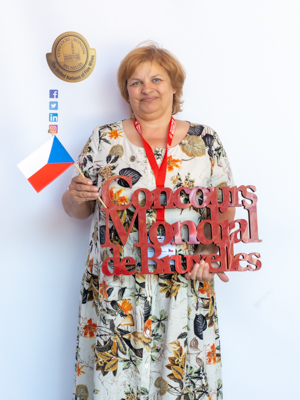 Ivana Kovarikova
Czech Republic
Publisher of the Revue for Hotel and Restaurant since 1990. International wine judge.
Buying Manager at la Rinascente SpA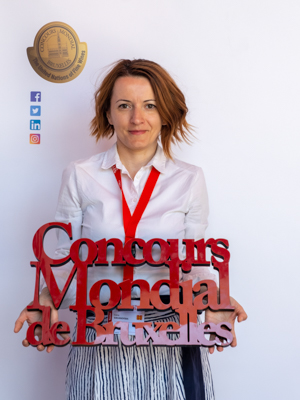 Ivana Simjanovska
Macedonia, The Former Yugoslav Republic Of
Co-author and publisher of the first Macedonian Wine Guide 2011&2015,Divinalux Winery Brand Manager, Consultant at www.macedoniaexperience.com, Editor-in-chief of www.vino.mk
Journalist, editor at Intravino, author of Vino Sommelier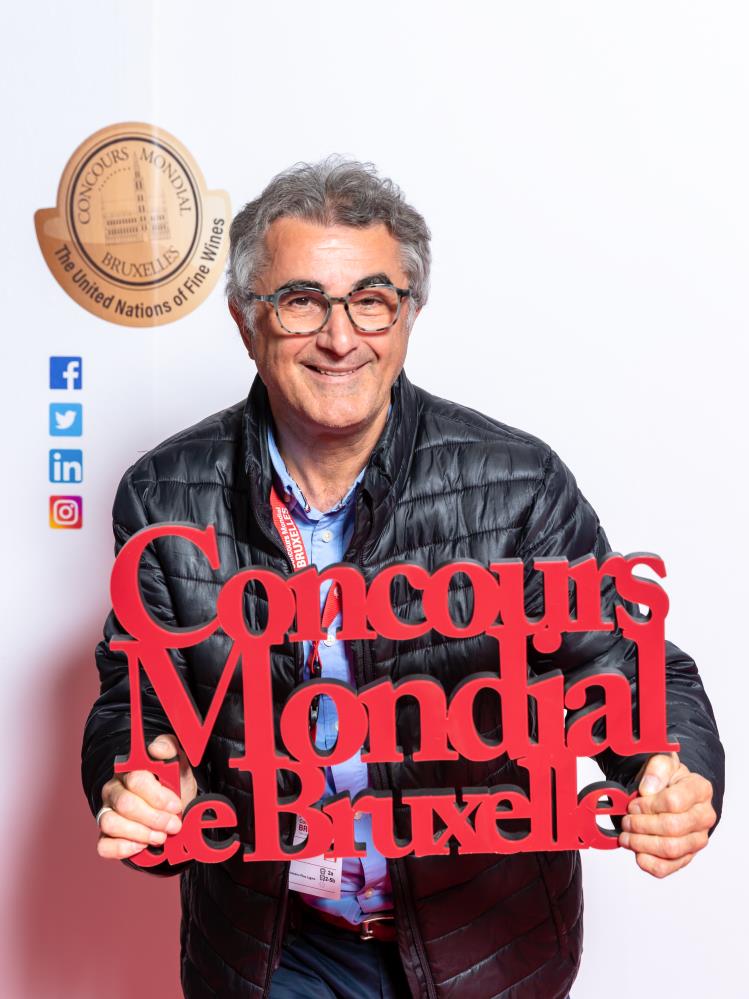 Journalist, Author of several books by Editions de l'Homme, Columnist at Vins & Vignobles, Exquis, Traces, Terre de Vins (France)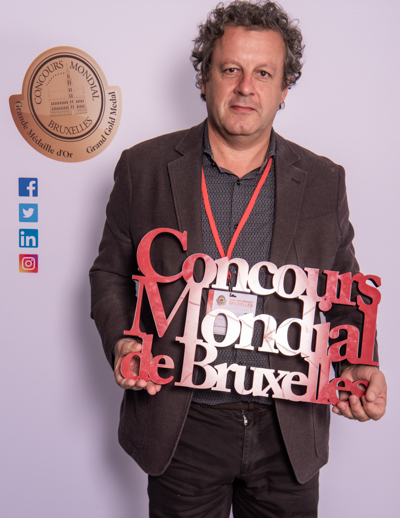 Winemaker Coop Pegoes , casa Ermelinda Freitas , Adega das Mouras de Arraiolos , Fundação Stanley Ho, Quinta da LAPA and several others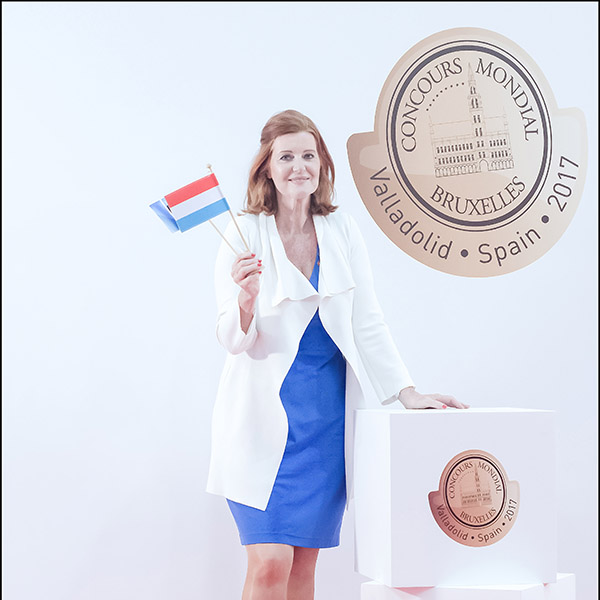 Janna Rijpma-Meppelink
Netherlands
Journalist, winewriter, consultant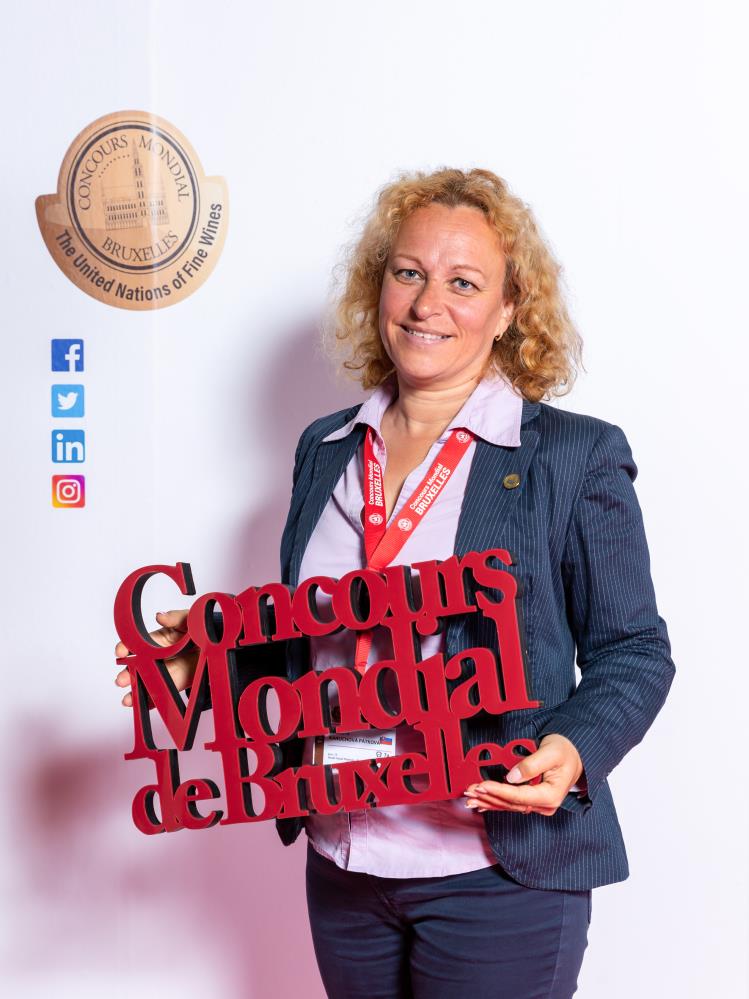 Jaroslava Kanuchová Pátková
Slovakia
Grape and Wine Producers Union of Slovakia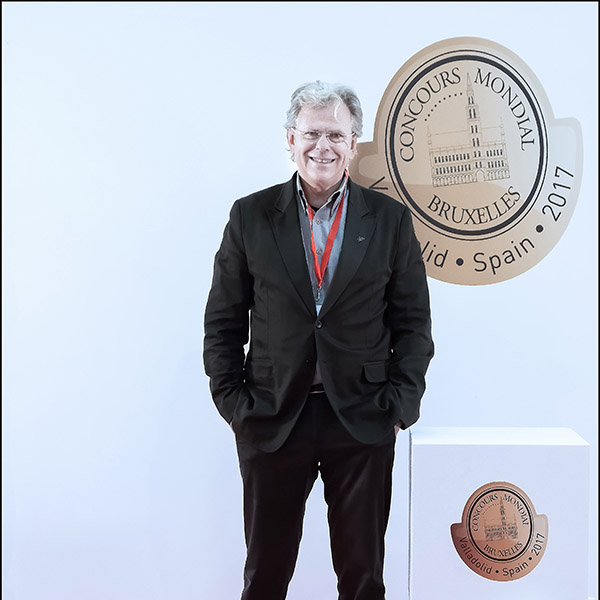 Oenology teacher at Rovira i Virgili de Tarragone University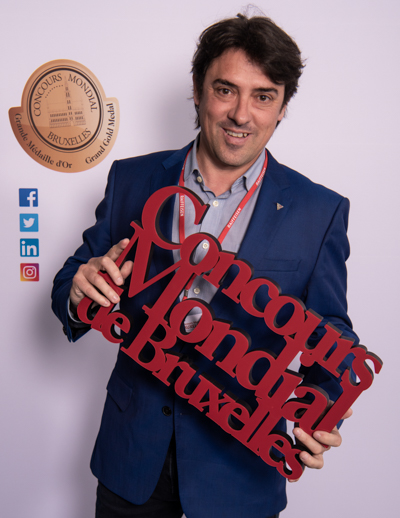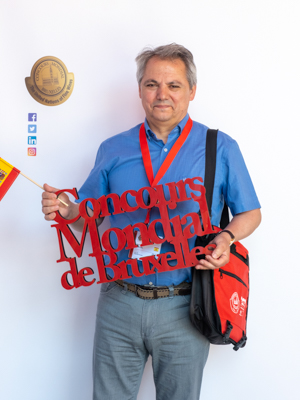 Directeur de la Prensa del Rioja, Directeur Commuication de la DO Rioja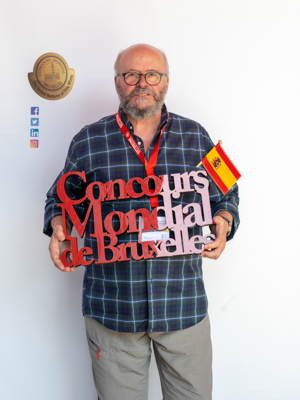 Javier Rueda Mallén
Spain
Anuario de Vinos El País.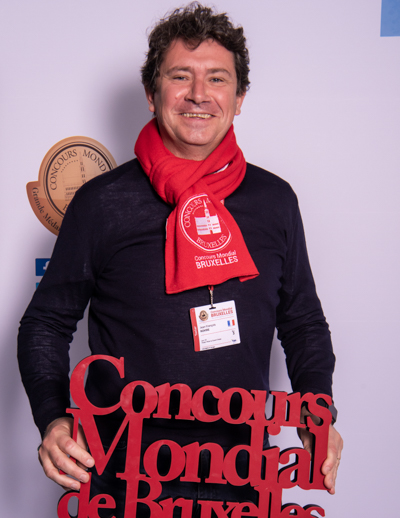 Jean François Rovire
France
Chef de groupe vins chez System U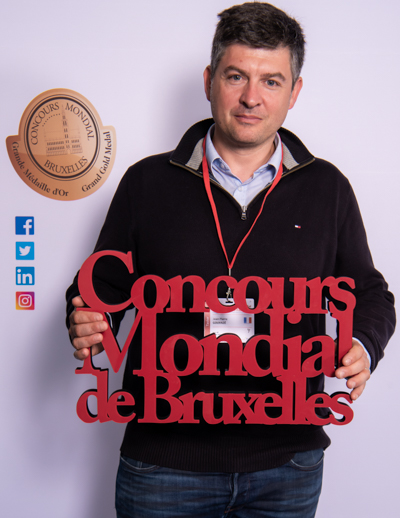 Jean Pierre Gouvazé
France
Delegate to the Loire Valley council "Interprofession des Vins du Val de Loire".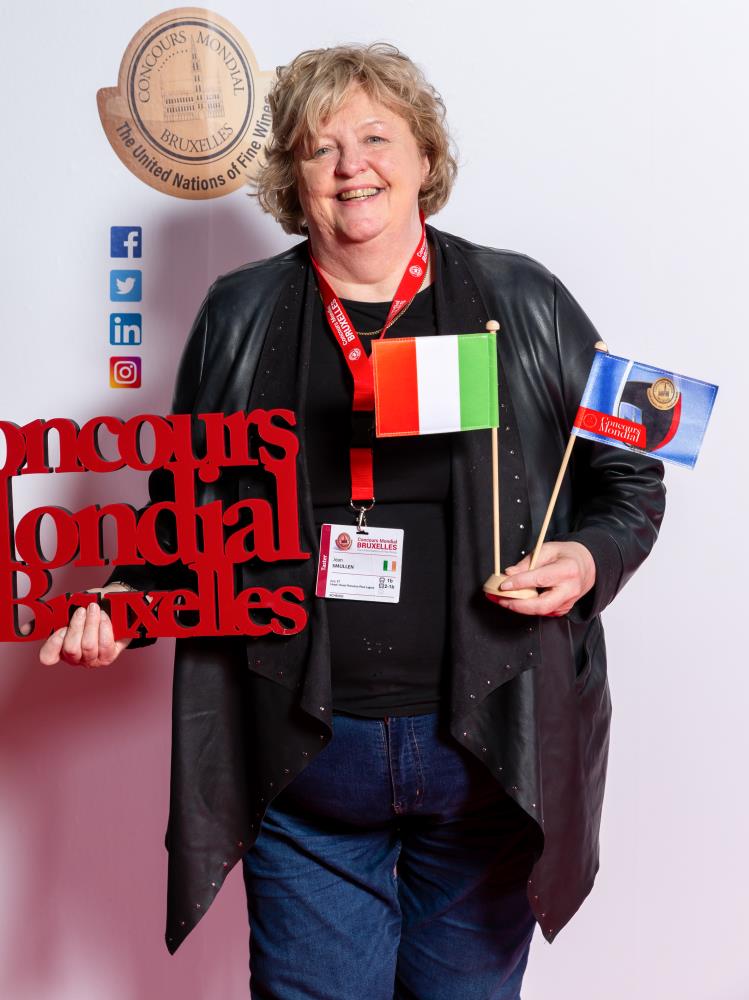 Wine event manager and journalist; Writes for Chef Magazine UK. Wine colum for Irish trade papers: Retail News and Licencing World & Sunday World, Irish national newspaper. Wine programme on Newstalk Irish national talk radio station. Irish wine diary https://jeansmullen.com/ Member of Circle of Wine Writers
Trained as a cooper by his father, Jean-Luc Sylvain takes over the family bu¬siness. Member of the Chamber of Commerce and Territorial Industry of Libourne. Since January 2011, he is the President of the Fédération des Tonneliers de France (French Federation of cooperage).
Jean-Vincent Ridon
South Africa
SA Sommelier Association (SASA)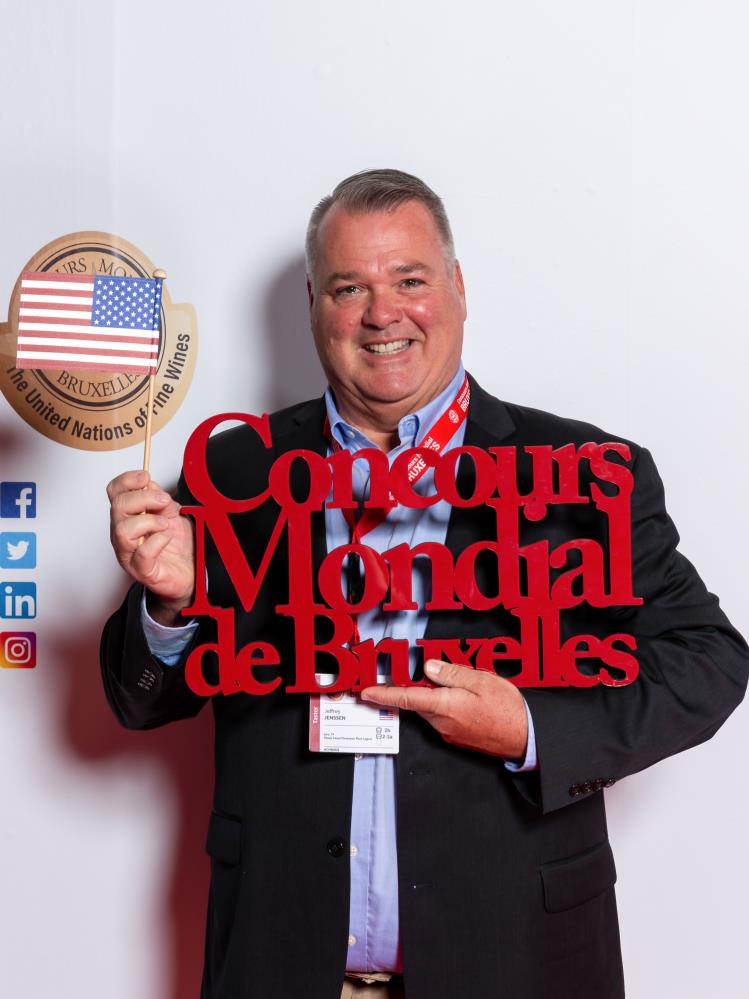 Jeffrey Jenssen
United States
Entertaining and Lifestyle Editor at Wine Enthusiast Magazine. Co-author of Wines Of California and Wines of the Southern Hemisphere. Wine Journalist at The World Wine Guys.
Journalist at Winestate magazine, Gourmet Traveller WINE magazine, Halliday magazine, Wine Selector, Meininger's Wine Business International magazine
Product Specialist Wines & Spirits – Metro Cash & Carry Belgium
Buyer at HK Jointek Business Holdings Ltd.—Beijing Ershang Jointek Business Co.,Ltd.
National Wine Taster, and serves as Technical Director of Beijing Huihuang Chateau Nuage Co.,Ltd.
China Agricultural University Professor
Client Relationship Manager
-Sarment Ltd.
Unpredictable black stallion as he never failed to delivery any wine to anyone, for years he has reputed for sale champion in Northern China in wine business, began with classic French traditional cultivation from Duclot Group, and implied deep research in Burgundy in Imperatrice Co. and Sarment Group. A series of academic diploma achievers in WSET, Bordaux, Barossa, ISG etc.
Founder of wine site Grape Wall of China, annual events World Marselan Day and World Baijiu Day.
General Engineer at Changyu Group Co., Ltd
– national top wine taster and excellent enologist of China
-. enologist of China Alcoholic Drinks Industry Association
– judge of China Alcoholic Drinks Industry Association
– the associate director of China National Food Industry Association Enologist Committee
– judge of China National Food Industry Association
– the vice chairman of vine and wine branch of Chinese Society for Horticultural Science
Winemaker à Ningxia Helan Qingxue Vineyard
First-State-level Wine Taster,state-level Appraisal Judge of Wine.
Experts Committee, Wine Branch of China National Food Industry Association; Fruit Wine Technical Committee, China Alcoholic Drinks Industry Association; Certificated Professor China Agricultural University
National Wine Expert, Level 1; Senior Member of China Food Society.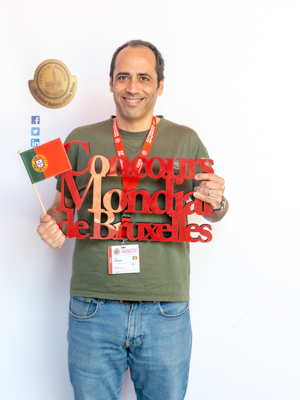 Journaliste at "la Vida Rural"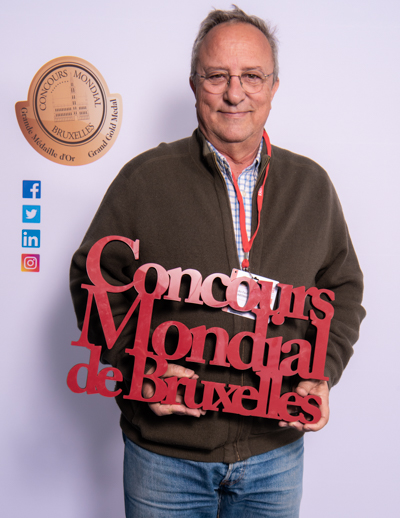 João Paulo Martins
Portugal
Journalist – Revista Vinho – Grandes Escolhas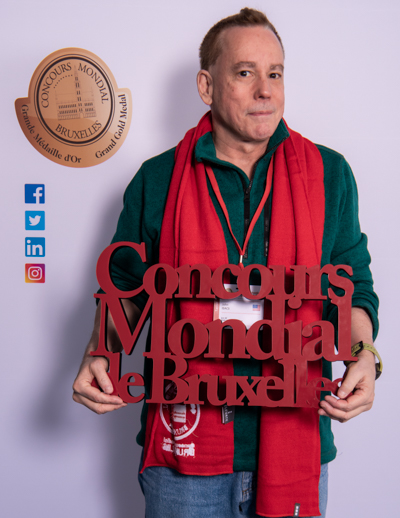 Journalist at Shanghai Daily, "wine columnist for China People's Publications Z Mag, Money Journal China, Men's UNO, Stuff Taiwan and the publisher and author of ISACS Wine Guides in China, Taiwan, Hong Kong, Malaysia and Singapore; and also a host of gourmet-related TV and radio programs in Shanghai and Taipei"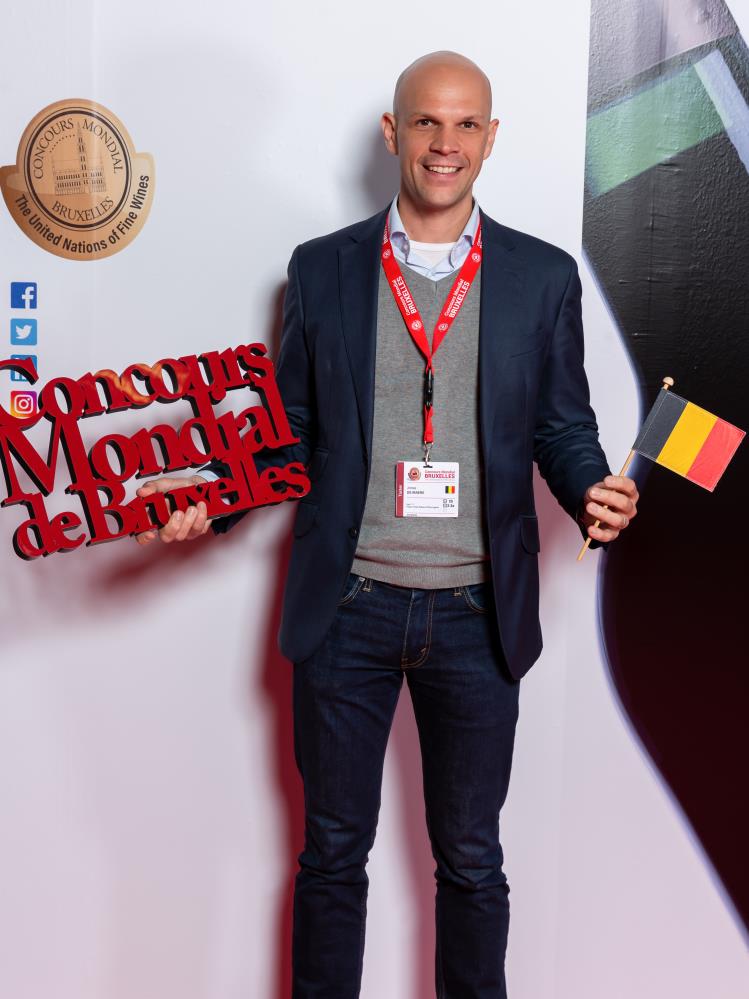 Wine buyer at Ahold-Delhaize. Further active in wine trade, wine education, and public affairs. WSET Diploma holder and Weinakademiker.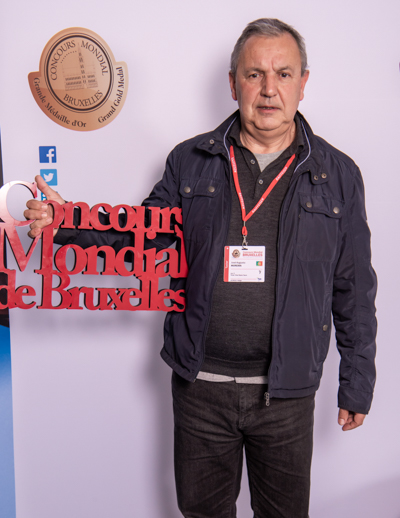 José Augusto Moreira
Portugal
Journalist in dayly newpaper Público, since 27 years.
Writes about wine and gastronomy in the weekly suplment Fugas.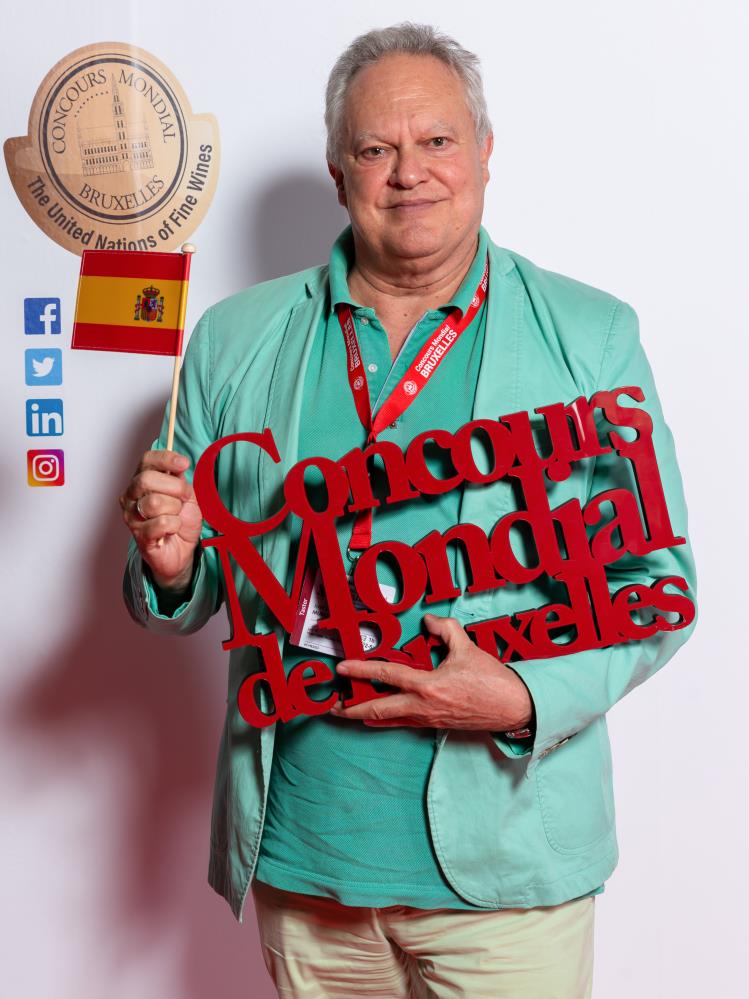 Freelance,contributor to El Mundo, La Semana Vitivinicola, El Correo del Vino, Gourmets, Distribución y Consumo, President of AEPEV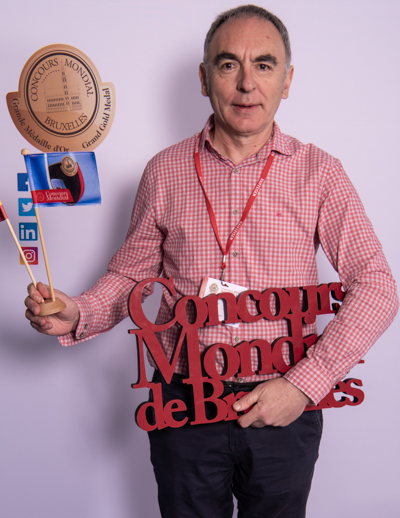 Jose Luis Solanilla
Spain
Journalist at El Heraldo de Aragon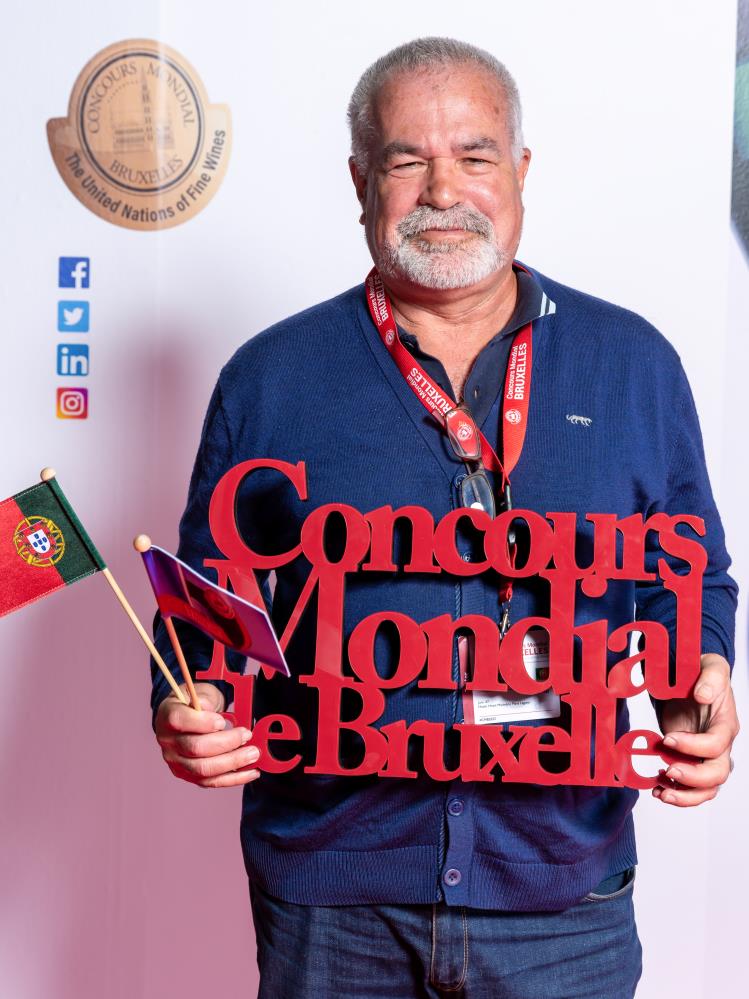 José Miguel Dentinho
Portugal
Journalist at Expresso Vinhos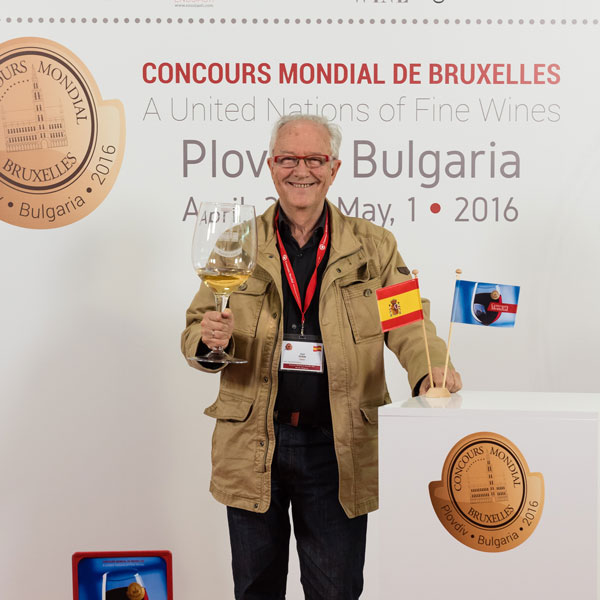 Presidente fundador: Guia Penin de Los Vinos de Espana, Membre FIJEV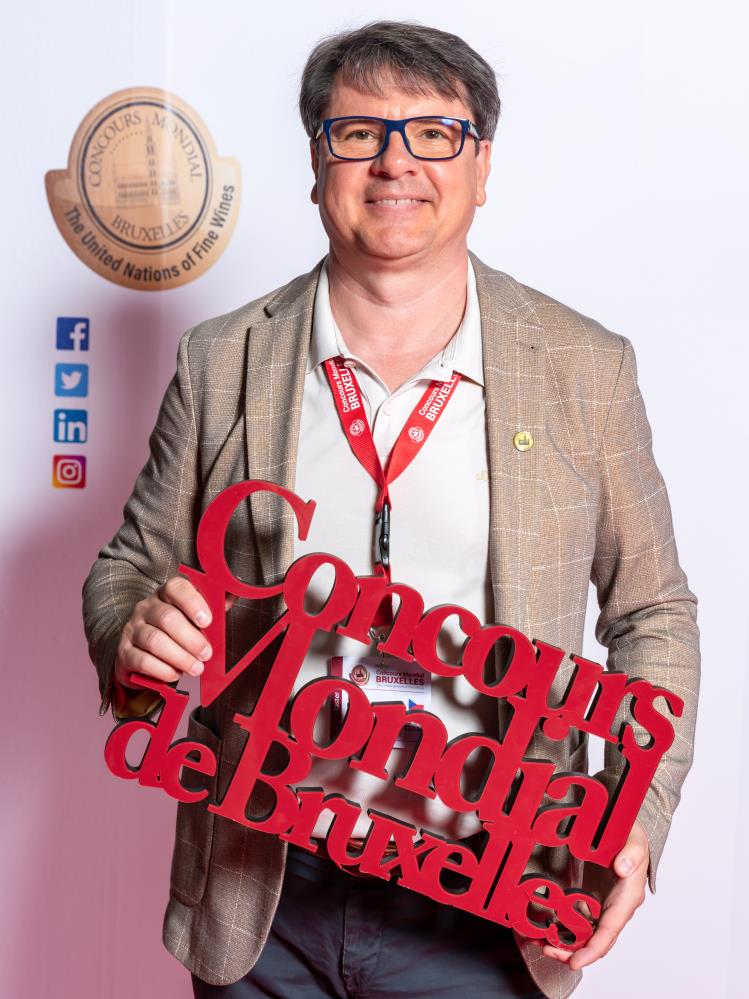 Josef Balik
Czech Republic
Leader of courses for the National oenology centre and the Wine academy in Czech Republic
2016's Spain Best Sommelier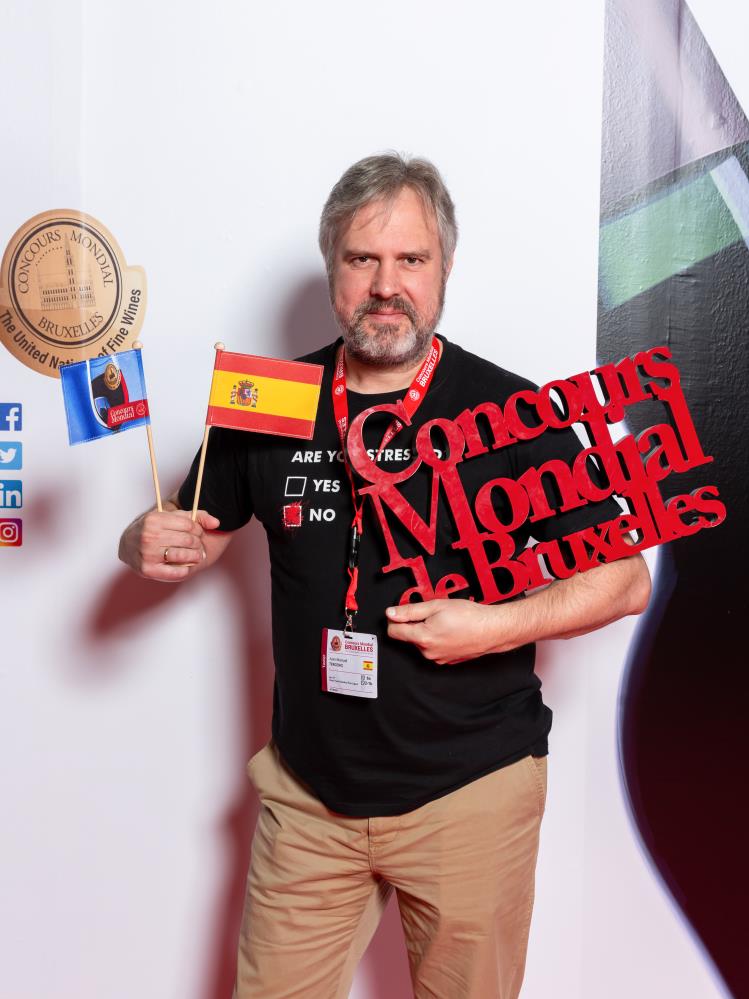 Juan Manuel Terceno
Spain
Gonzalez Byass Sommelier, Sommeliers teacher in several courses in Spain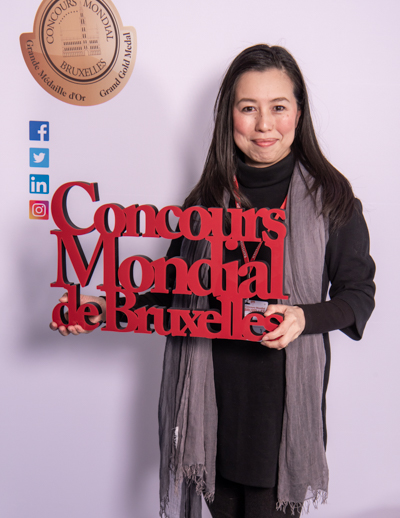 Sommelier (JSA) Based in Centre Loire France, consultant wine export for Japanese market work with winegrowers and wine organisations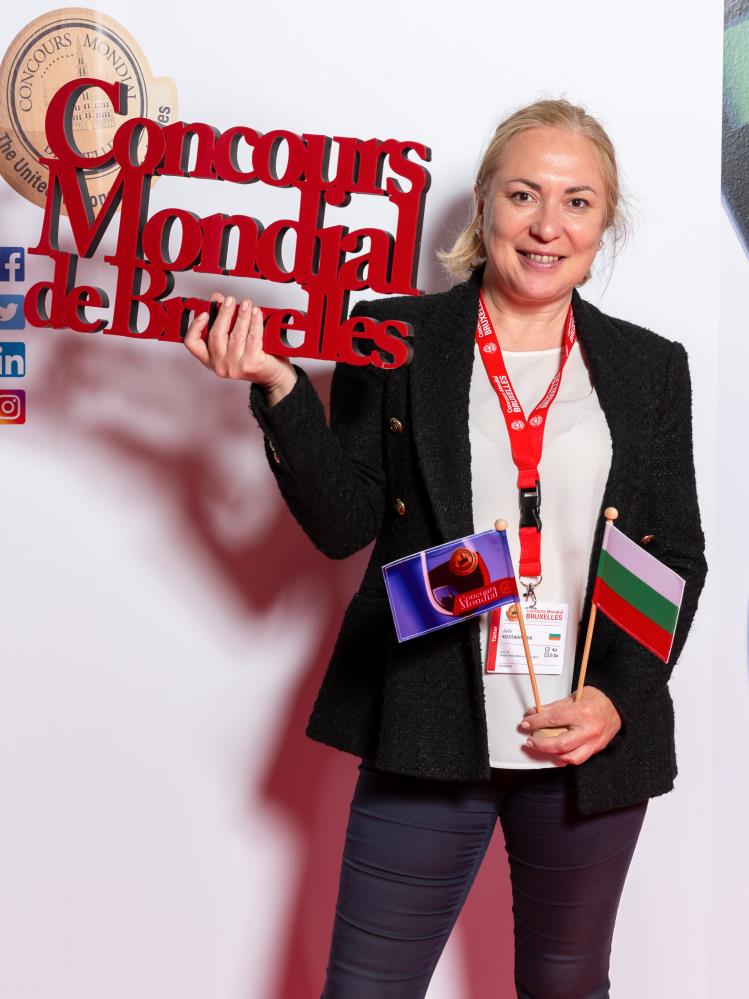 Julia Kostadinova
Bulgaria
Editor-in-chief of DiVino.bg, wine taster with many years of experience, member of a number of international tasting commissions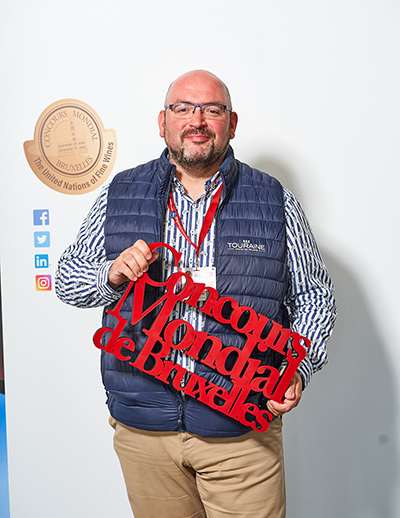 Wine Buyer : Groupe Mestdagh Belgium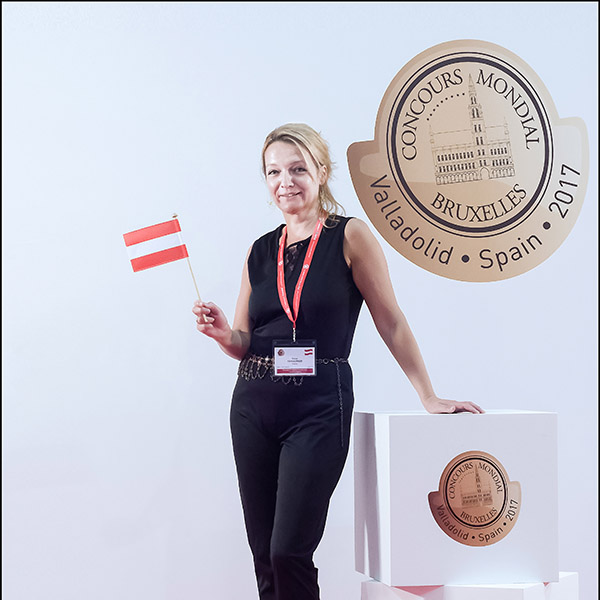 Editor of www.weinmarketing.co.at (print and online) and www.weinkauf.co.at PR & Organisation for Events like Magnum Night Shanghai & Beijing – www.gomarin.de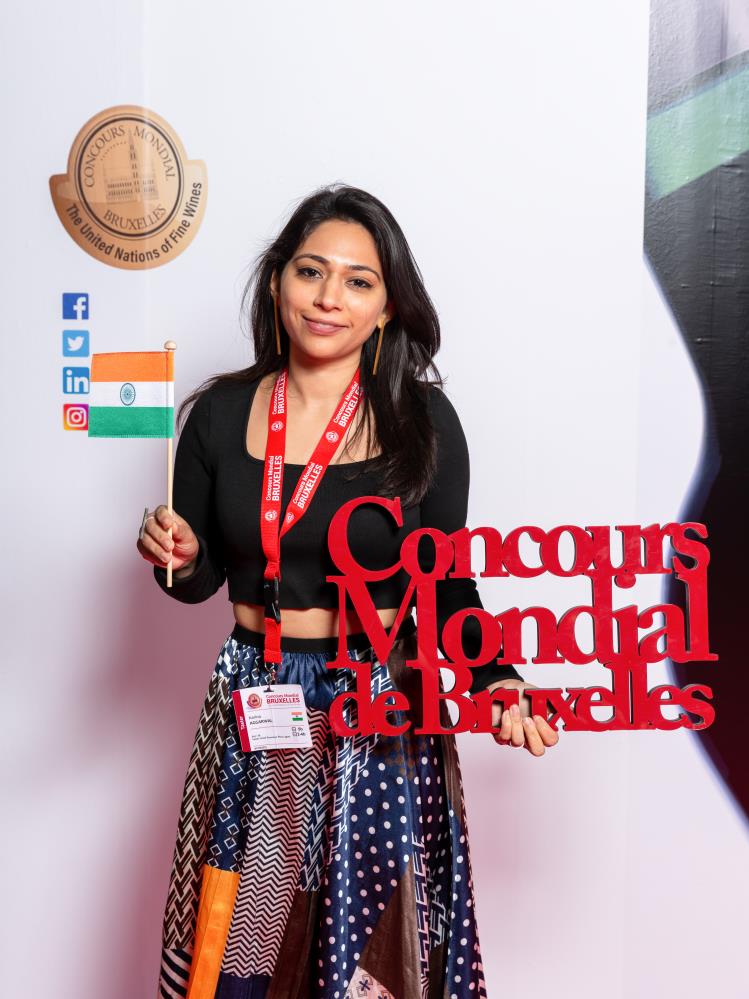 Founder Gigglewater411. Writer GQ India, Spiritz, Sommelier India, The Hindu.
Karina Sogoyan
Russian Federation
Wine journalist at www.spaziovino.com and book author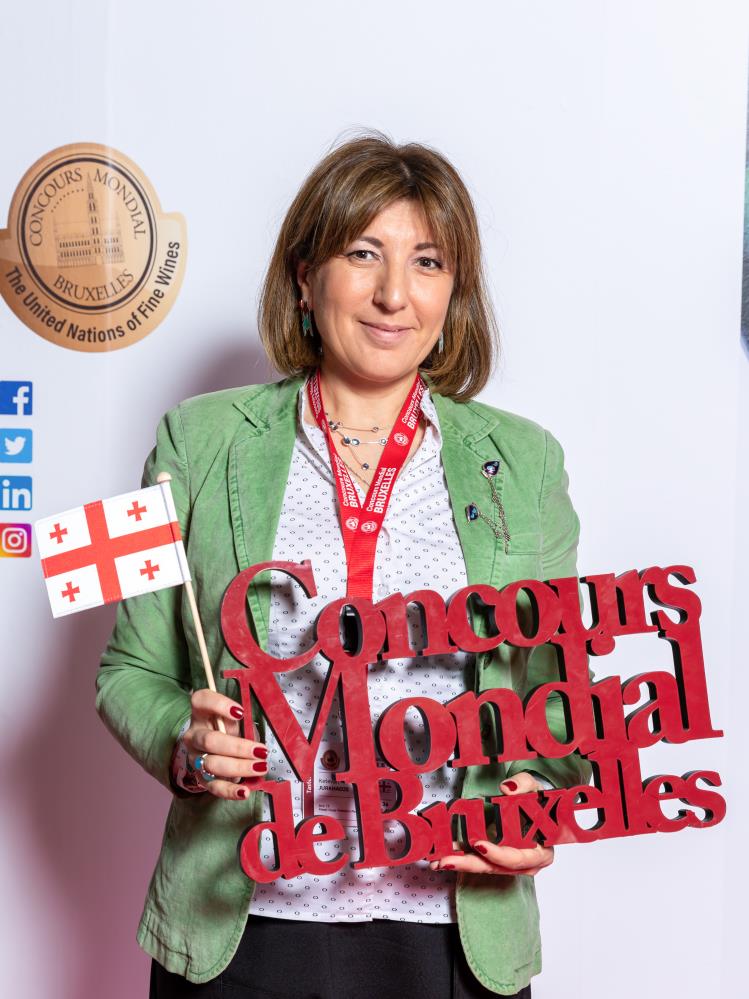 Ketevan Jurkhadze
Georgia
Wine Expert and Sommelier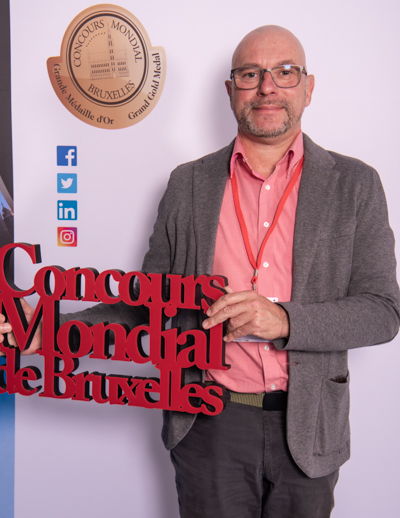 IHK officially appointed and sworn expert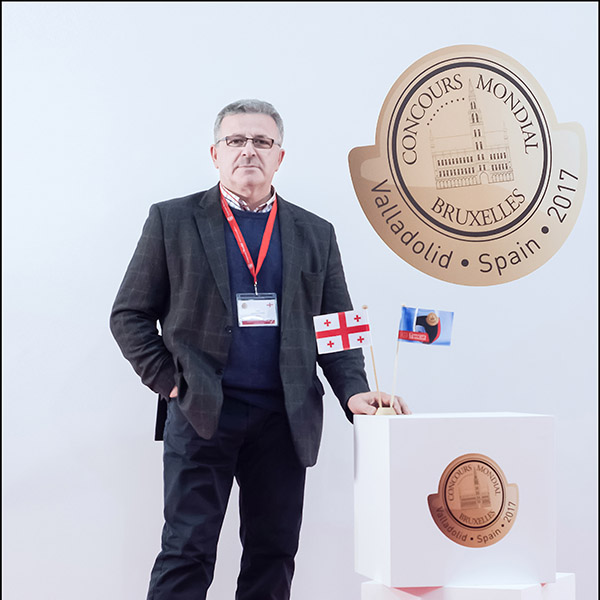 Chief winemaker at Mukado Wines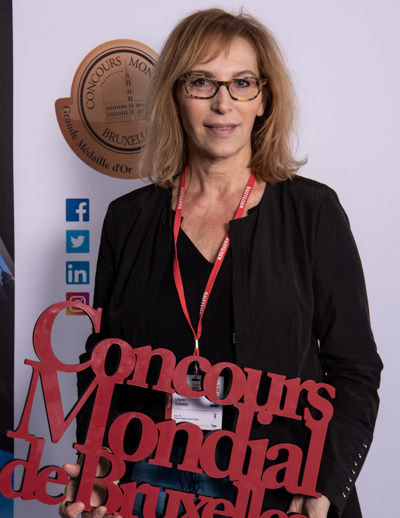 Liliane Turmes
Luxembourg
Journalist: Tageblatt,Business Review. Directrice du web magazine VINALU www.vinalu.lu
Wine Director/ Wine Writer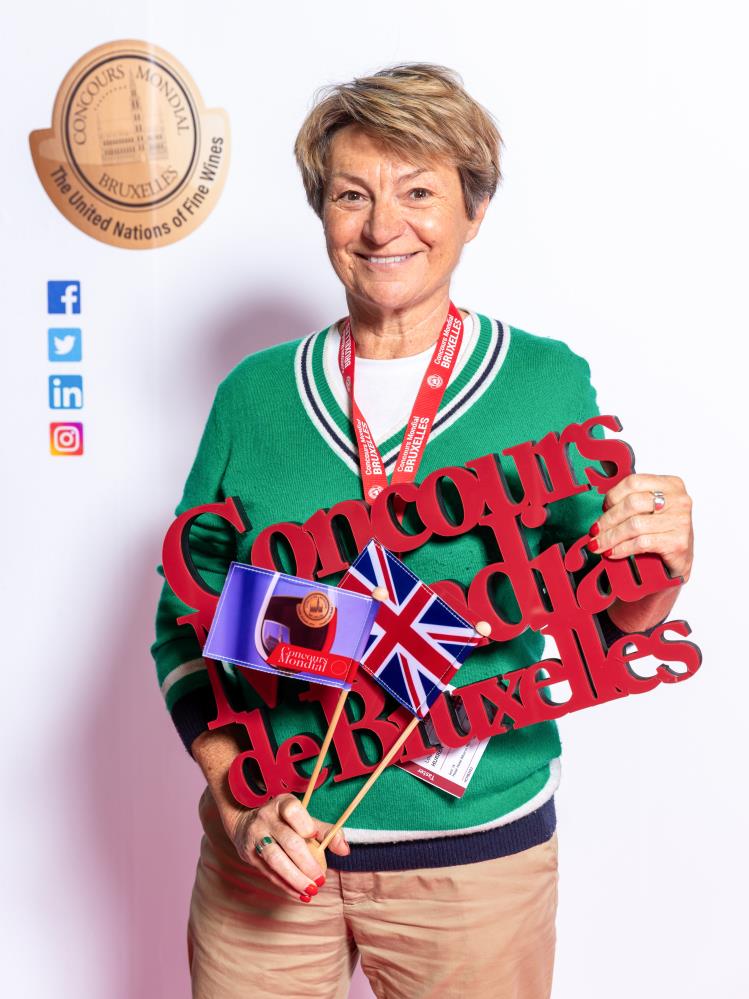 Louise Hurren
United Kingdom
A marketing communications and media relations (PR) consultant whose specialist area is wine. Based in Languedoc (France), I work with winegrowers and wine organisations, helping them promote themselves to English-speaking markets.
China Wine News Wine Writer, Vice Manager of International Department, FWS with Highest Honors,WSET level 3,Master of International Management.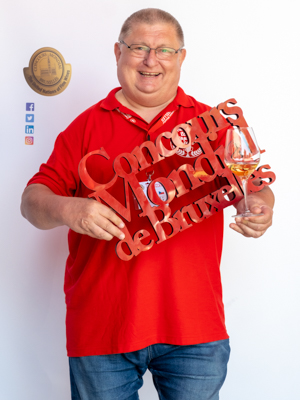 Lubos Barta
Czech Republic
Editor in Chief GastroPress Publishing Ltd, SOMMELIER magazine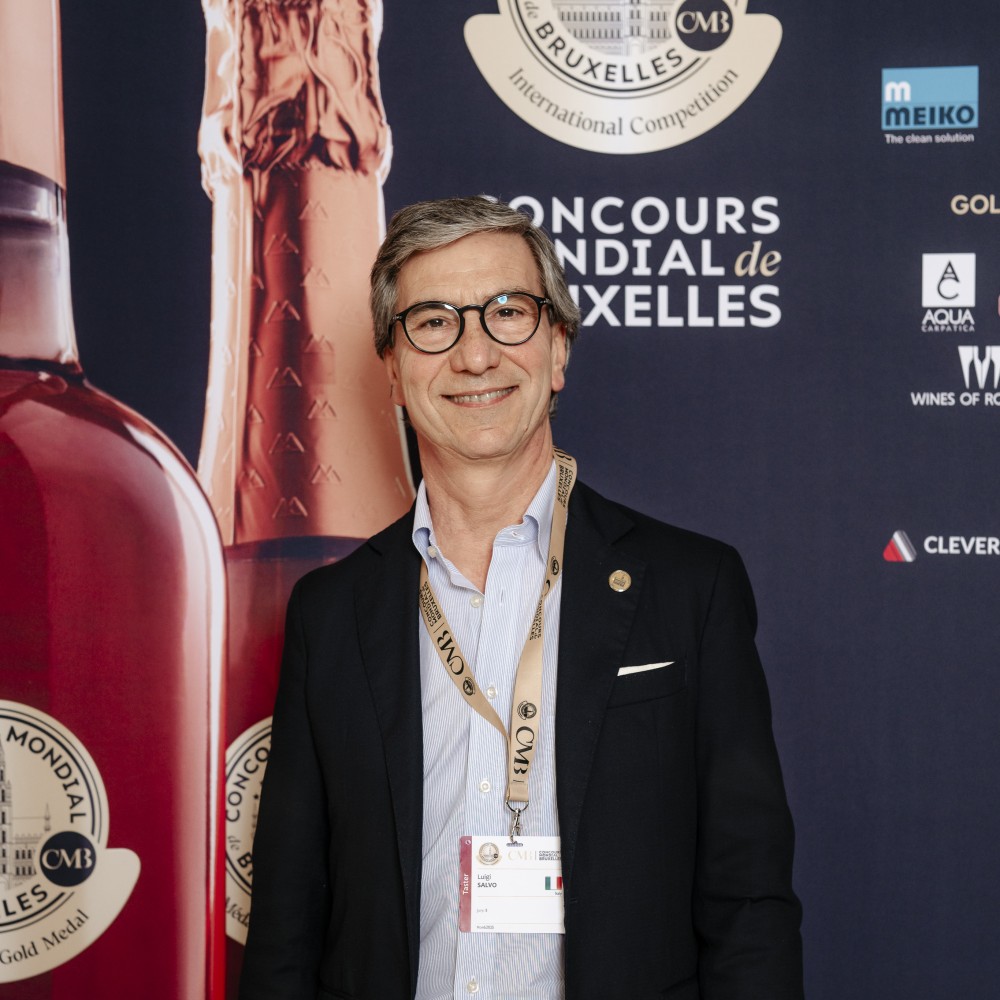 Wine journalist, official taster of Associazione Italiana Sommelier, director of "giornalevinocibo.com", contributor for the magazines "wine reality", "tigulliovino", "wine & spirits", presents TV programs on wine.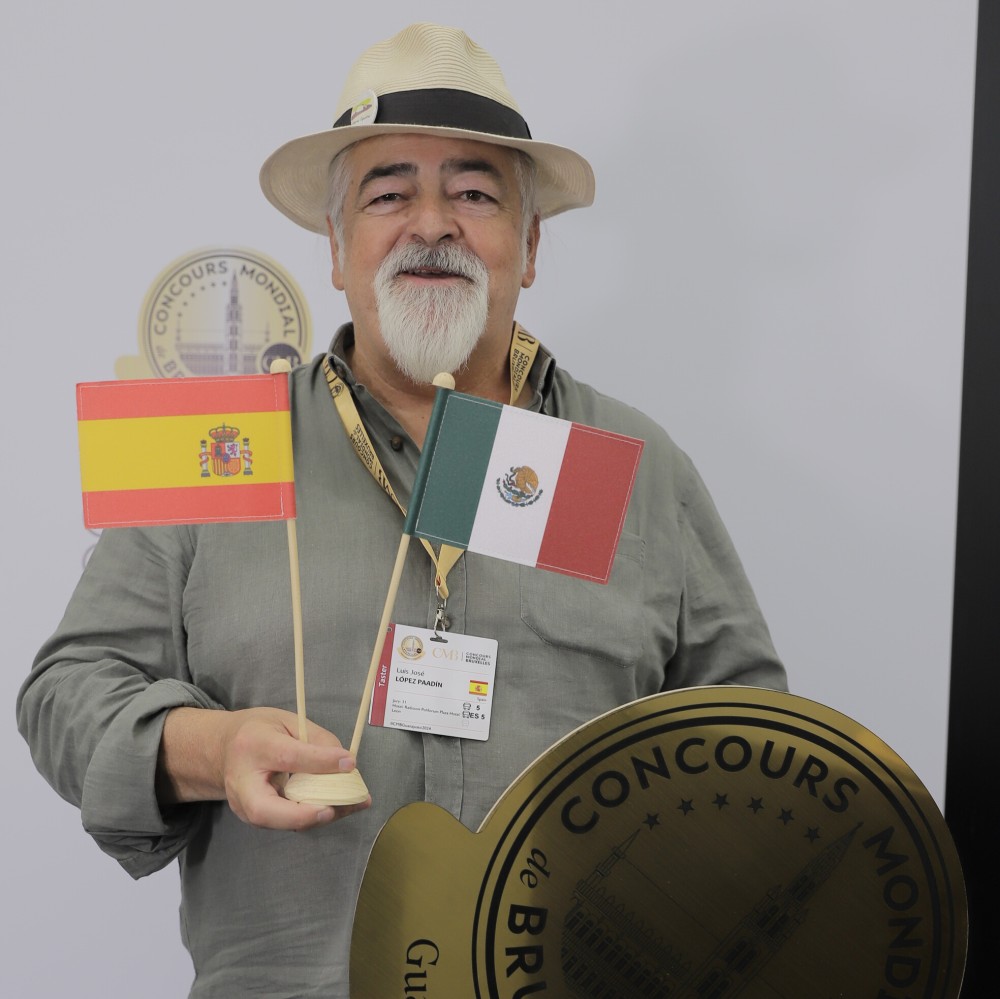 Luis José López Paadín
Spain
Author of the Guide of Wines, Spirits and Wineries of Galicia. Co-author of "Lagares Rupestres", Contributions for his research. Co-author of "Las Piedras que Vinos", "Viaje por los Lagares Rupestres de Galicia". Columnist in several sectorial magazines. Weekly spaces in Radio Coruña Cadena Ser and Radio Voz. Member of FIJEV and WAWWJ. Master in Viticulture and Oenology. I Champion of Spain of the European Contest of Ambassadors of the Champagne. Certified trainer of CAVA and Jerez
Wine writer Winelab.dk and DinVinGuide and lecturer at Dansk Sommelier Uddannelse.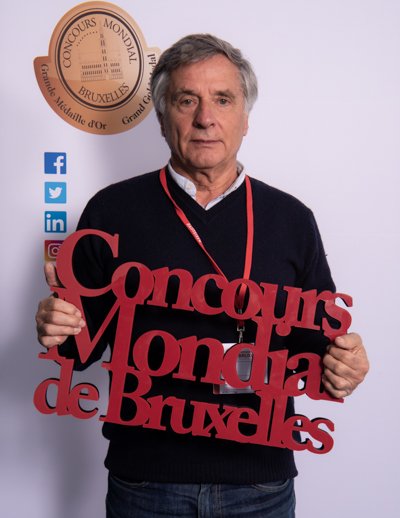 Winemaker consultant for Wine Ventures – Quinta da Romeira, Caminhos Cruzados, Barao de Vilar, Quintas de Cottas, Duas Encostas.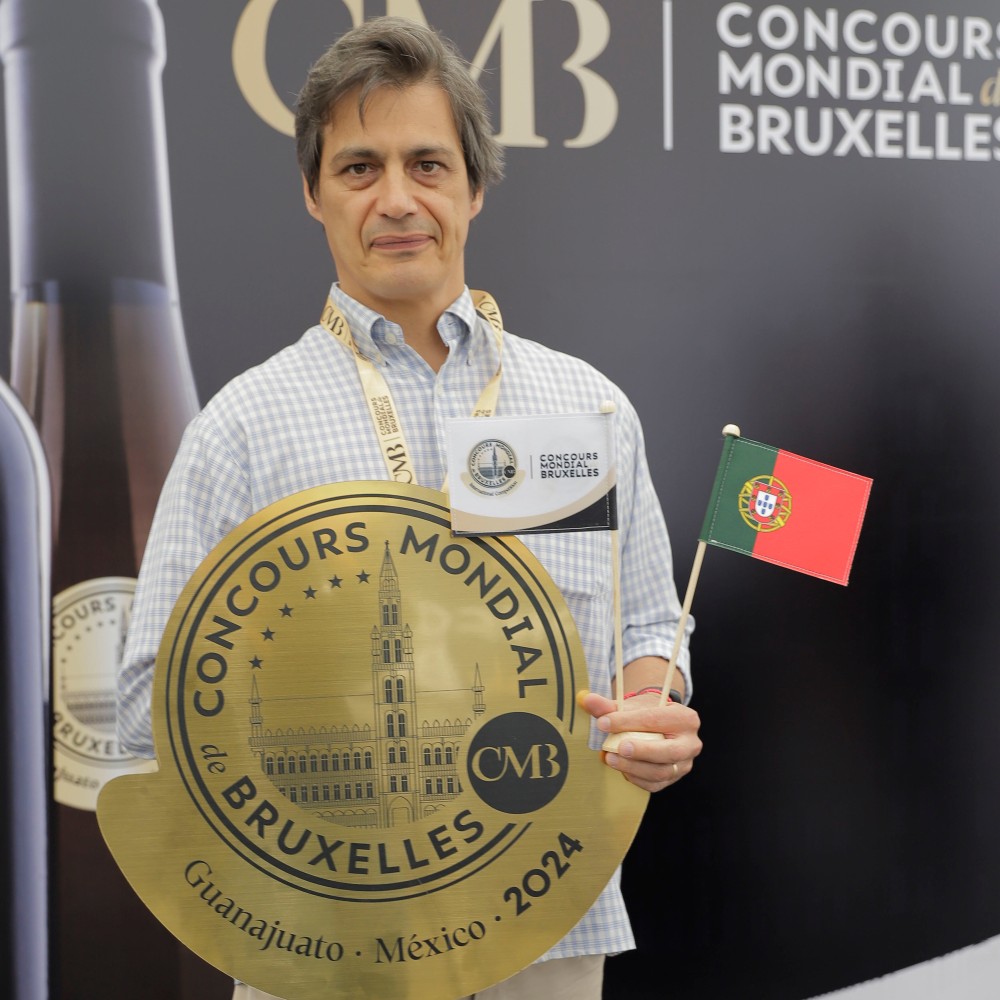 Journalist Revista de Vinhos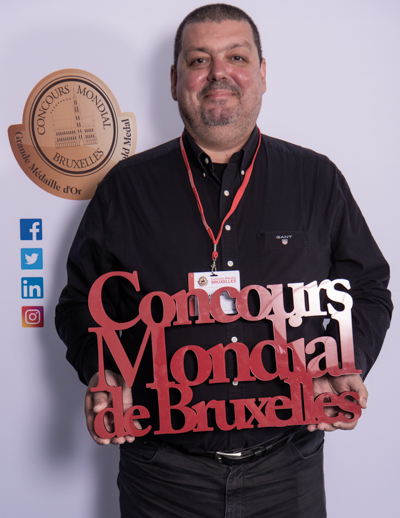 Marco Moreira Da Silva
Portugal
Journalist at "Jornal de Vinhos"
-Brand Manager at TV Wine Sky 815 -Host at Wine Tv Sky 815 -Certified Sommelier -Great Italian Chefs.com Contributor -Wine Marketing Consultant -Podere di Pomaio & Enoteca Pomaio co-founder -VinoTerroir.com Co-founder & Contributor -Member of the board Strada del Vino Arezzo -Lecturer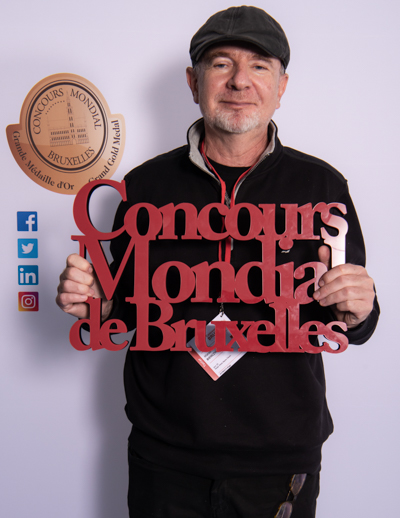 Journalist: Magazyn Wino, Revsita Przekr´j, Gazeta Wyborcza, Polish Wine Guide, Forbes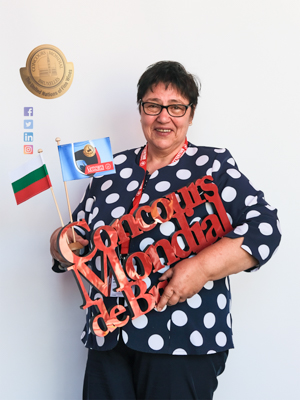 Margarita Levieva
Bulgaria
Chief editor of "Lozarztvo & Vinarstvo" and BGWine National Vine and Wine Chamber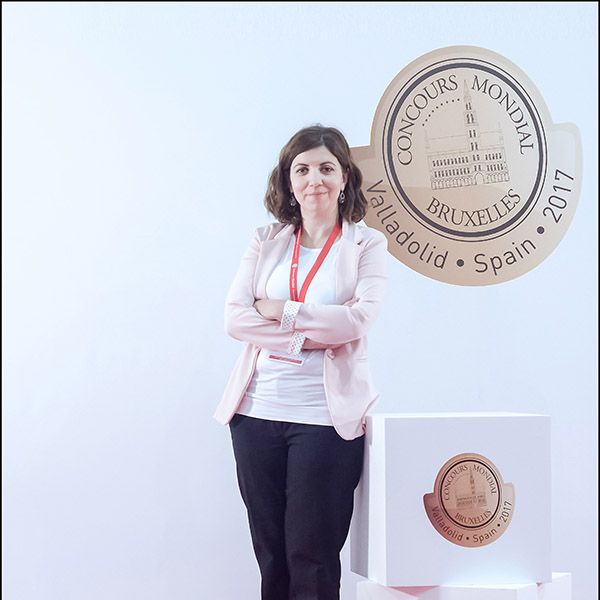 Maria Diez Nepomuceno
Spain
Chief Editor: Vivir el Vino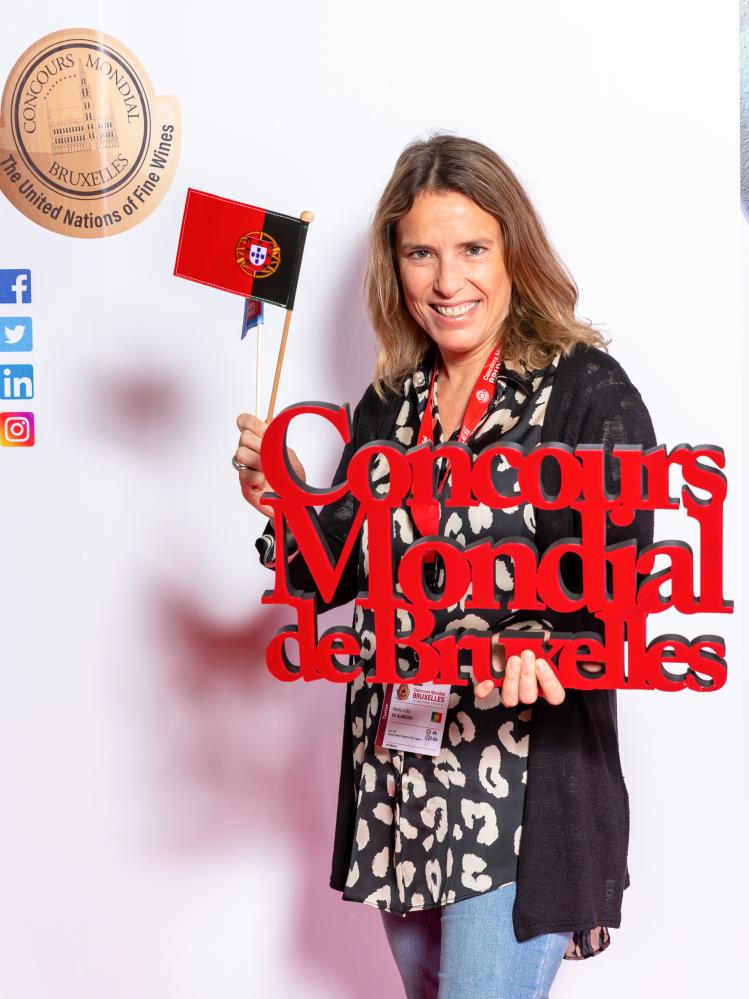 Maria João De Almeida
Portugal
Degree in Communication, Editor of 'Escanção' (the Sommelier Magazine in Portugal) and Director of own projects www.mariajoaodealmeida.com, www.vinho.tv and writer for national and international magazines.international magazines. Most seen wine site and wine channel in Portugal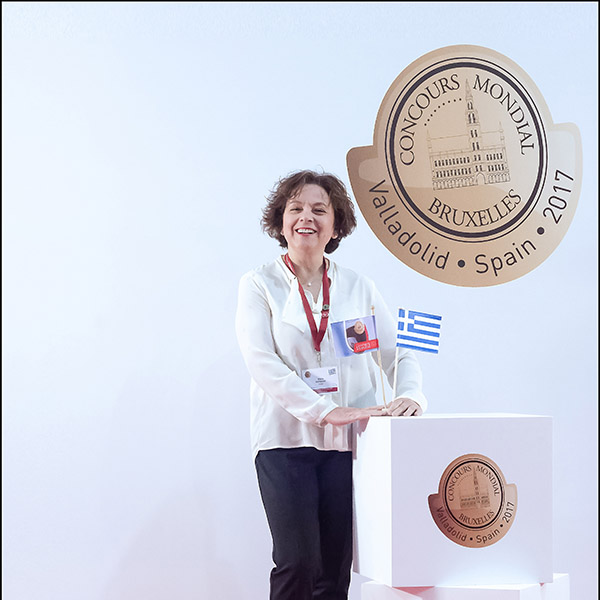 Head Sommelier, restaurant TUDOR HALL at the King George Palace hotel, Freelance for Food Service Magazine and Ependitis newspaper.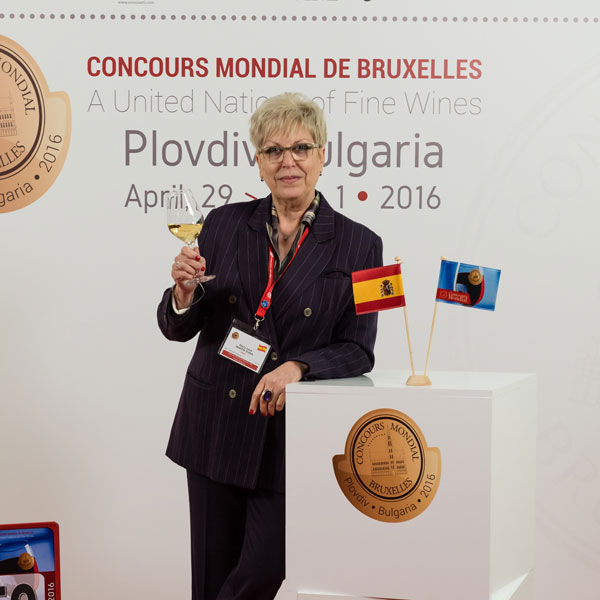 Maria-Luisa Martin Tejera
Spain
General Manager of Sumiller-Formación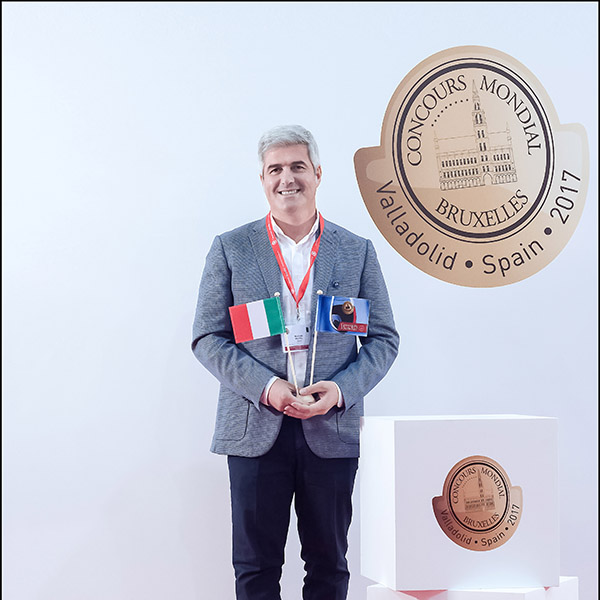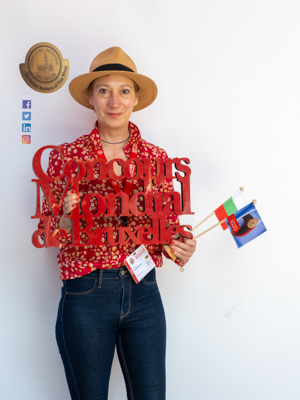 Marina Karakonova
Bulgaria
Regular author for www.bacchus.bg. www.menumag.bg, www.divino.bg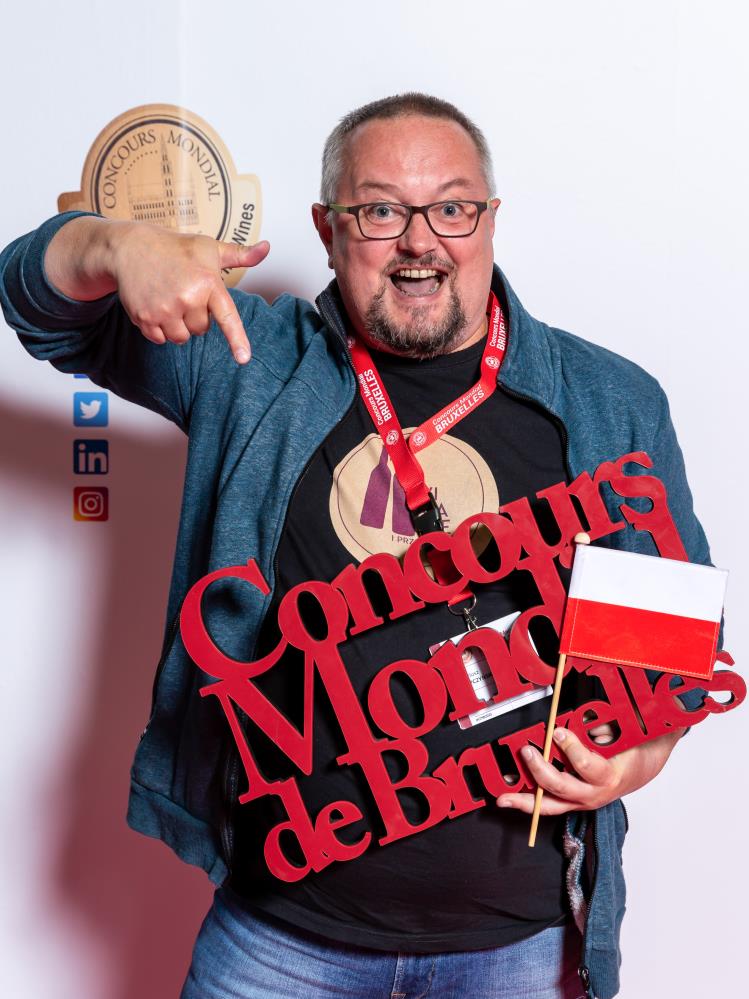 Mariusz Kapczyński
Poland
Editor in Chief of Vinisfera.pl, contributor to Magazyn Wino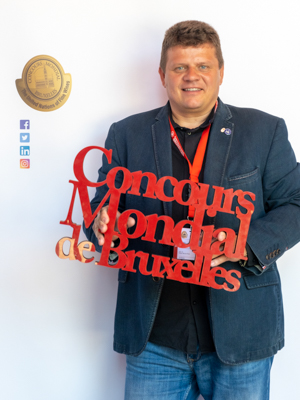 Martin Pucek
Czech Republic
Executive director; Czech Grape and Wine Producers Association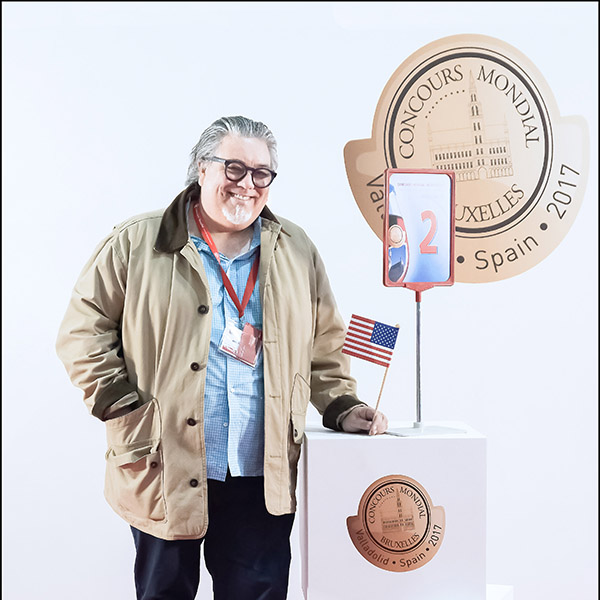 Mary Carlos J. Arturaola
United States
Communicator about wine in all ways imaginable, from sommelier, corporate wine director to teacher, mentor, contestant judge, blogger, actor, and president of his own wine consulting and appraising firm, based in Miami Beach, Florida.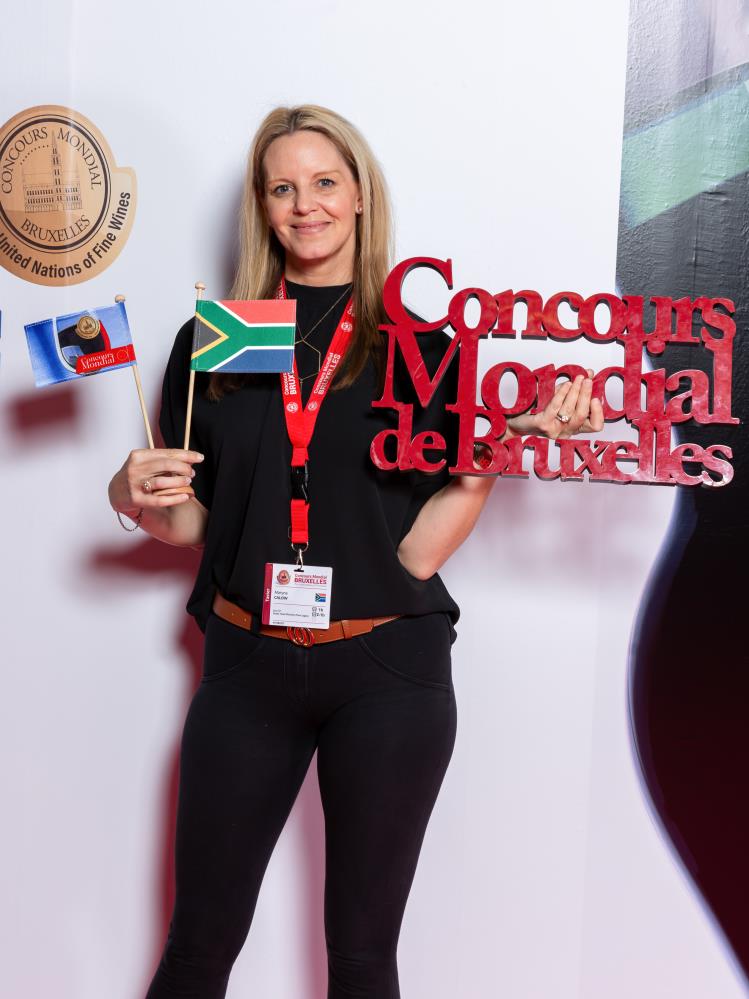 Maryna Calow
South Africa
Communication manager at Wines of South Africa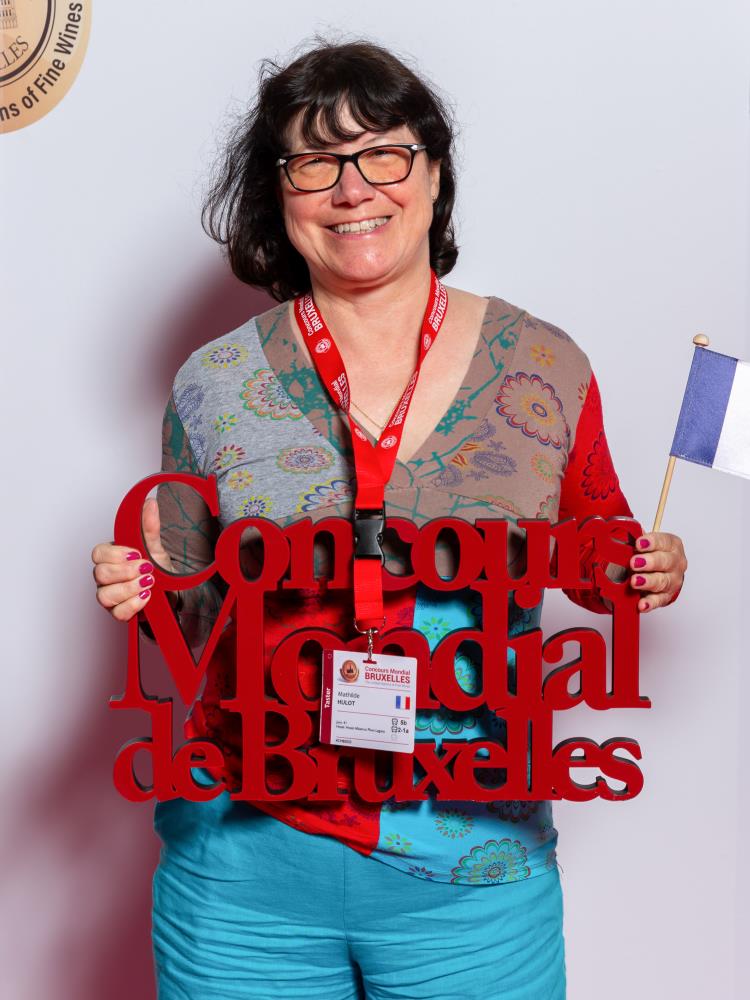 Journalist and writer, Meininger's Wine Business International,La Vigne, Stratégies,Bettane+Desseauve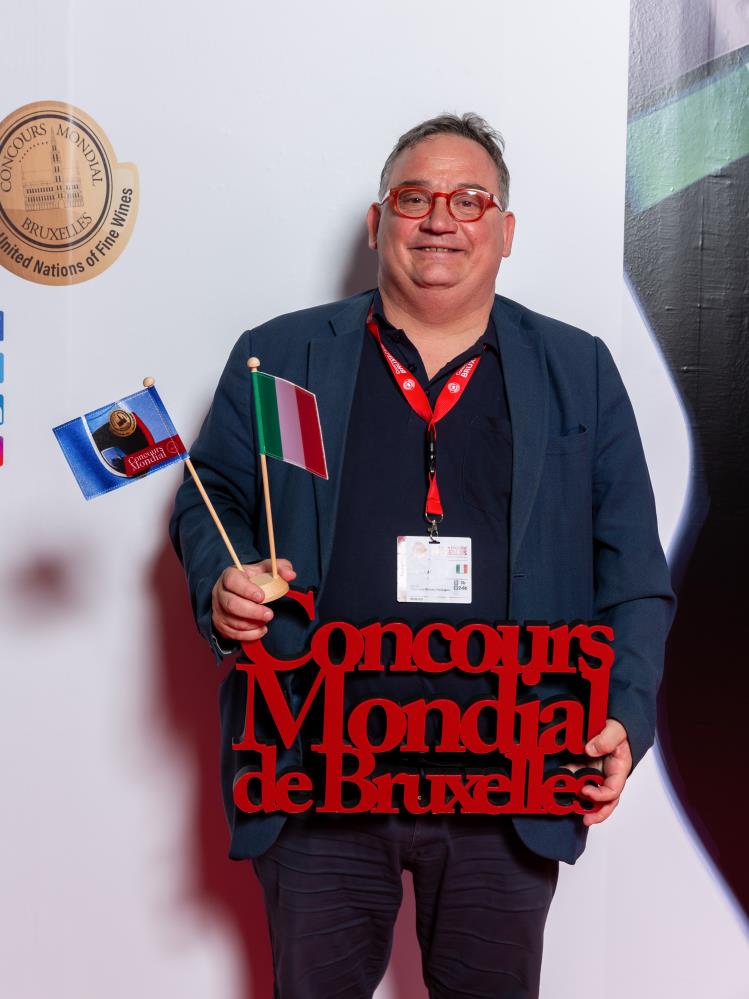 Journalist and author, as a food and wine expert, on magazines like: www.repubblica.it/sapori,www.epulae.it,www.lucianopignataro.it. National coordinator of the Guide I Vini d'Italia de L'Espresso. • Teacher
Journalist at Wine TV Sky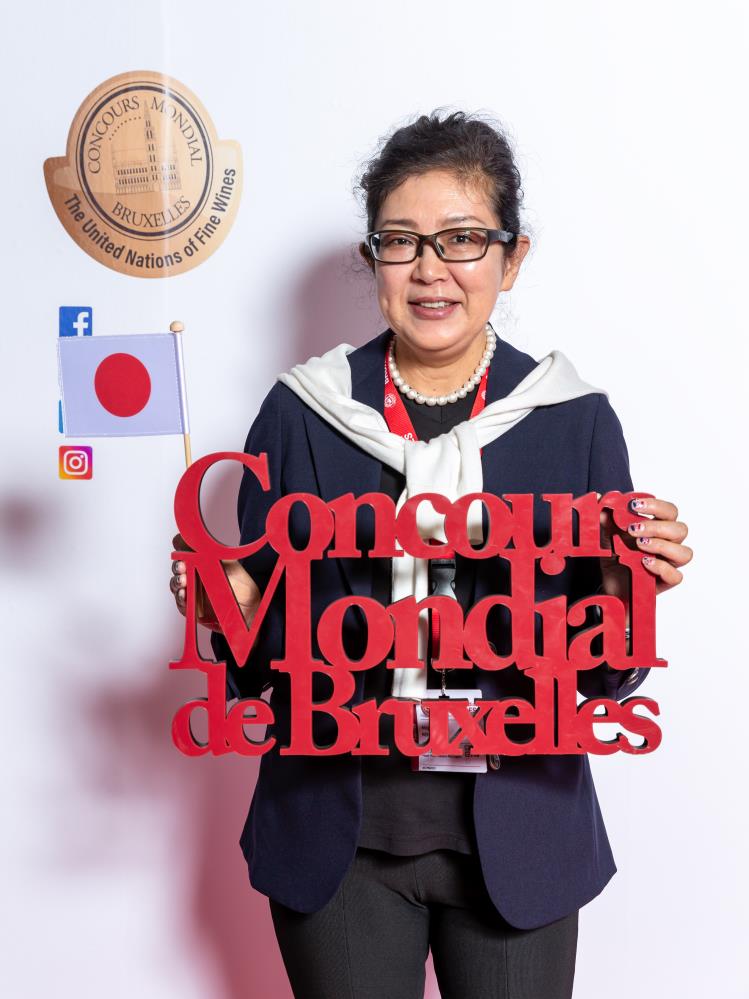 Freelance wine journalist for Wineart, Vinoteque, Cuisine Kingdom.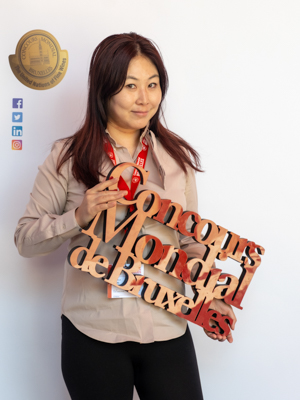 Wine writer (Cookand's correspondent in Italy, wineok.com) – South Korea, Sommelier AIS, ONAV
Michael Apstein
United States
Columnist at WineReviewOnLine.com
Michael Crossley
South Africa
Director of a fine wine importing company (Reciprocal Wines), as well as a director of wine glass/accessories company (Grandcru Glassware) Previously a regular Panel Judge for Wine magazine and Classic Wine. Diners Club Winemaker of the year Judge 2016/2017. Wine Judging Academy with distinction 2007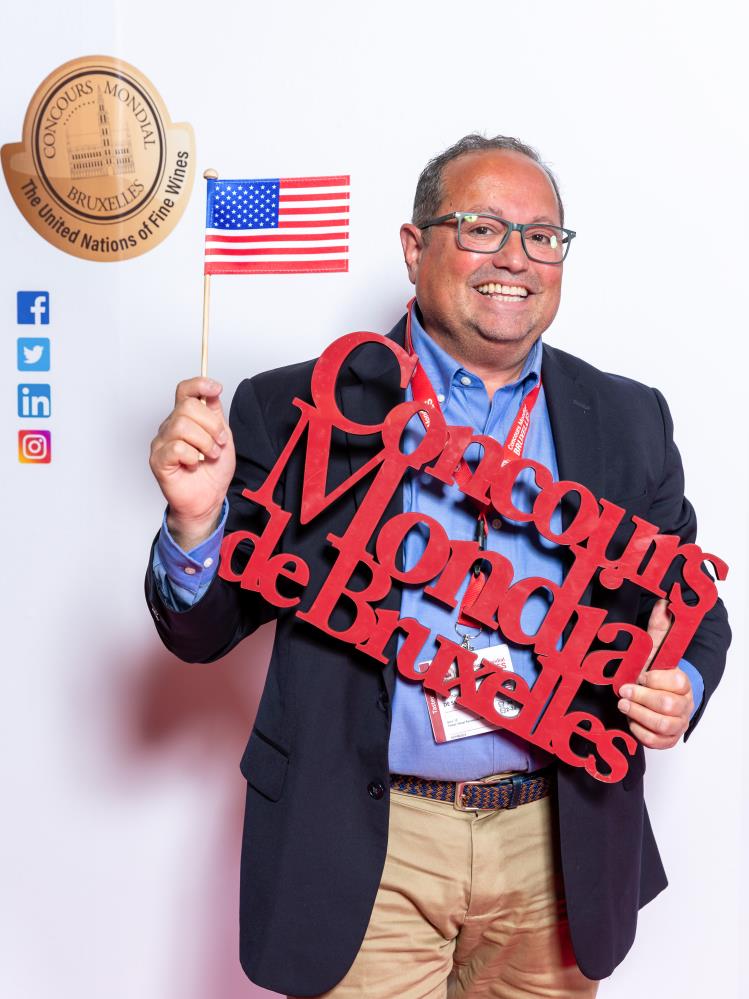 Michael De Simone
United States
Entertaining and Lifestyle Editor, Wine Enthusiast Magazine; Co-author of Wines of California and Wines of the Southern Hemisphere. Wine Journalist at World Wine Guys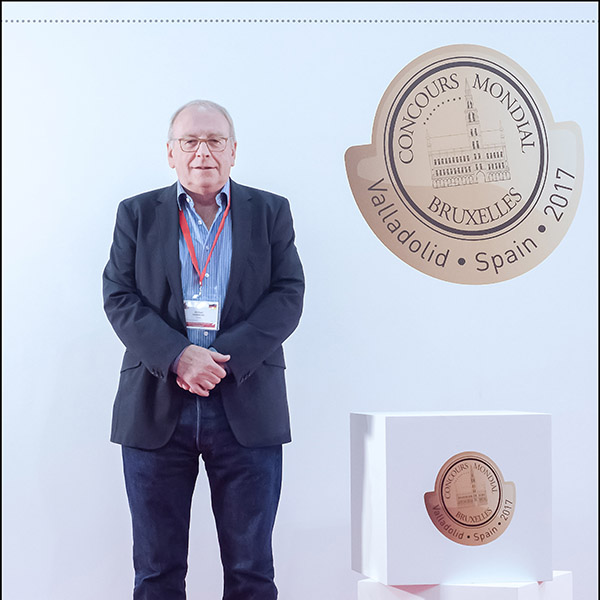 Michael Hornickel
Germany
free-lance journalist: Weinwirtschaft, Weinwelt… board-member Mundus Vini, president FIJEV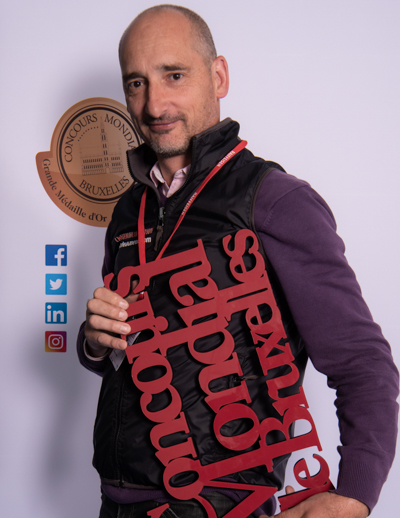 Director at Châteauneuf-du-Pape Winemakers Association, Columnist and co-author of "Vignobles et vins de France" (Ed Proxima 2001), Grapes producer in Luberon and Ventoux. Manager of sarl VINADEA. Contributor for Vege Magazine and Carnets du Ventoux.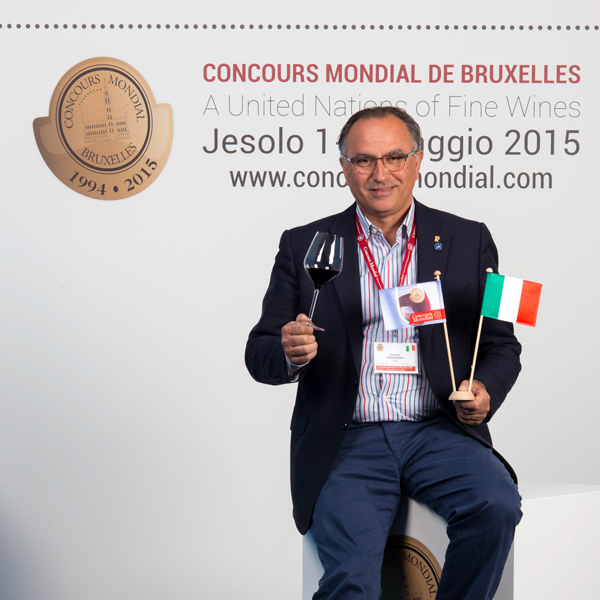 Michele Alessandria
Italy
oenologist, ONAV general director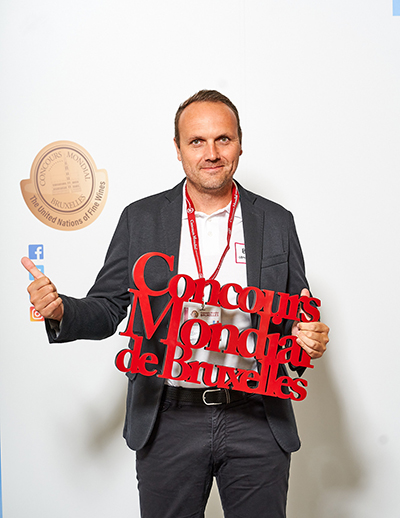 Director SYNDICAT VITICOLE DE BLAYE – CÔTES DE BORDEAUX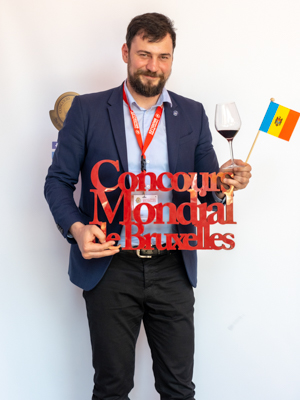 Mihail Druta
Moldova, Republic Of
President of Sommelier Association of Republic of Moldova
Ambassador of European Sommelier Association in Moldova
Member of European Sommelier Association.
Executive Director at Wine Education and Trade Promotion Centre of CCOIC (China Chamber of International Commerce) from CCPIT (China Council for the Promotion of International Trade)
General Manager of Wan Ming Hui Wine Education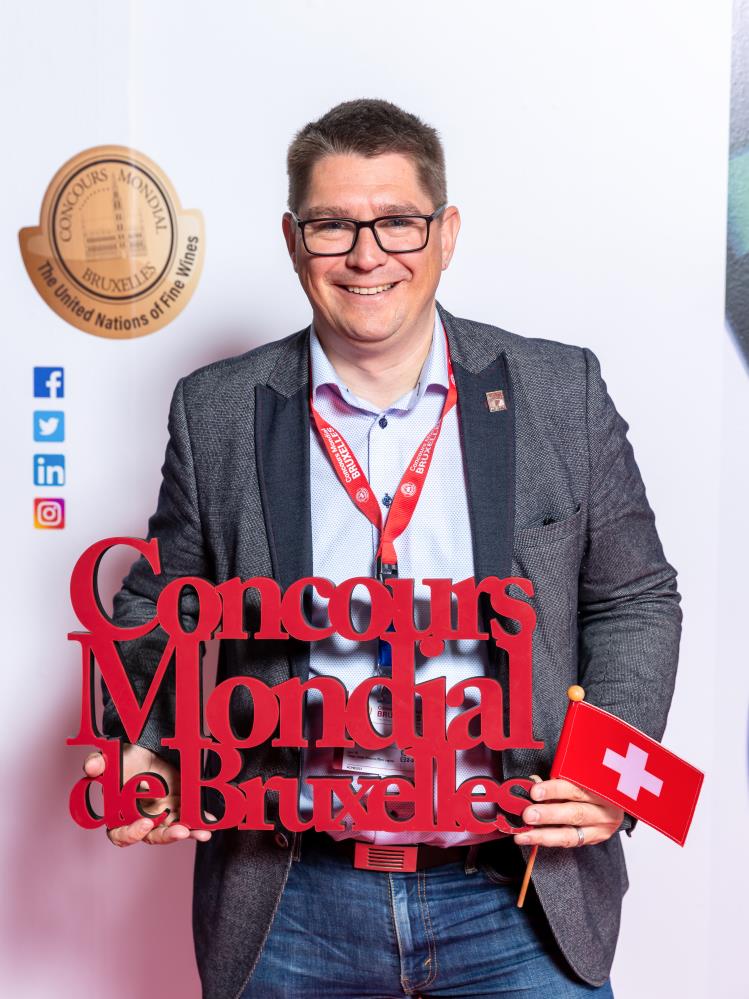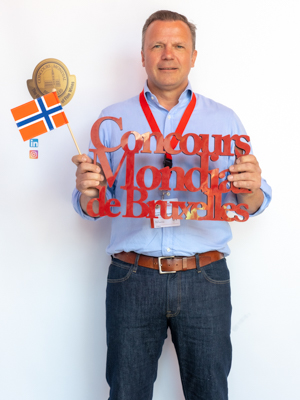 Nicolas Mahé De Berdouaré
Norway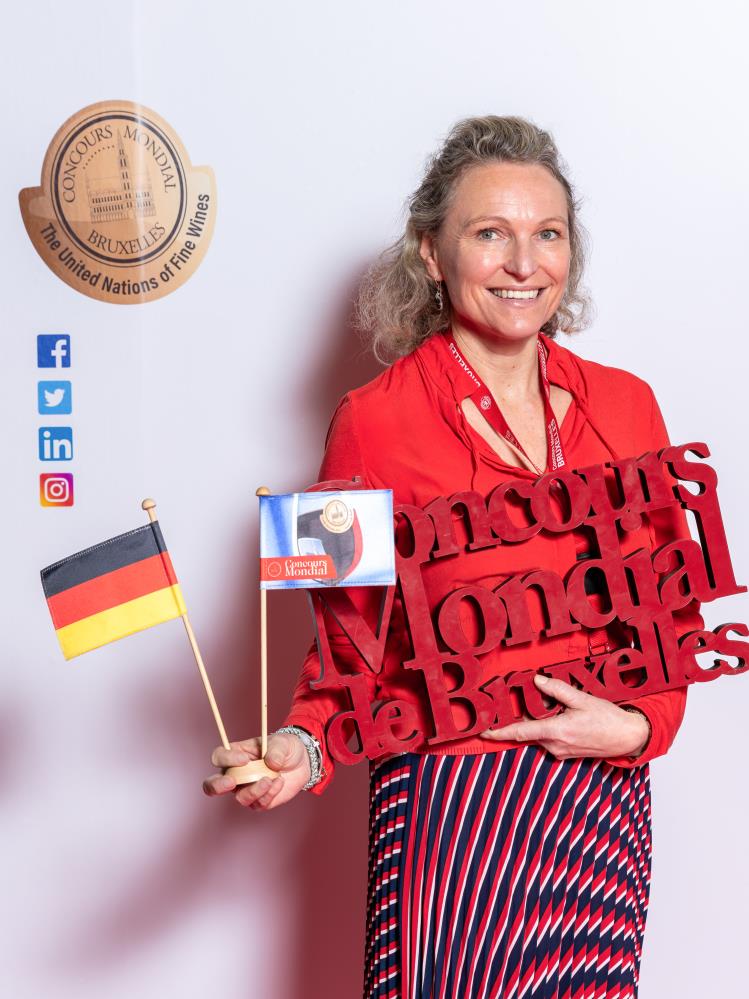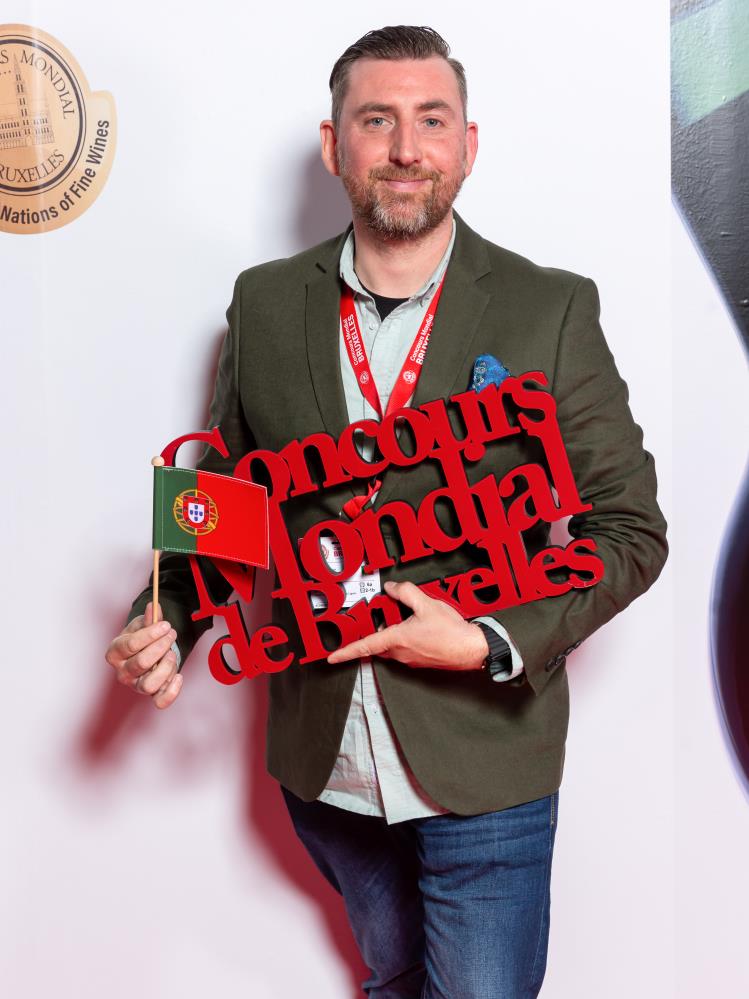 Nuno Filipe Graça Jorge
Portugal
Sommelier – Cacao di Vine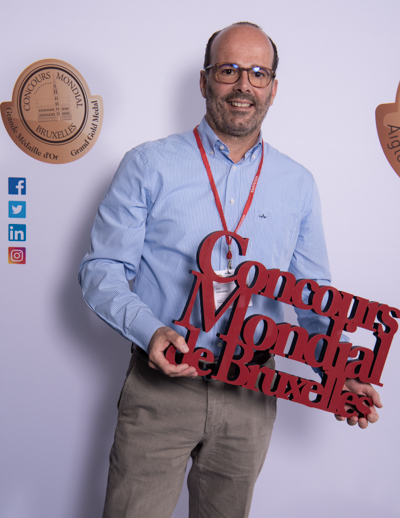 Sommelier, blog editor www.vinama.be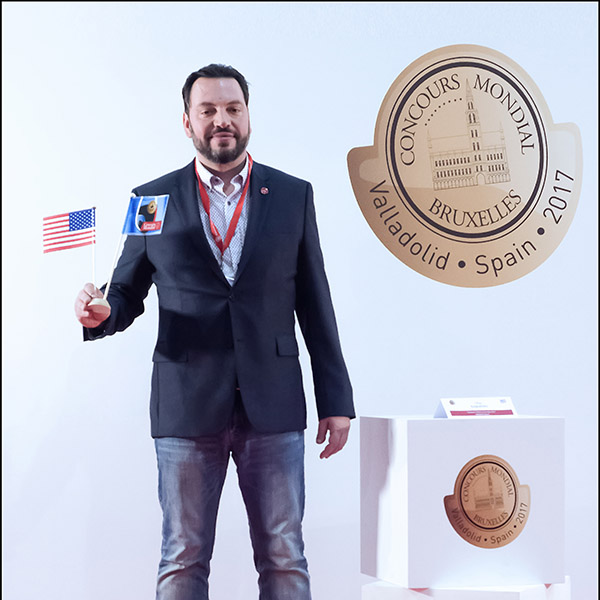 Oleg Sakhno
United States
Owner & the wine buyer for Keuka Kafe – one of NYC premier wine bars that specializes in sustainable and local wine culture.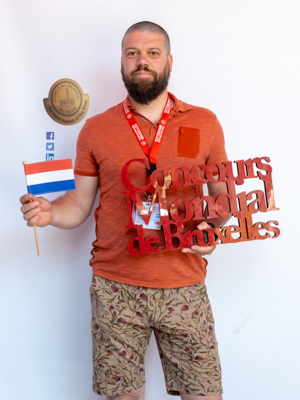 Sommelier Wine buyer Auchan Luxembourg
Senior wine taster at Along Fine Wine.
The senior taster of the British Wine & Sprite Education Trust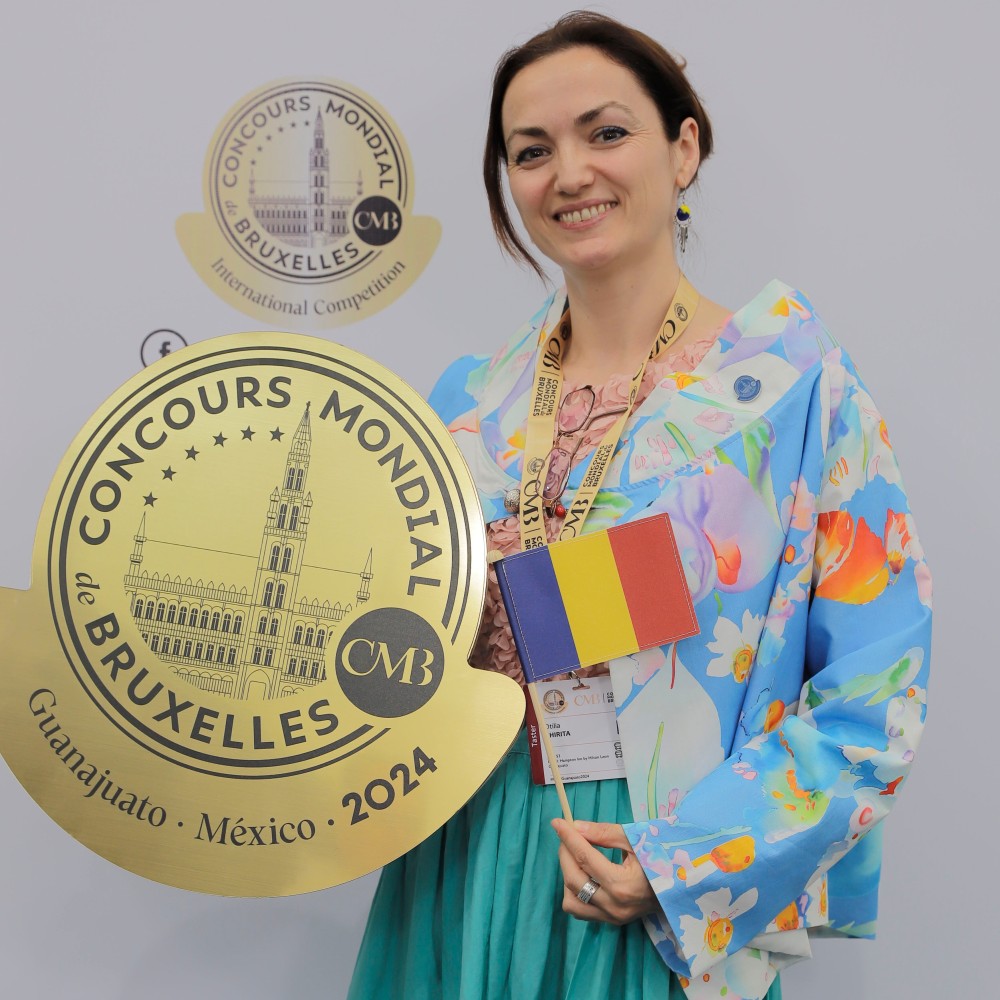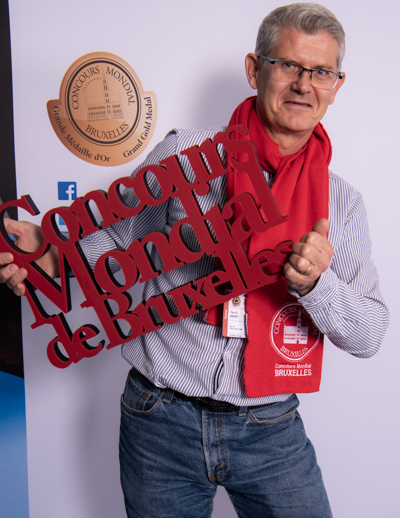 Managing director of Centre Oenologique de Coutras/UCVA and a wine blog http://www.oenoblogue.com/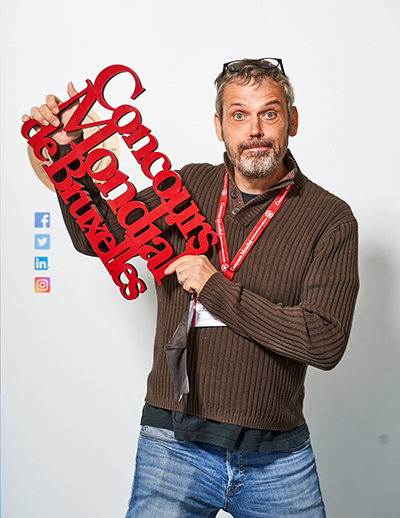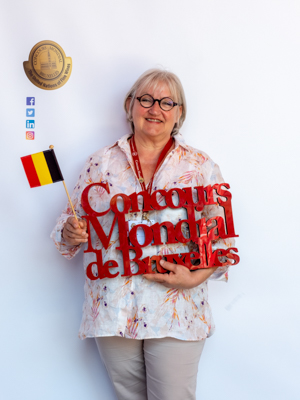 Wine Trader: Les Vins Brunin Guillier -La cave Saint jacques Tournai, La cave Touquettoise le Touquet Paris Plage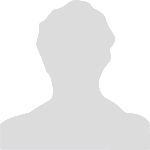 Cognac Educator certified by BNIC. International Bordeaux Wine Educator CIVB. Associate Wine Educator at Sopexa Taiwan. Whisky writer. Beer sommelier/writer/judge. DUAD (wine tasting) diploma holder (ISVV). Consultant. Author of the book "Scotch Whisky – a guidebook on Tasting and Falvors" in CN.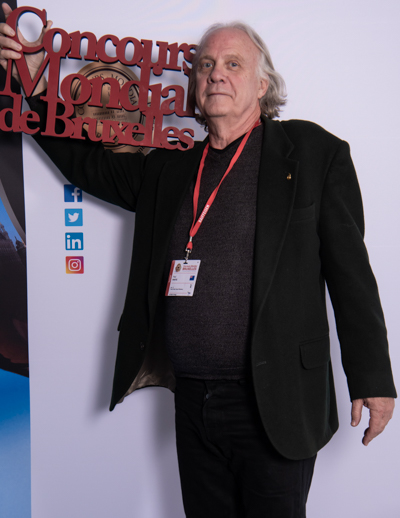 Writes wine features for World of Fine Wine (UK), SlowFood/SlowWine (It), MondialSauvignonBlanc.com and www.winedisclosures.com. Member of CWW and FIJEV.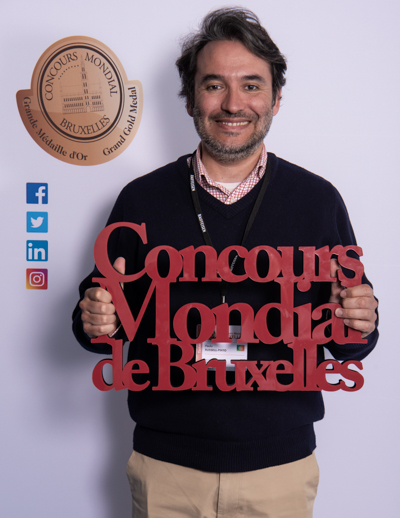 Paulo Russell-Pinto
Portugal
WSET diploma, wine Communicator, Taster at IVDP-Port wine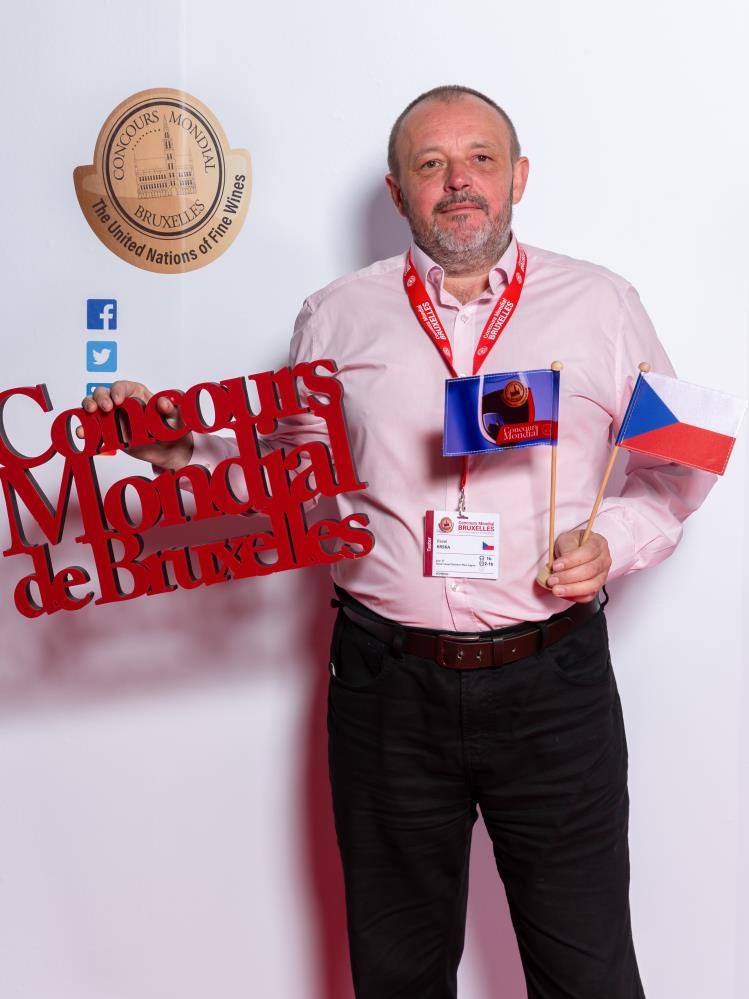 Pavel Krska
Czech Republic
Managing director of the National Wine Centre, jury member of AWC Vienna, Vinoforum Czech republic and Slovakia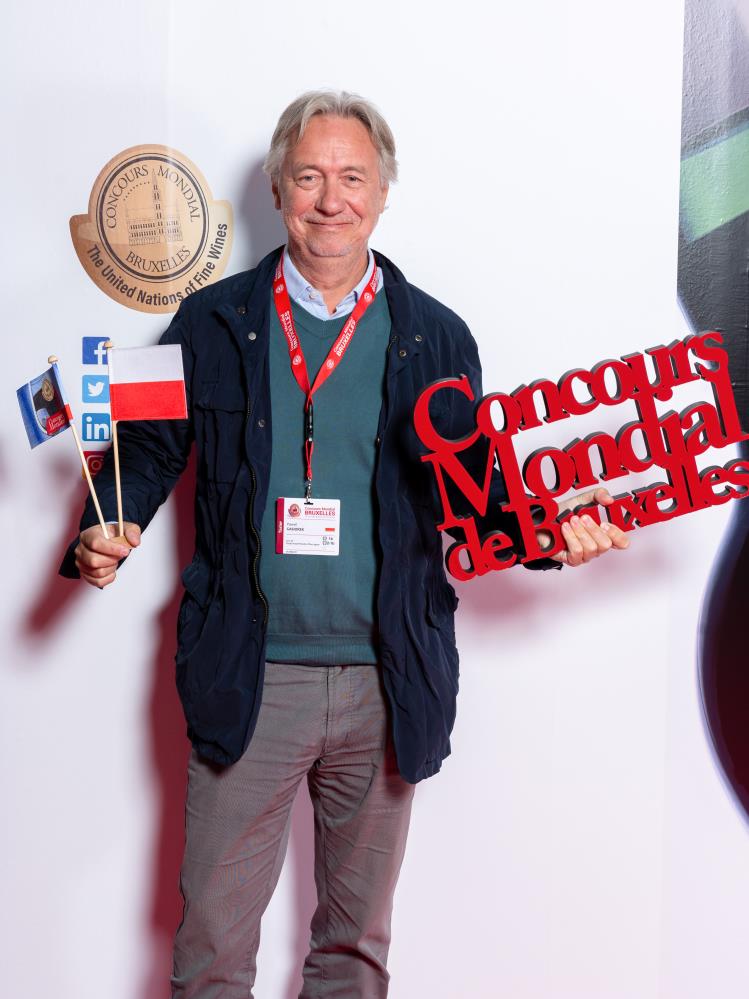 Publisher of Czas Wina magazine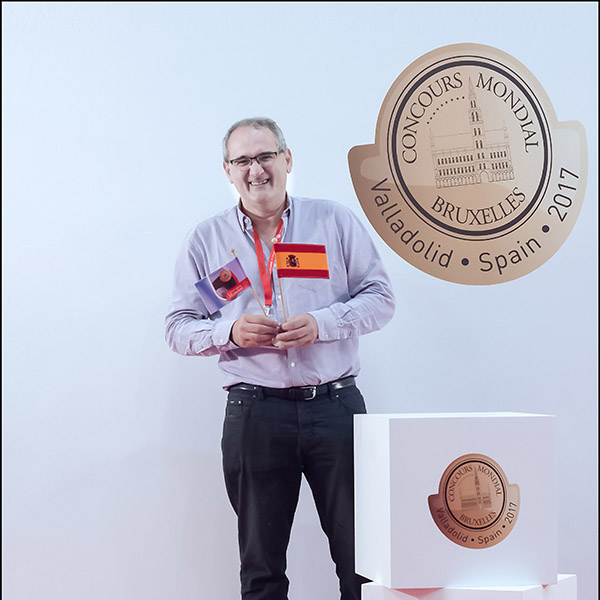 Pedro Ballesteros Torres
Spain
Master in viticulture and oenology by Universidad Politécnica de Madrid. Master of Wine.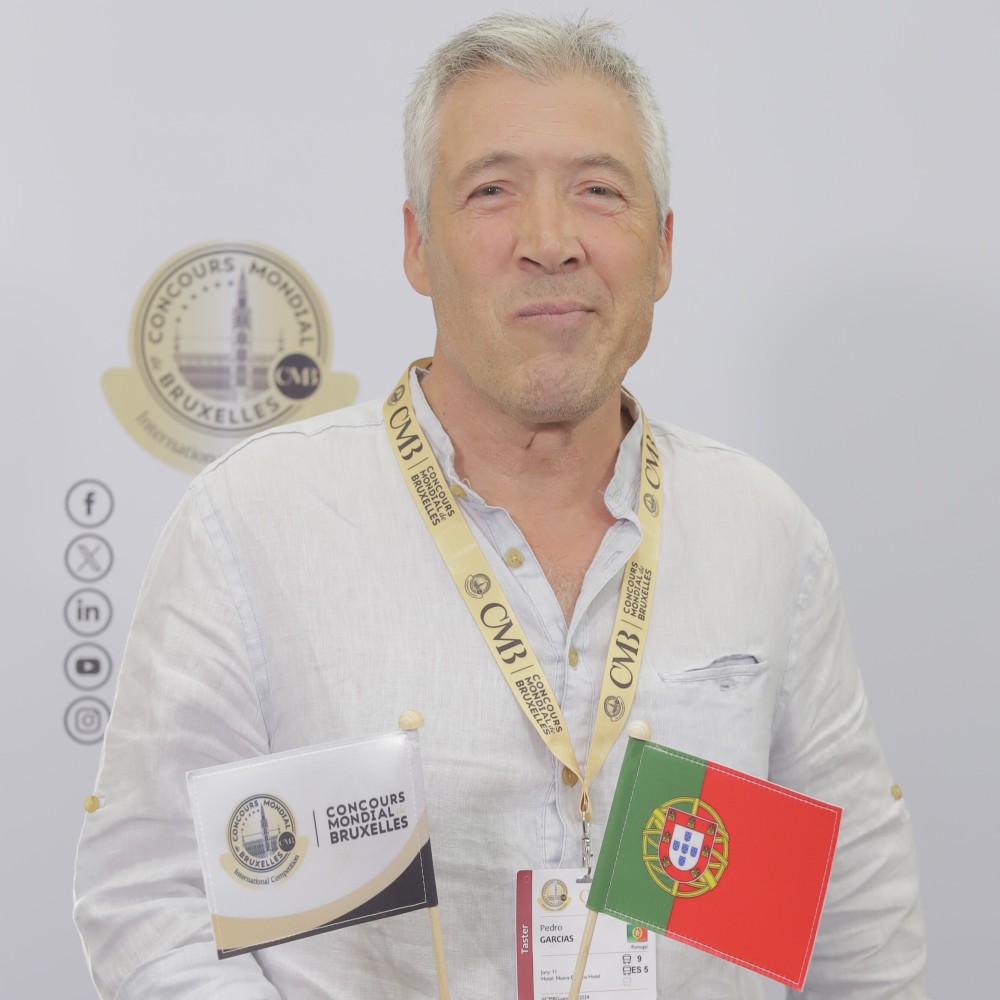 Co-owner BKWine AB, journalist/photographer, editor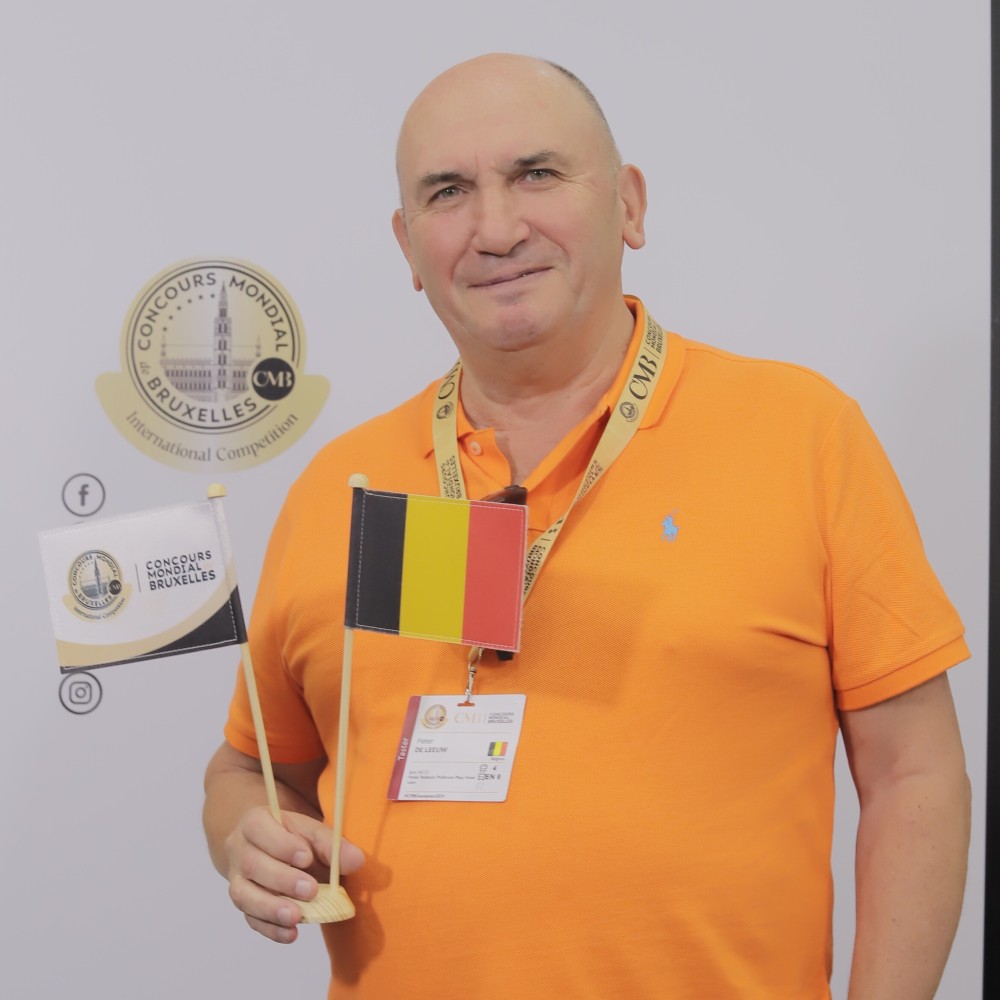 Wine Trader: Kaapwijn De Leeuw
Peter Forrestal
Australia
Wine journalist, Sunday Times (Perth), Gourmet Traveller WINE, Australian Wine Selector, Money Magazine, Radio broadcaster, ABC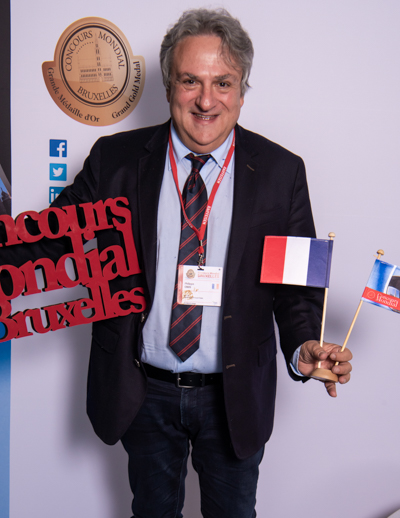 Responsible for Promotion and Quality Control – Interprofessional Council of AOC wines from the Languedoc South of France
Chairman / Publication Director SINGULAR'S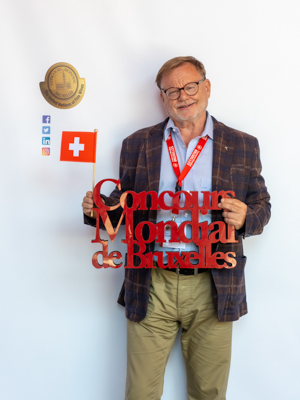 Pierre Thomas
Switzerland
Pierre Thomas is a Swiss journalist, specialized in wine, for 25 years.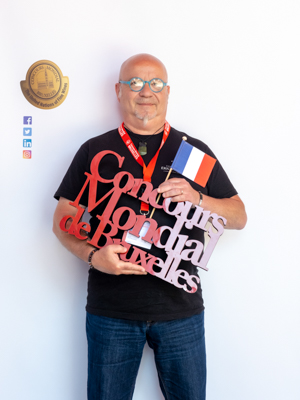 Pierre-Yves Bournerias
France
Enologist: Institut Oenologique de Champagne – Journalist: Radio France Bleu Champagne, Groupe Radio France
Category manager at Auchan Wines
Qingchang Chen 青昌 陈
China
Technical Director at Weilong Grape Wine Co., Ltd
Chief winemaker、Executive Deputy Director
Senior Engineer, National Wine Reviewer, National First Level of Wine Taster. Champion of the First National Wine Tasting Skill COFCO GREATWALL Chateau Sungod、Great Wall Wine Technology Center
Contest; Achieved the National Labour Medal; National Technical Expert.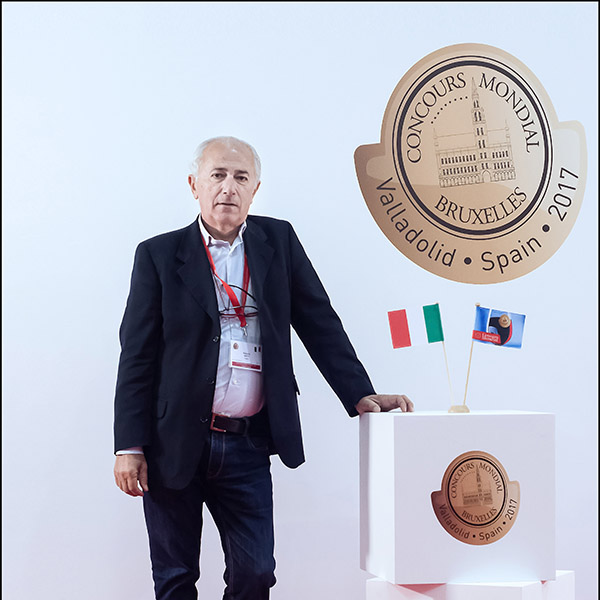 Freelance journalist and director at www.winetaste.it collaboratore siti Collaborations : www.vinit.net, www.giornalevinocibo.com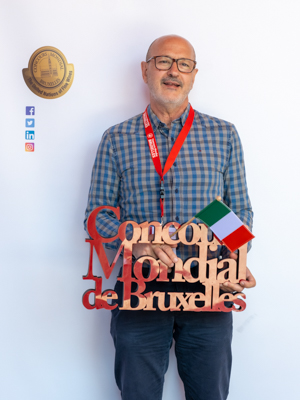 Journalist at L'Unione Sarda and BrindIsola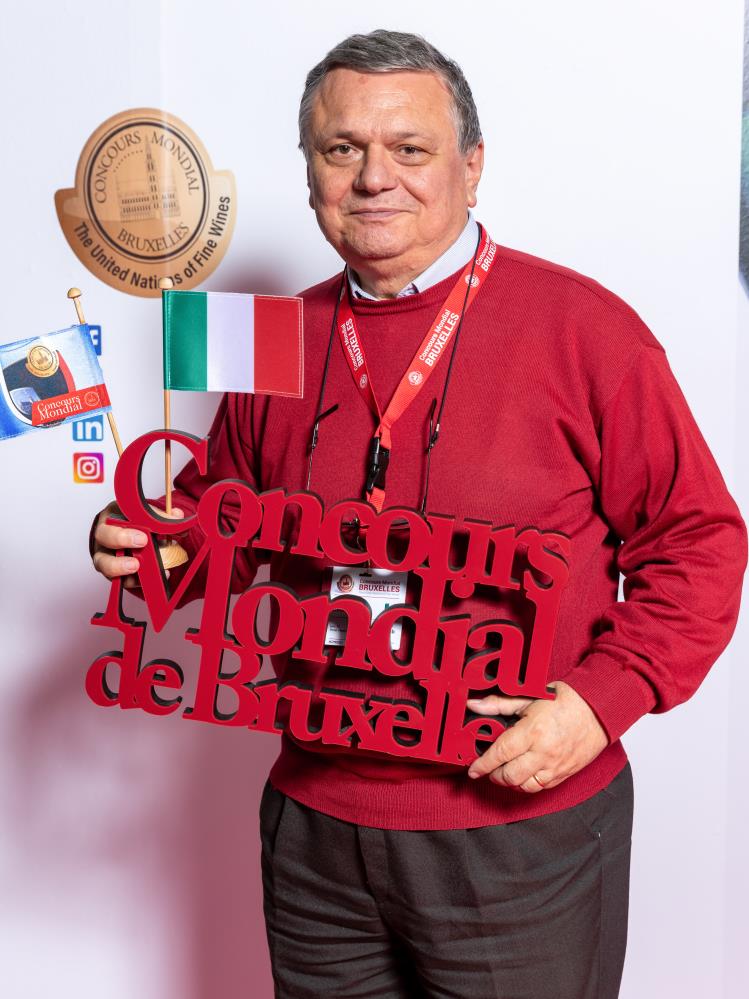 Oenology Professor, Università di Udine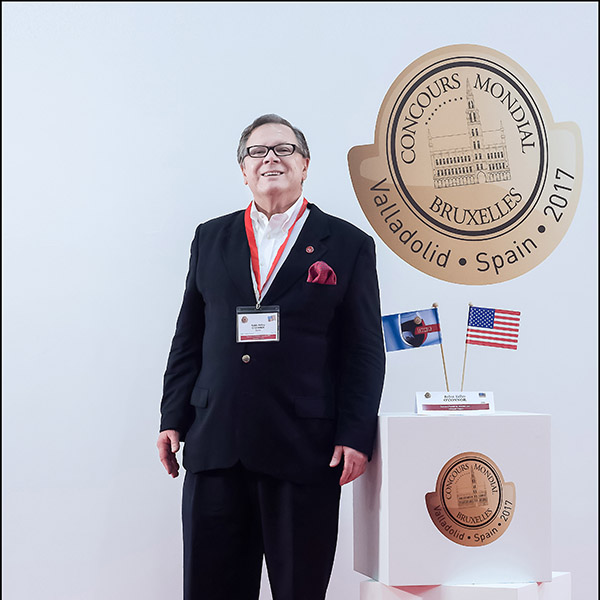 Robin Kelley O'Connor
United States
Robin Kelley O'Connor CV A leading wine educator, international wine judge, wine writer, and sommelier, Robin Kelley O'Connor is a leading wine expert.
Beverage Writer, Trainer, Host & Consultant Former Magazine Editor. Founder of Drinks & Destinations platform in wine & spirts, travel and hospitality. She hosts the India's first podcast on drinks and travel called The Drinks & Destinations Podcast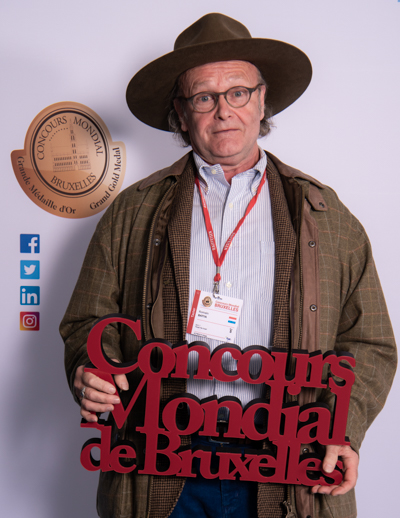 Journalist: Web-Magazine VINALU on website www.vinalu.lu TAGEBLATT, Editpress, Business Review, journal mensuel DeLux
President Dutch Wine Academy Chairman Slijtersunie Certified Broker in Wine Register Appraiser in Wine Magister Vini (MV)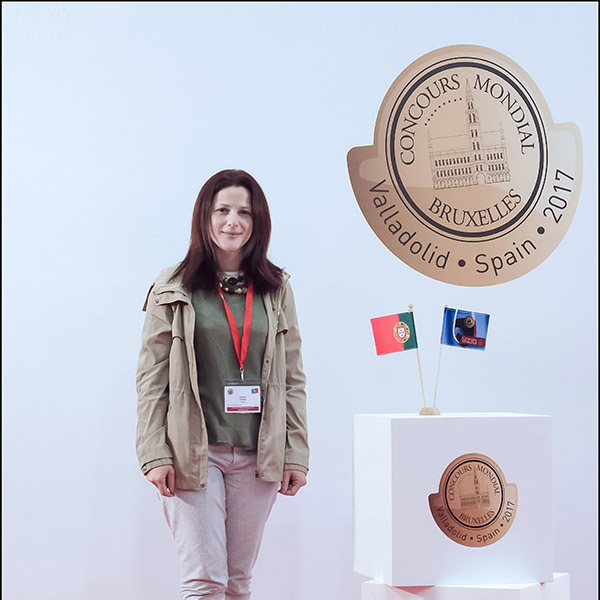 Lecturer at Ningxia University.
PhD in wine science and business, University of Adelaide. Honorary associate ,University of Adelaide.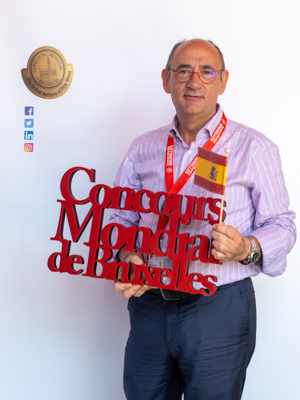 Salvador Manjon Estela
Spain
Director – La Semana Vitivinicola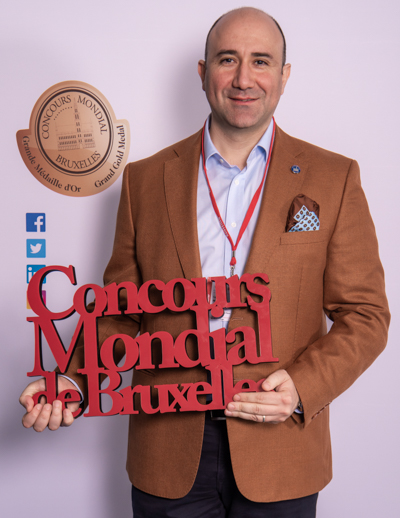 Sommelier AIS (Associazione Italiana Sommelier), Wine Consultant, Wine Educator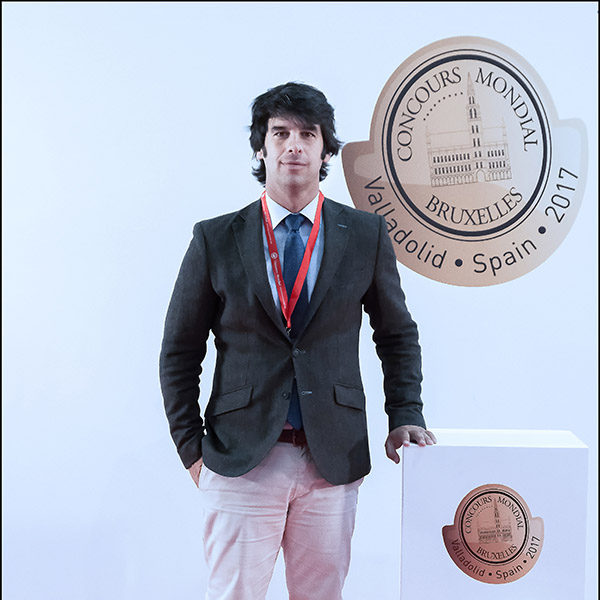 Presidente de la Federación Española de Enólogos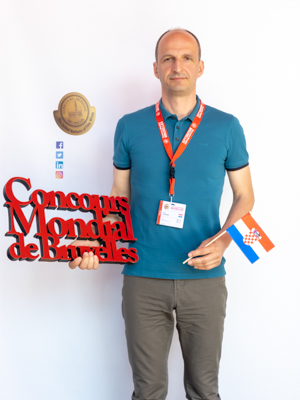 Wine writer, wine judge and wine consultant. Published several books and guides on wines and contribute regular to the leading Croatian magazines and journals as Jutarnji list and Dobra Hrana. Head of Vinolab d.o.o., wine laboratory in Zagreb, Croatia.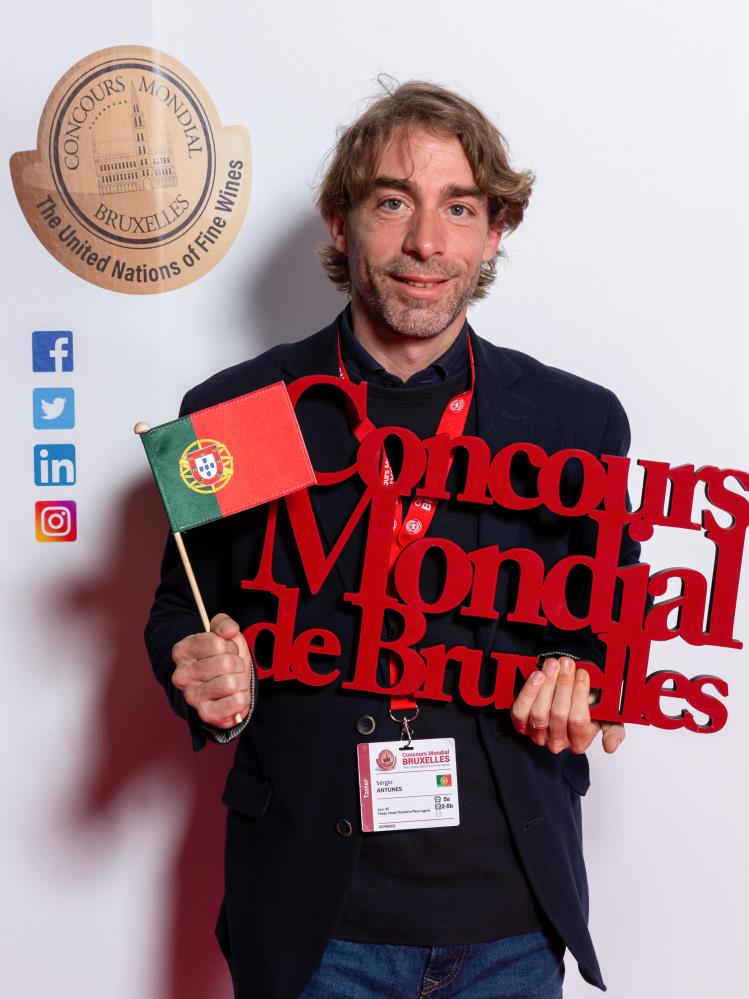 Sommelier: LOCO Restaurante – "1er Sommelier Best wines"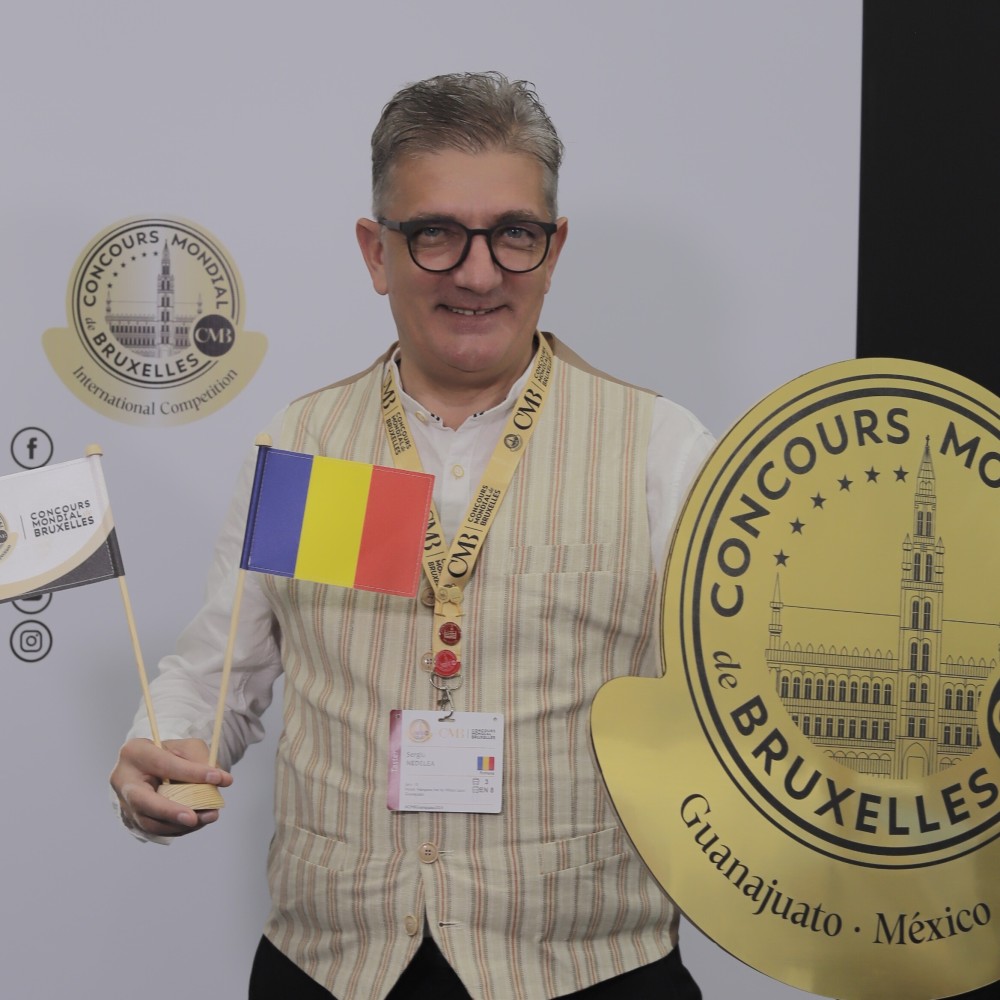 Sommelier, Wine Journalist, Wine Trainer, Eques de Vino O.E.V.E.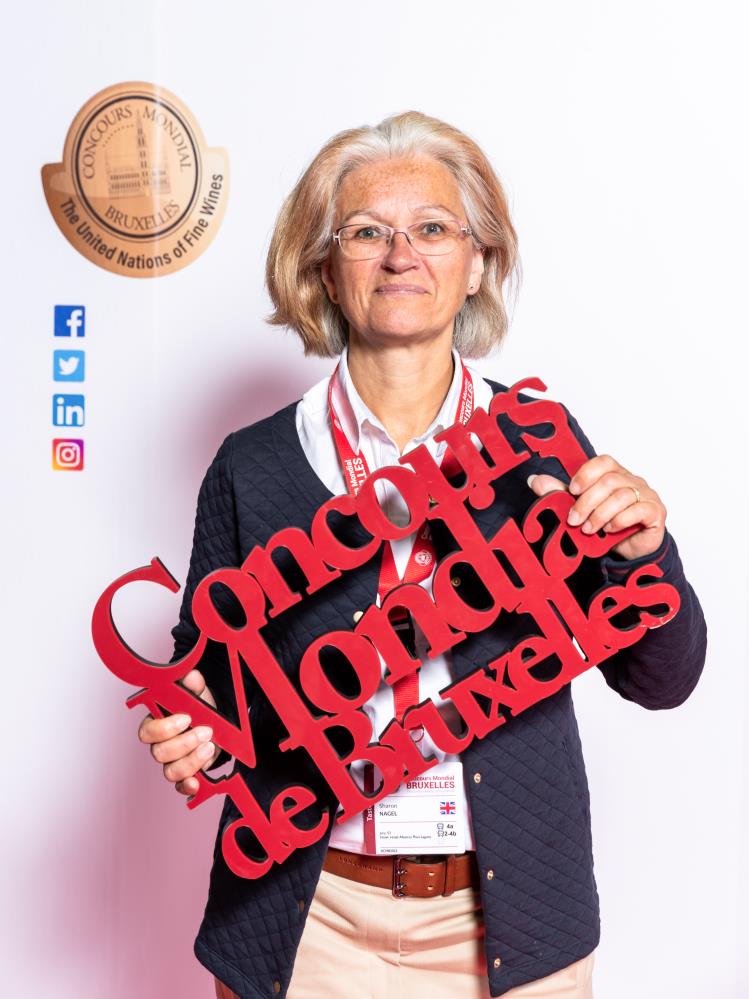 Sharon Nagel
United Kingdom
Freelance journalist and translator
General Manager at Chateau Changyu Moser X.V. Ningxia.
Member of Ningxia Technical Committee for Standardization of Grape and Wine Industry
Purchasing Supervisor @ MGM Macau
Silvia Garcia Guijarro
Spain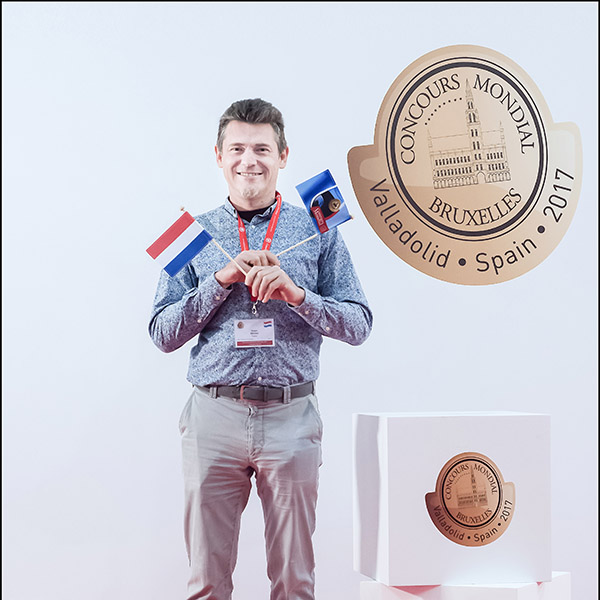 Freelance journalist writing for Decanter, Meininger Wine Business International, Palate Press and The Morning Claret. Specialising in Italy, Portugal, Slovenia, Croatia, organic, biodynamic and natural wines.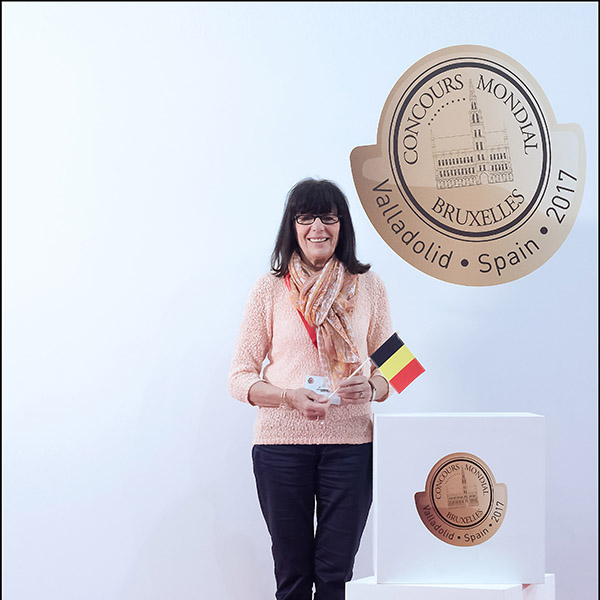 Simonne Wellekens
Belgium
Journalist: De Standaard – Co-editor Ken-Wijnmagazine – Author: Guide Supermarketwines – Wine – Education – Translator French-Netherlands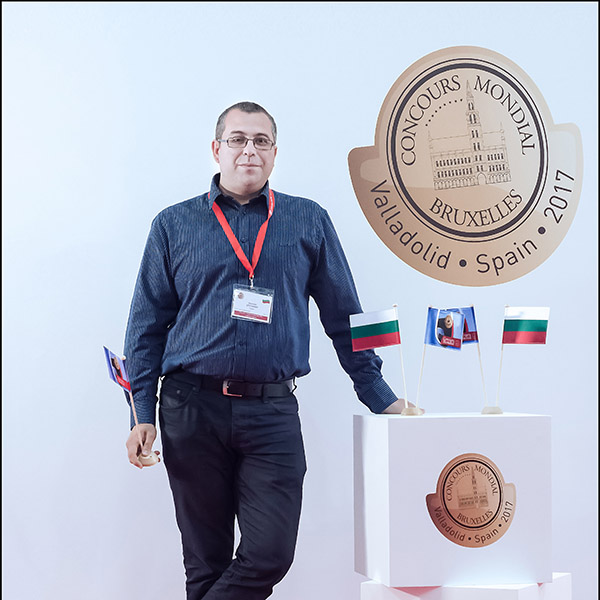 Stanimir Stoyanov
Bulgaria
President of the Oenologist Association of Bulgaria
Stasa Cafuta Trcek
Slovenia
Editor in chief at The Third Wine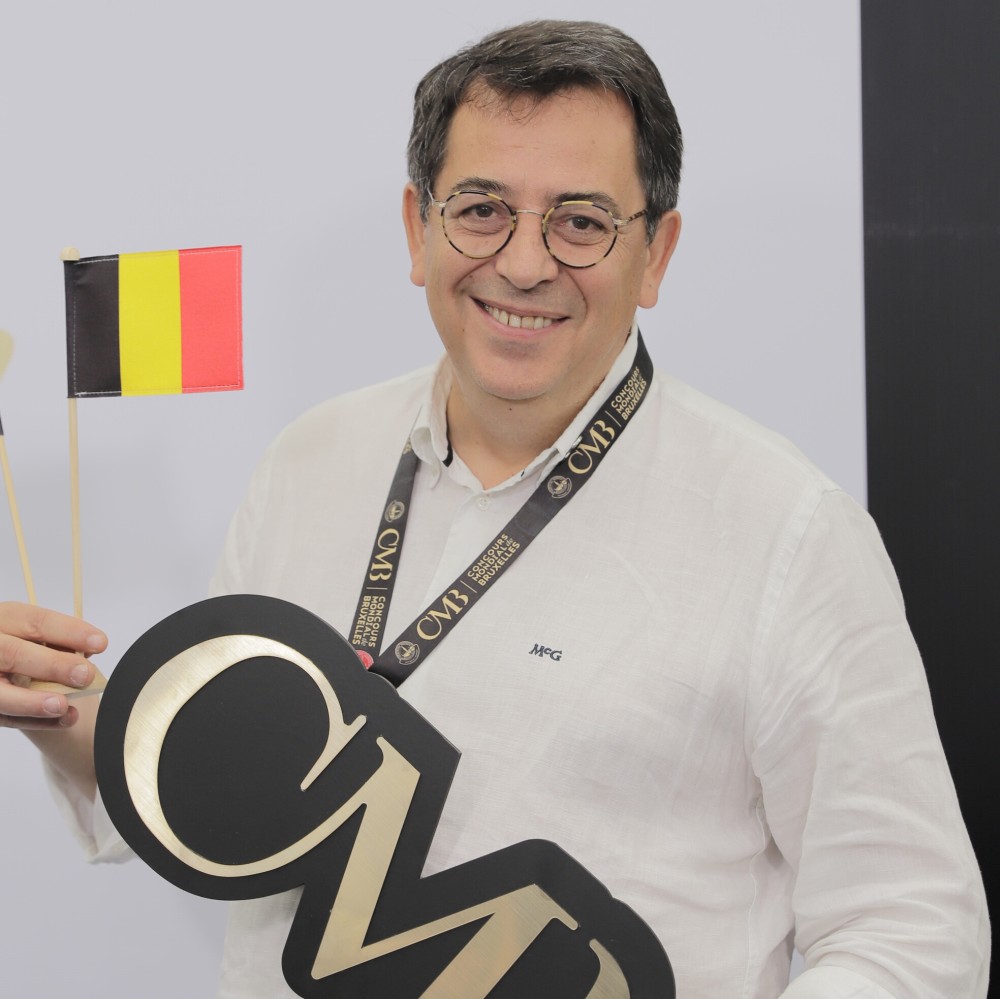 Stefaan Van Den Abeele
Belgium
Sommelier Conseil de l'Université of Suze-la-Rousse, Wine and Dine Consultant, Educator of Bordeaux Wine School and Patended Supplier of the Court of Belgium
Managing director at Wines & More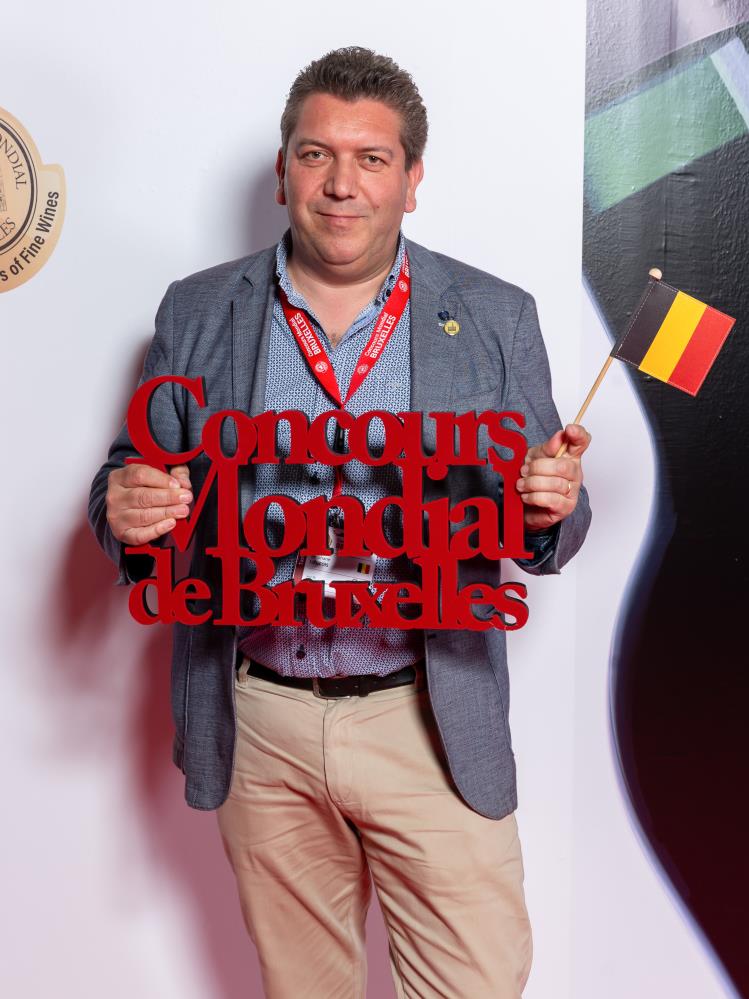 Stephane Liégeois
Belgium
Agence de courtage en vins, S.P.R.L. International Wines Brokers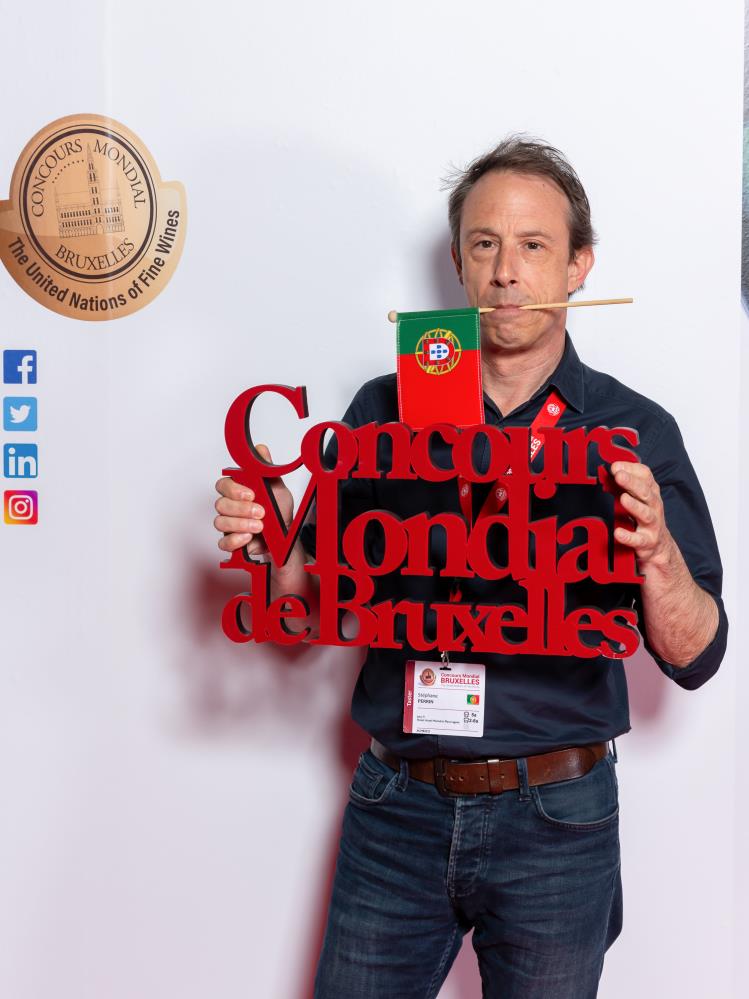 Managing Partner at IVIN Lda Wine Distribution
Diploma of Oenology (University of Bourgogne)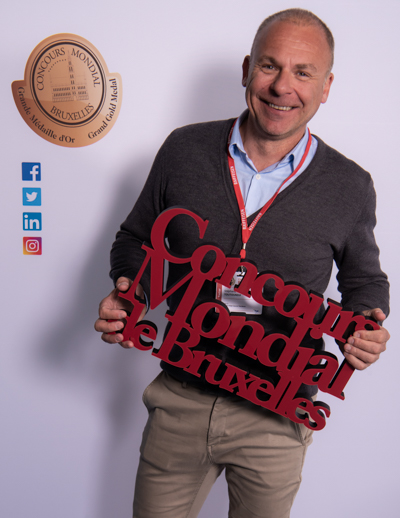 Stéphane Toutoundji
France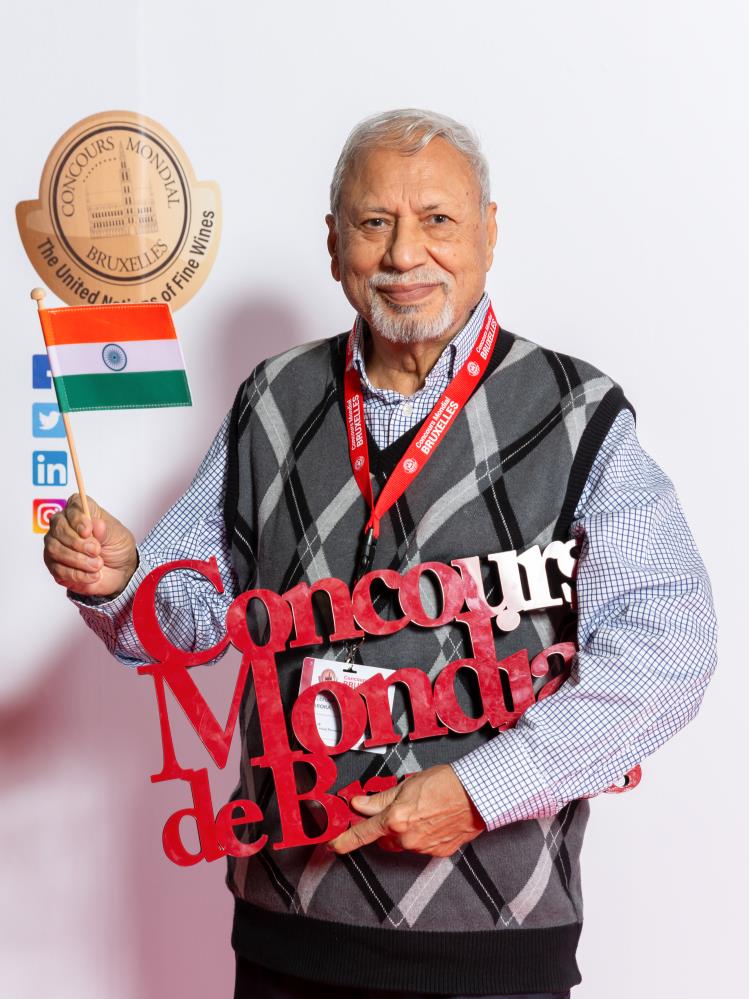 Wine Educator and promoter: President,Indian Wine Academy,Delhi Wine Club – Journalist: Editor-delWine. Meininger's Wine Business International (Indian correspondent) – Author: "Italian Wine Guide"International (Indian correspondent) – Author: "Italian Wine Guide"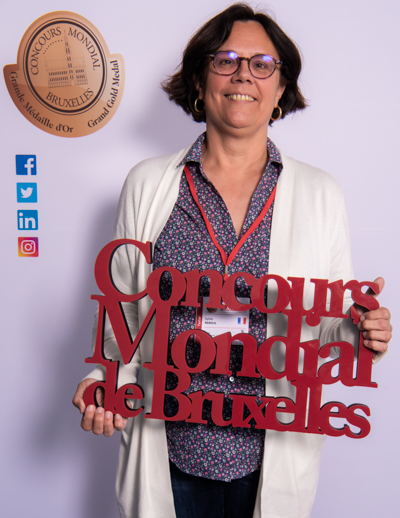 Agronomist and Oenologist. Communication manager at Syndicat des vignerons des Côtes du Rhône. Journalist and author.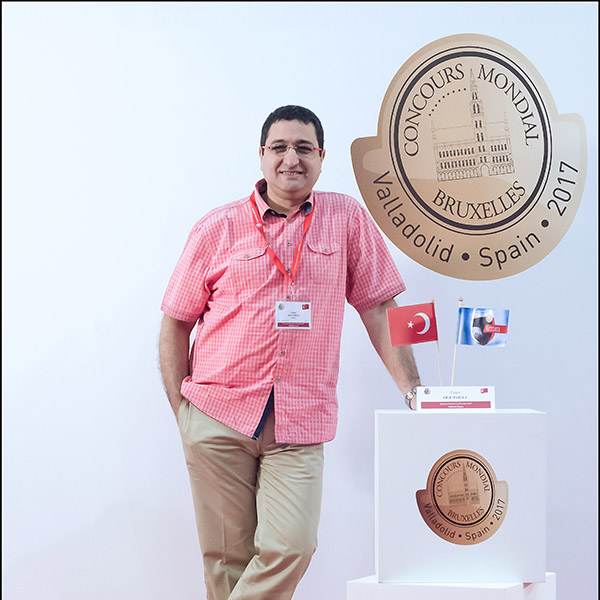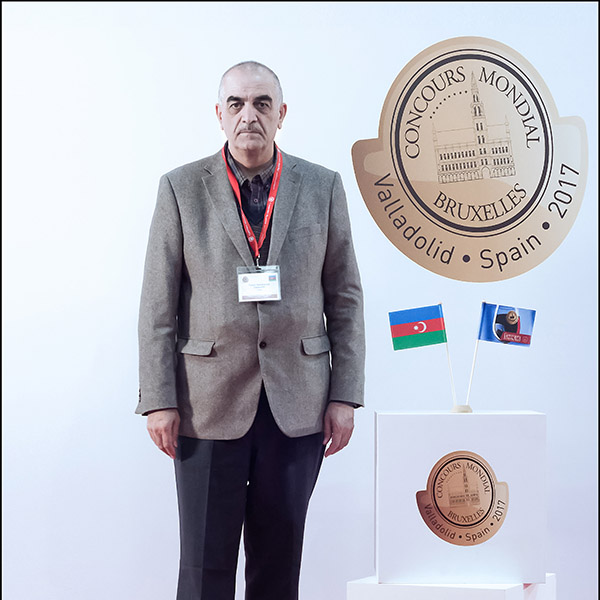 Tariyel Mahammad Panahov
Azerbaijan
Director of the Azerbaijan Research
Institute of Viticulture and Wine-making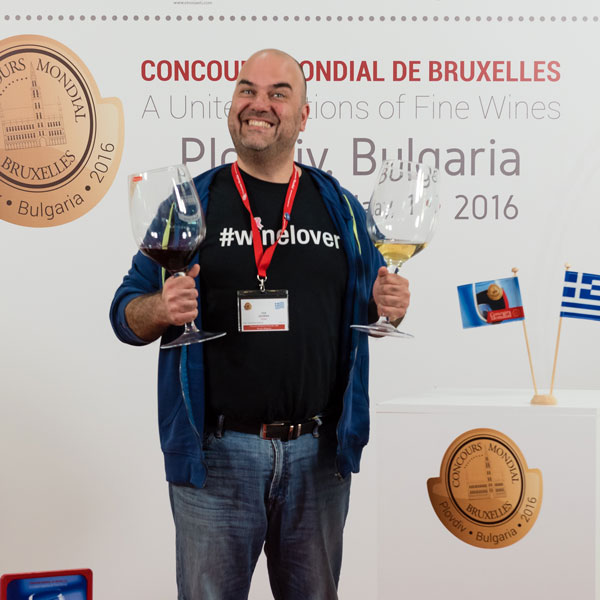 Wine writer, member of FIJEV and the Circle of Wine Writers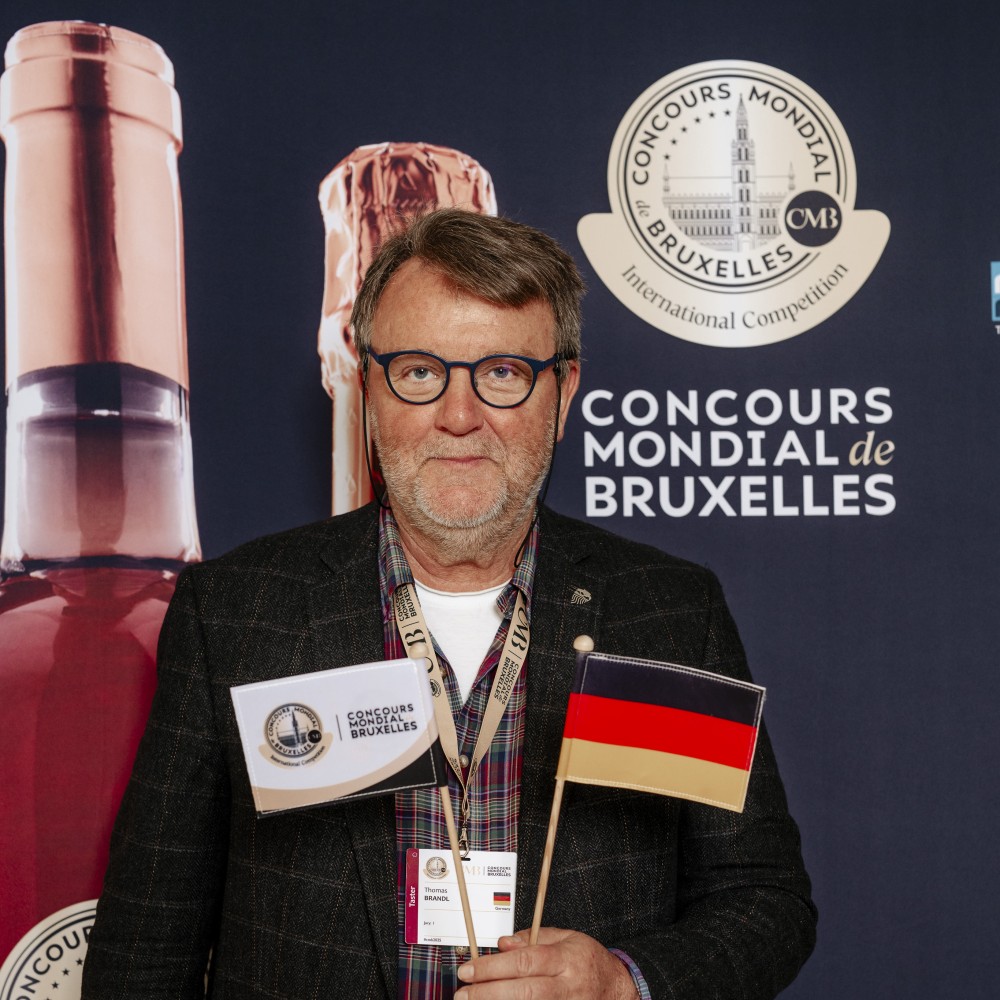 Wine journalist, Communication Manager,owner of xenos-comm PR Agency and Ambassador CMB for Germany, Austria and Eastern Europe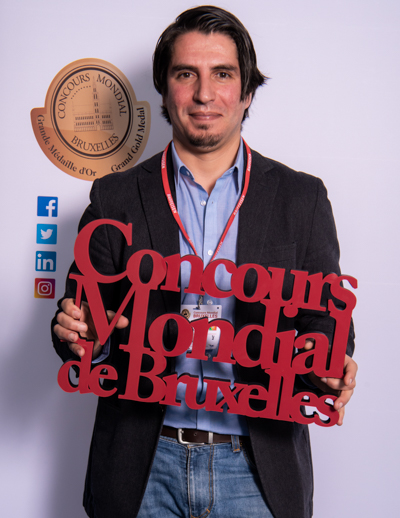 Tiago Alves De Sousa
Portugal
Winemaker of Alves de Sousa Douro & Port wines. PhD in Viticulture & Oenology. Speaker in wine exhibitions, conferences and tastings around the world. Nominated for the Awards "Winemaker Gen.XXI" (Paixão pelo Vinho) and "Winemaker of the Year" (Wine – A Essência do Vinho).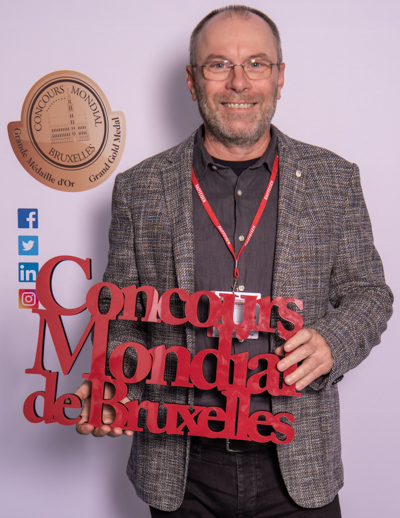 Tibor Nyitray
Czech Republic
President of Czech Grapes and Wine Producers Association Director of Sonberk Winery www.sonberk.cz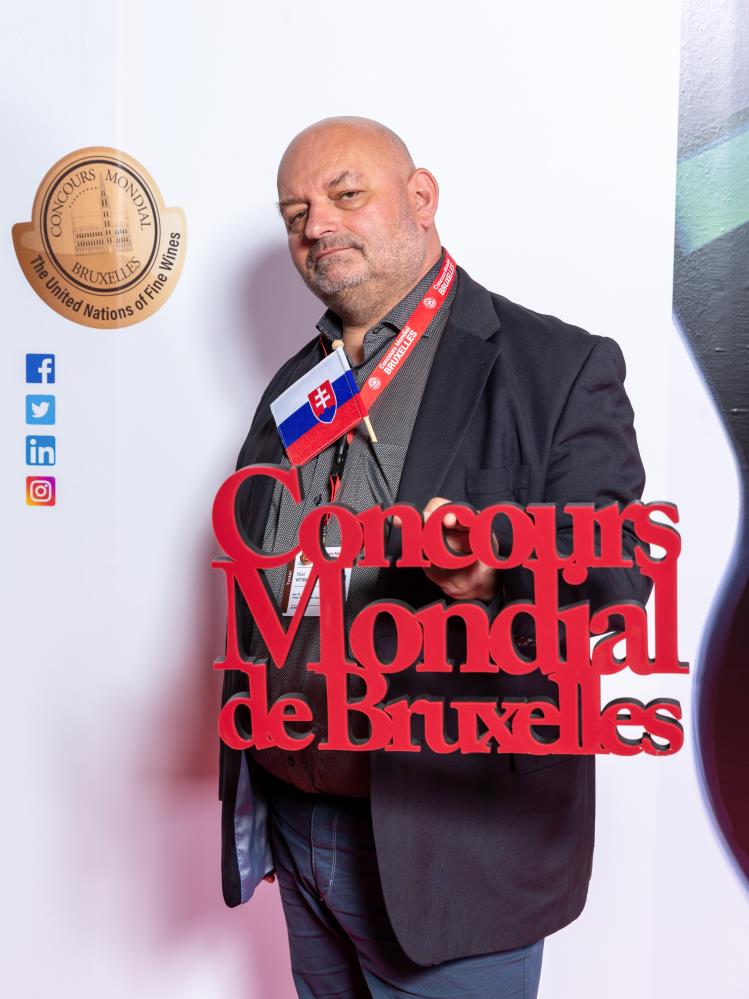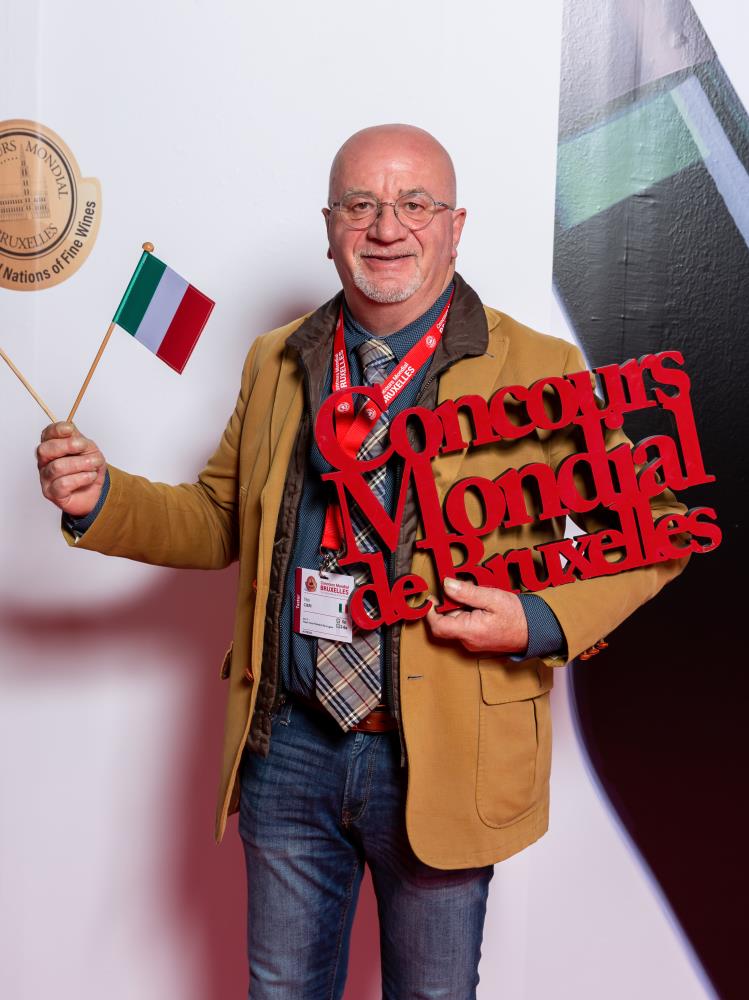 Executive at Regione Abruzzo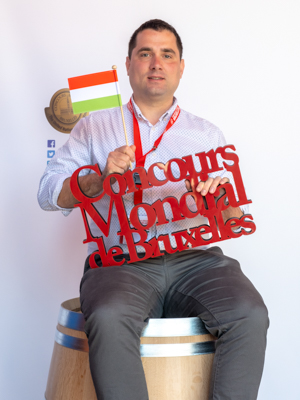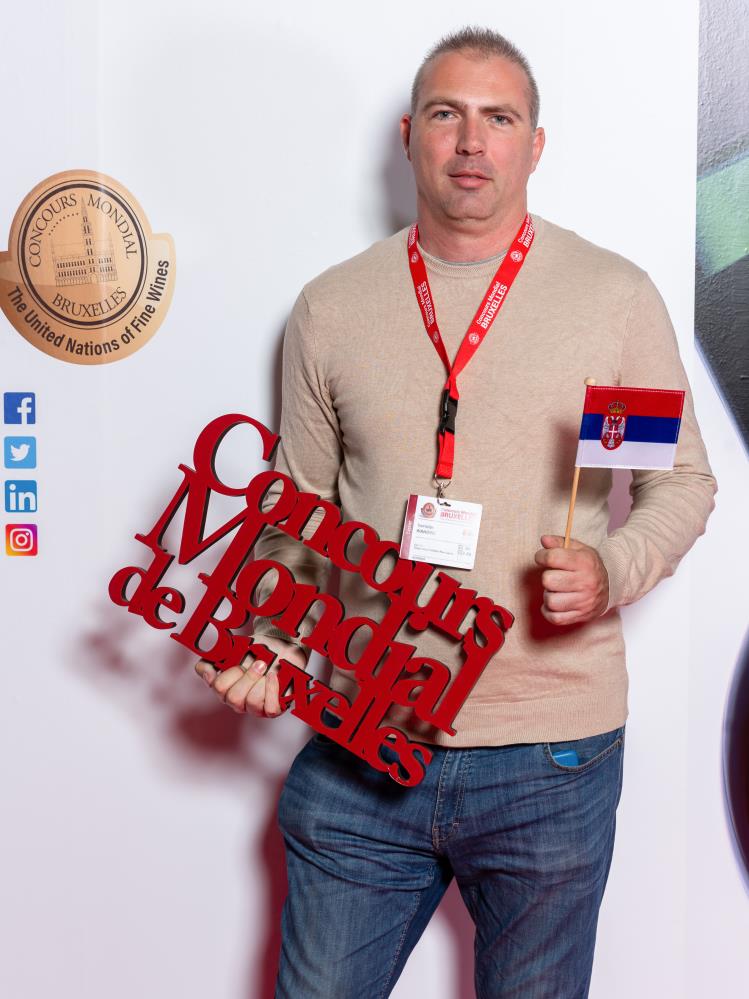 Editor-in-chief of webportal www.vinopedia.rs , wine-writer,lecturer, member of sommmelier association of Vojvodina VOSOM (Serbia), co-organizer of Wine Identity conference (Belgrade), local partner of Wine Mosaic organization in Serbia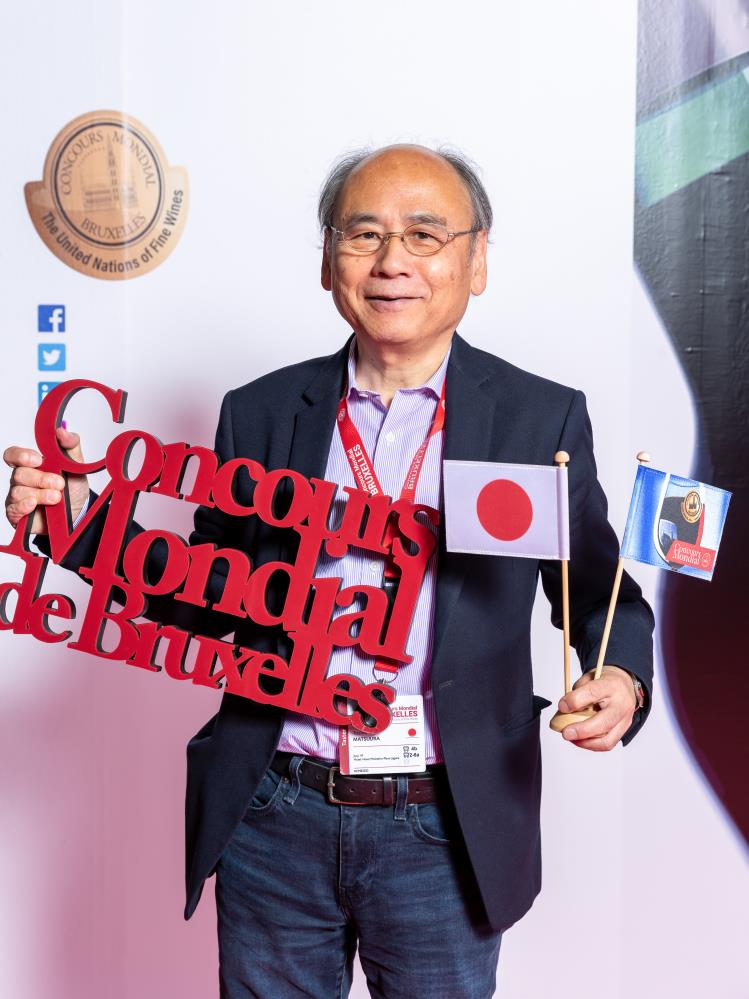 Representative WANDS Publishing Ltd (Japon) Wines & Spirits La revue japonaise des vins et spiritueux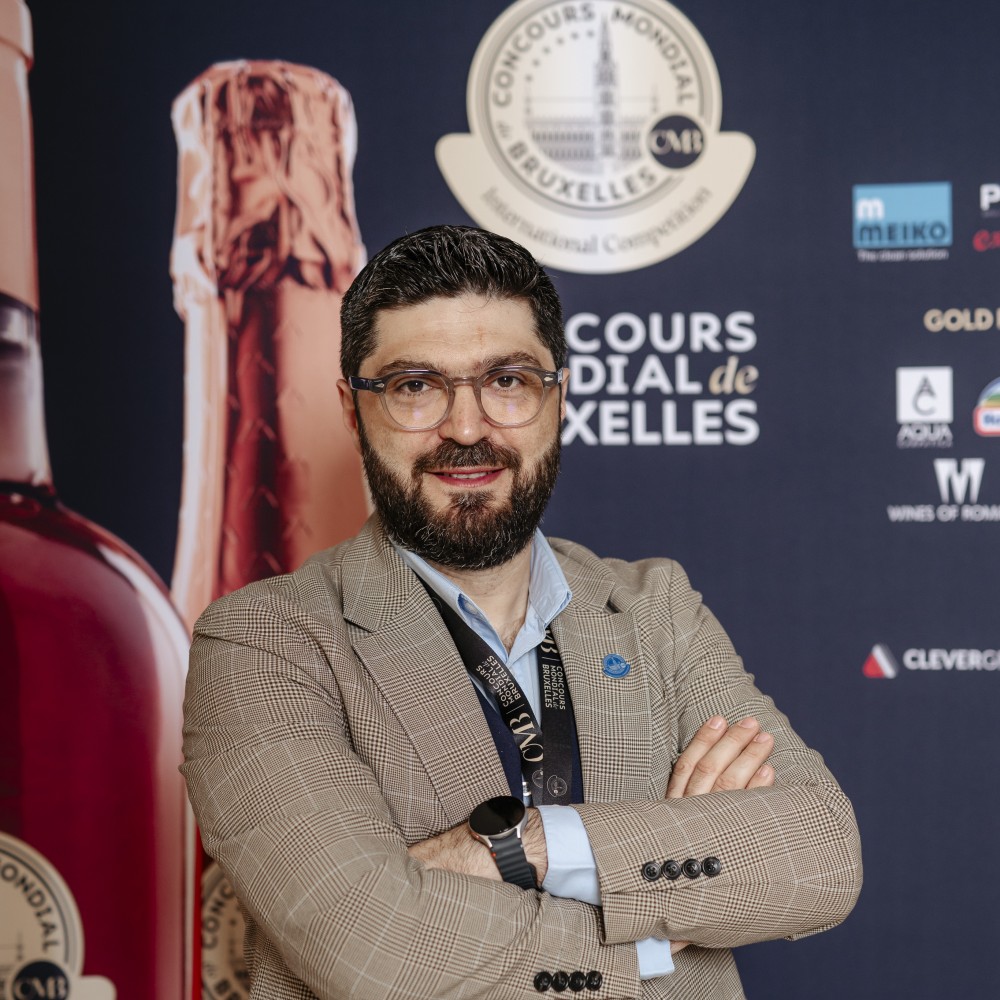 Valentin Ceafalau
Romania
Wine journalist, Member of ADAR (Romanian Authorized Wine Tasters Association, Member of FIJEV
Valeria Zeferino
Portugal
Journalist at VINHO – Grandes Escolhas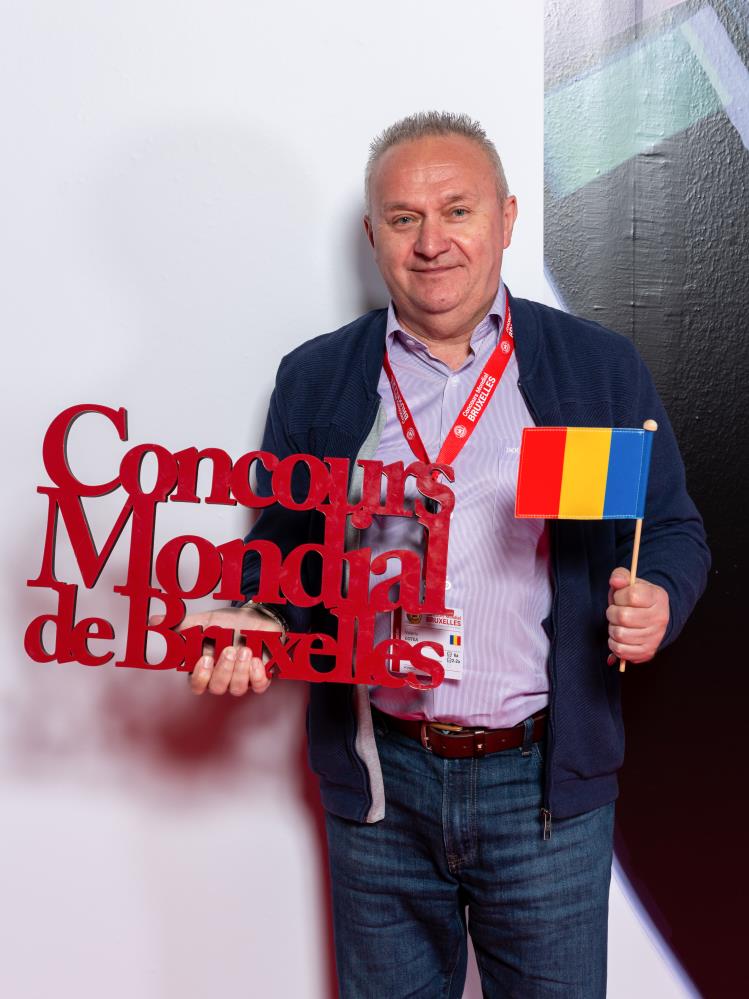 IASI Romania President National Vineyard Growers and Wine Producers
Sommlier and Wine consultant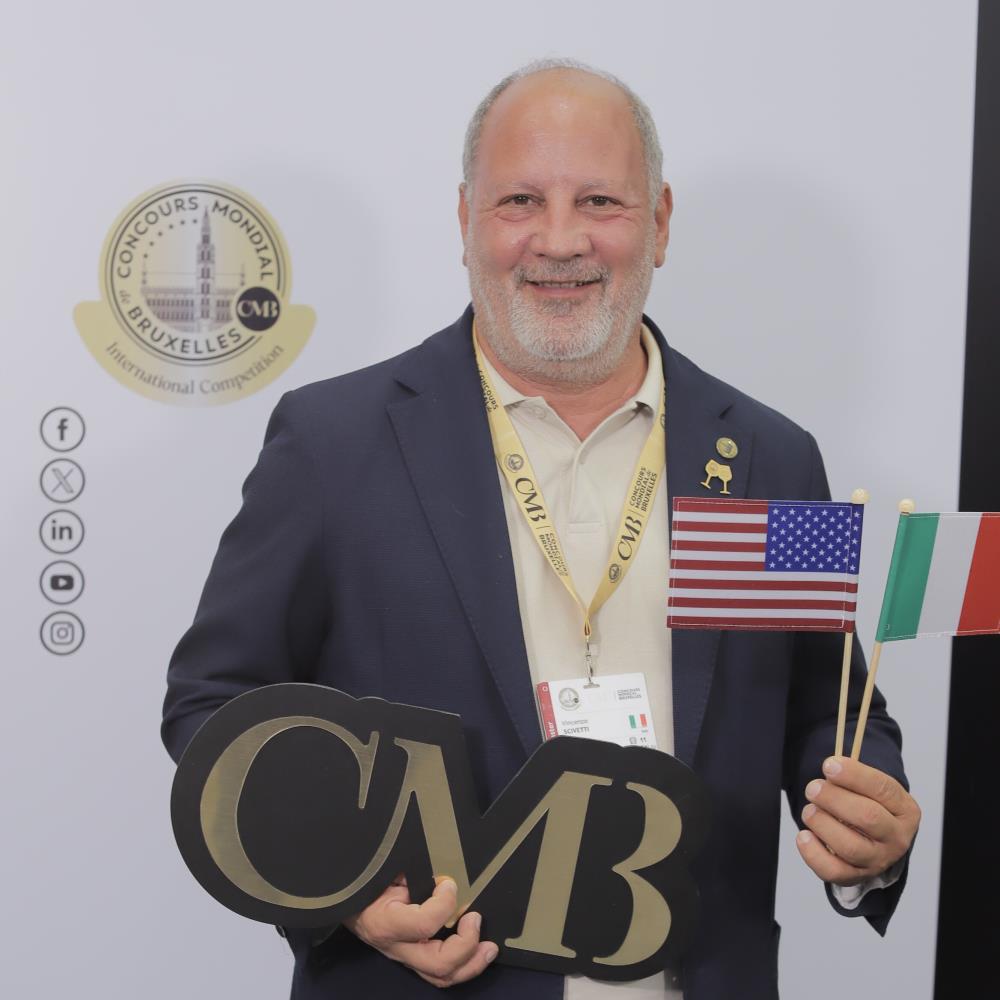 ONAV Puglia Ambassador, PR & Marketing consultant, teacher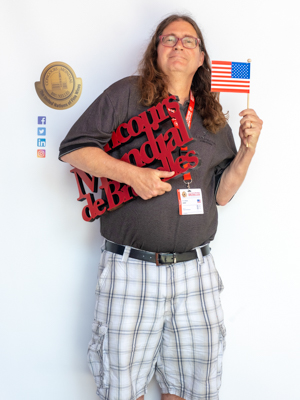 W. Blake Gray
United States
Freelance Wine Writer, SF Chronicle and Wine Spectator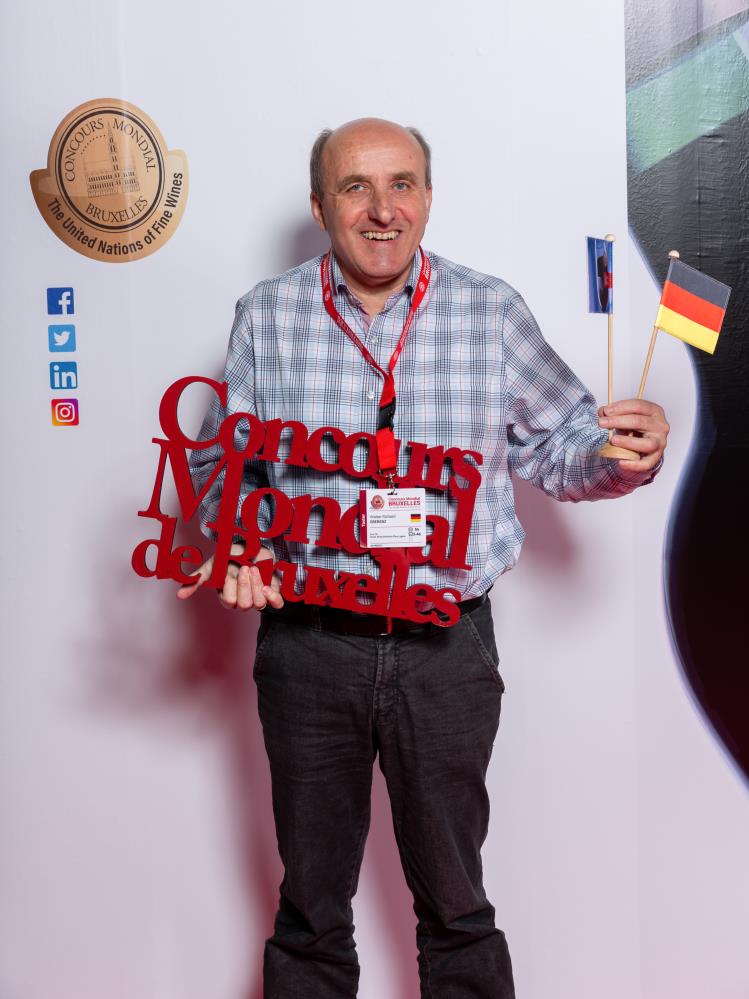 Walter Richard Eberenz
Germany
Editor: Badische Bauern Zeitung, Der Badische Winzer; Author: Rebe & Wein, La Vigne
Director at Beverage Department – Pam
Deputy General Manager of health industry operation Department, general manager of people's wine industry.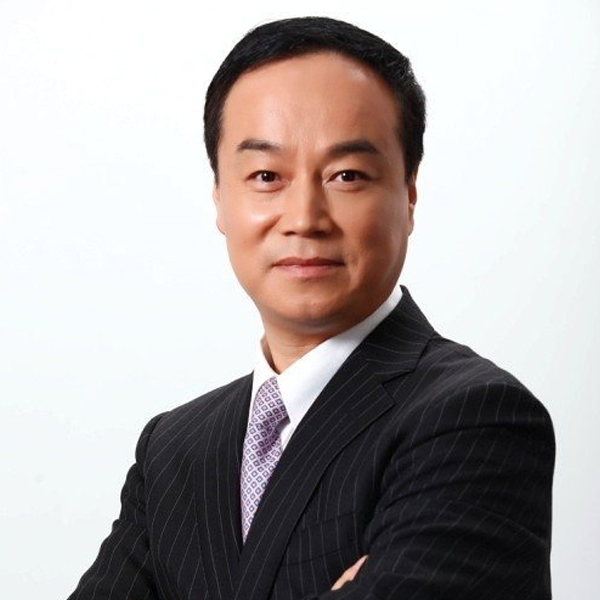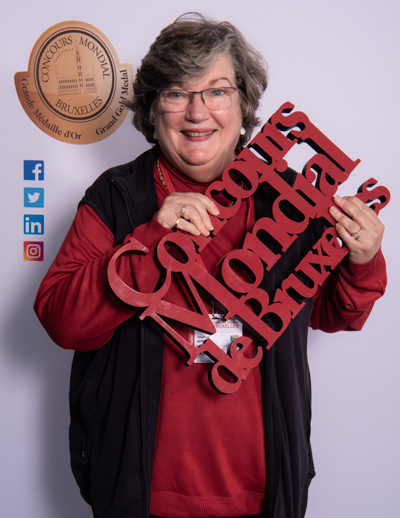 Winifred Bowman
South Africa
Cape Wine Master
Wine, Food and Lifestyle Writer
Occupational Health Consultant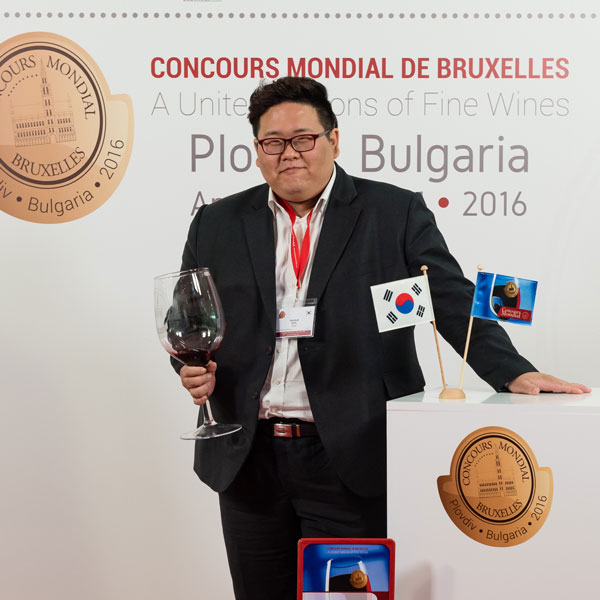 Wine&Spirits Columnist
Wine Profesional Judge
Wine Importer
Wine Educator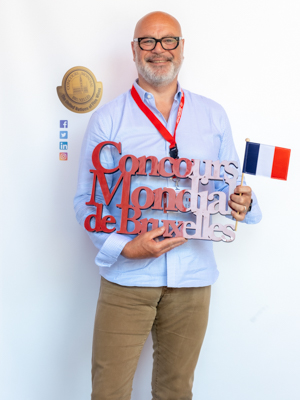 Wine buyer at Auchan France
Educator
WSET Wine Educator, Master of Wine Candidate
China Director of Zachys Wine Auctions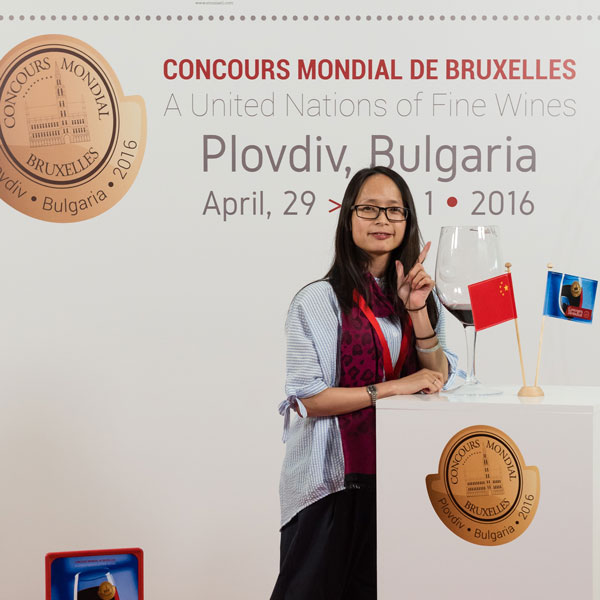 Director China DEGUSTAR, Wine Consultant Wine Marketing Expert China Director China VINORIA Wine Media+Education
General manager of Bon-wine Culture Consulting Company and CEO of China Wines Information Website
Xinjiang CITIC Guoan Wine Co., Ltd
General manager at Les Millesimes Wine Club Ltd, General Manager and Sommelier
Chief winemaker & Vice GM Chateau Junding winery Co., Ltd.
Evaluator of the Vinalies(Paris) international wine competition, National Wine evaluator of P.R.China, Member of the Chinese wine experts committee
Vice- General Manager; Chief wine maker
Ning Xia Copower Jade Chateau Co. Ltd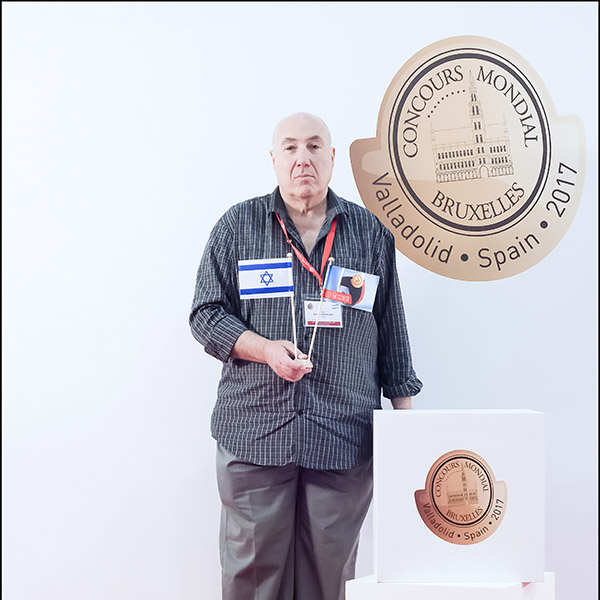 Yair Koren Kornblum
Israel
Journalist at Wine & Gourmet Israel
Marketing & Sales Director at Beijing Jade Vineyard Culture Co., Ltd.
Specially Appointed National Wine and Fruit Wine Judges
Professor & Doctoral Supervisor at Northwest A&F University. Scientist of China Agriculture Research System (CARS) for Wine Microbiology. Prof. Dr. Liu serves as director of Processing and Storage Laboratory of CARS for Grapes and Wine industry.
Scientist of China Agriculture Research System (CARS) for Wine Microbiology. Prof. Dr. Liu serves as director of Processing and Storage Laboratory of CARS for Grapes and Wine industry.
Directeur Generale Zhongniang Bordeaux Wine
Vice-general Manager & Chief Winemaker; Member of Chinese Wine Technical Committee; Secretary General of Qinhuangdao Winemaker's Association
Wine importer of Grand Cru Wine Company in Tokyo and The Concorde Wine Club in Tokyo.
Deputy Editor at La Revue du Vin de France Chinese Version
Vice President of Sommelier Academy of China – Hong Kong
Dean of hongkong sommelier and bartender training college & certified sommeliers-court of maser sommelier – Hong Kong
Food and Wine Journalist Wine book author Owner Lantschbauer-Cai Winery in Rust Austria Oenologist
Associate Professor at Gansu Agricultural University. WEST Sommelier
Yury Yudich
Russian Federation
Founder and chief editor of magazine "Napitki", portal www.alcoexpert.ru wines and other alcoholic beverages. Director of the Union of Wine Writers of Russia, permanent member of the jury of Russian and International tasting competitions
Consultant sommelier at Aeon
Vice President of China National Research Institute of Food & Fermentation Industries (CNRIFFI) General Manager at Beijing Shifa Technology and Trade Company. In accordance with China's One Belt, One Road Initiative, Mr. HUANG has been leading the work of human resources training, technical foreign-aid programs and products import (wine in particular) and market exploration, etc.
Journalist – GlobalBeck Services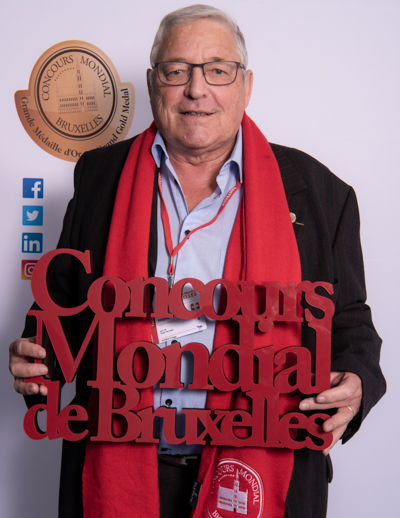 Journalist – Wine Educator – Former FIJEV member- Chevalier du Mérite Agricole Français – Co-founder of the AEFO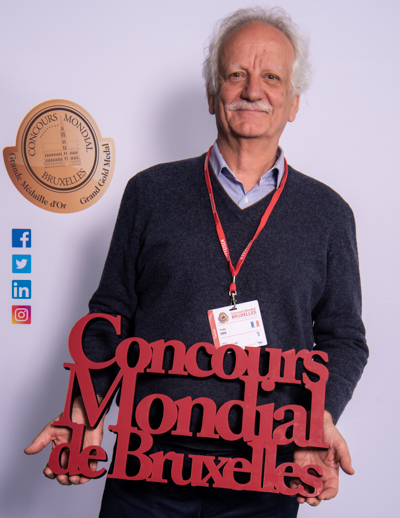 Technical director at Grenaches du Monde. Freelance journalist
COFCO Great Wall Winery(Yantai) Co., LTD Current Chief Winemaker
The Executive Director & Head of Education Department at Joy and Cheer Wine Ltd
WSET Diploma, WSET Tutor, WSET Advanced in Sake, Bordeaux Wine School Tutor, Barossa Valley Tutor, New Zealand Wine School Tutor
Zhenglong Cheng 正龙 成
China
Chief engineer and deputy general manager at Xinjiang ruitai qinglin wine co., LTD.
WINE CLASS & BURPPY TECH (WINECLASS.CN)
Wine lover, she participates in international cooperation in wine and is the Chinese focal point of the Wine Regulatory Forum of Asia Pacific Economic Cooperation (APEC).
Zhongxiang Deng 钟翔 邓
China
.-Winemaking Consultant for 4 wineries in China: Château Lansai(15 ha), Château Yunling(15 ha),
Domaine Rongyuanmei(80 ha) , Domaine Chengcheng(10 ha) and Shanghai Wine Union Co.,Ltd.
– Management of viticulture.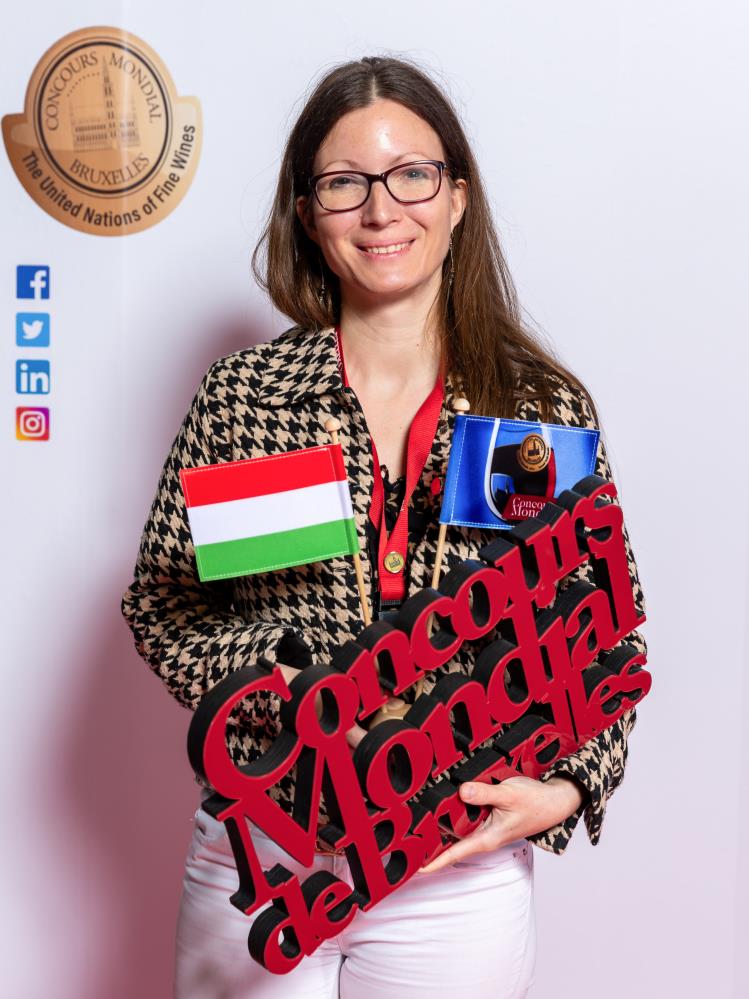 Chief Editor of Wine and Market Magazine (Bor és Piac, Grabowski Digital Kft.)